Whenever I think of New York the first thought that always comes to mind is Punk Rock. After all, this was the city that gave us The Ramones, Television, The Heartbreakers, Blondie, Richard Hell and the Void Oids and no doubt a host of other fine bands that were there at the start of the birth of the American Punk Movement. The clubs like CBGB's and Max's Kansas City were instrumental in unleashing bands that would define the musical landscape and eventually find their way "across the pond" here in the UK.
The Ramones came first in 1976 and from 1977 a steady stream of American Punk bands were found to be playing up and down the UK. The impact of course was that Punk Rock exploded here in the UK and bands up and down the land were using these New Yorkers as their point of reference.
Thirty odd years on from those heady days Punk Rock has never really gone away even in a city like New York that became famous for Disco and also many other forms of Rock Music. Punk remained often hidden in the underground. Many of the "players" would be quite unknown unless of course you moved in such circles or listened to a show like "Last Exit for the Lost" which went out if Ithaca, NY.
One lady who has been around the New York music scene for many years is Vamps (Michele Jaffe). Currently she is the driving force and front woman of Loki the Grump. She agreed to do a long distance interview and share a little of the story of herself and her band, and although many people reading this will not have heard of Loki the Grump on starting this article, by the end you will be dashing over to You Tube to check out some of the live video footage that has been captured of the band in action over the years.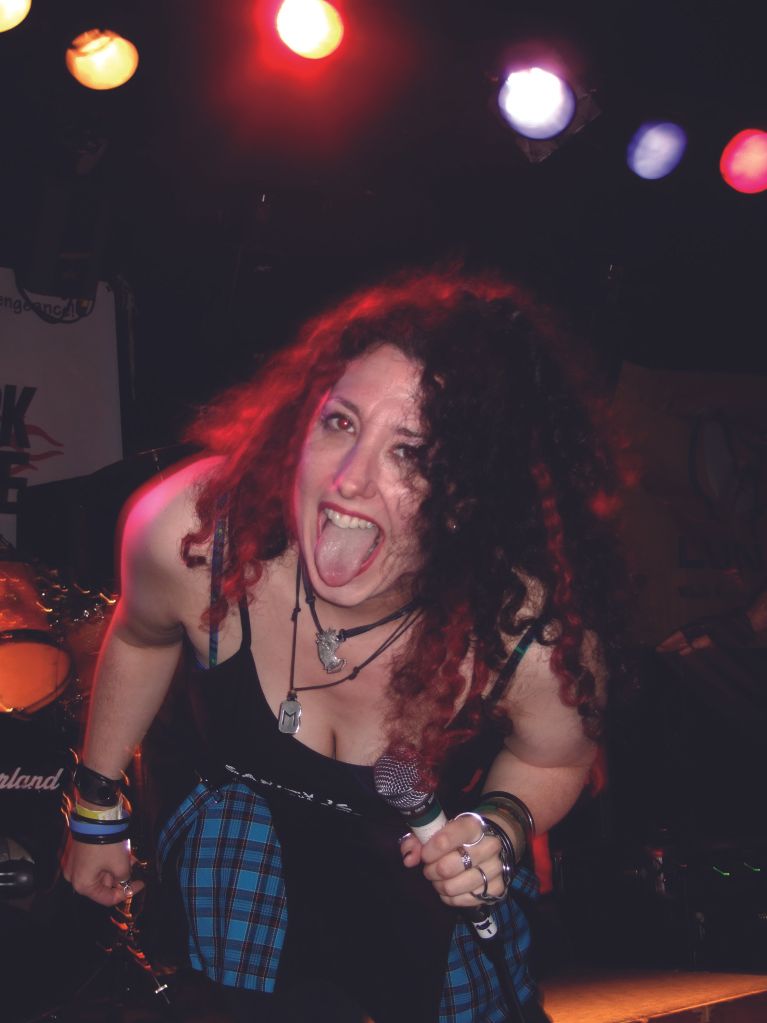 Doug: How long have you been involved in music for?
Vamps

: "Since I was in the womb. Apparently my mom would play guitar and I would kick a beat for her. Since outside the womb… we learned the recorder in school when I was 6 and that's when I first learned to read music. I've really never stopped since then. I'll leave it to you to guess how long that is."
Doug: When did you first get the idea for Loki the Grump?
Vamps

: "Hmmm.. it's actually kind of complicated. Technically Loki the Grump was sort of a derivative combo of the first band I was in called Flowers Inside, and a later band that never got off the ground called Seek Treatment. In 2003 my fellow band members in Seek Treatment – Helena and Phil, which happened to be 2 of the original members from Flowers Inside (singer and guitarist respectively) and I decided to have a reunion gig. That was to be the first time I was on the drums in 5 years!! It was crazy but fun. Our original bass player was nowhere to be found at the time so I asked my friend Dawn who plays every instrument under the sun if she would be interested in filling in. She said "sure" so we rehearsed for about 8 weeks and then had our reunion gig, which was a total blast! We decided to play one Seek Treatment song, which would require Dawn and I to switch instruments. Well, needless to say my first real taste of performing up front on the stage instead of hiding behind a kit was yummy! I loved it!
Now to fully explain LTG I have to jump back in time to a year or so before the reunion: I was pursuing songwriting as a career for a few years, writing pop songs for pitching to other artists, etc., when I found myself starting to write "artist" songs – songs that weren't really pitchable to the artists that use other people's songs. The artists that might like the songs I was now once again writing (I was one of the main songwriters in my previous bands) were typically the types of bands that write their own material. One of those songs was a fun pop punk song called "Brand New Me". So, I figured it was time to take some vocal lessons and see what happens. In this songwriting mode, I was collaborating with a lot of different people, one such person being Howie - a guitarist who had been looking for a lyricist.
Jumping back to the reunion – it was so much fun it really re-sparked my desire for performing. So I asked Howie if he would be interested in playing guitar in a punk band. He said "sure". I asked Dawn if she wanted to play drums in a punk band. She said "sure". And I asked Phil, who is a doctor in a hospital and therefore VERY time constrained, if he would be interested in playing bass for a new band until we could find a permanent bass player. He said "sure".
And that is how Loki the Grump got started."
Live @ The GoGirls NY Fest 2007
Doug: Do you recall when and where your debut show was and what the reaction to the band was?
Vamps
: "Our first gig was pretty crazy. We were invited by my friend Gail who was, and still is in a band called G-spot to play an event she put together at a club called Siberia in Hell's Kitchen in NYC. The event was June 25, 2004. So we decided to make that our debut gig and started promoting it. Sort of close to the show Dawn (drummer) decided she couldn't play the show (I can't remember why) so we had to scramble and get another drummer to play. There was a bit of drama around this, but one of my and Phil's mottos since the era of Flowers Inside was you do NOT cancel a gig unless there's a dire emergency. So we got this guy Rich to play, and it wasn't exactly a match but it worked out okay. Although Rich almost got us all banned from the club by having an altercation with the bouncer! And Phil got a ticket for walking outside with an empty beer bottle and the bouncer wouldn't let him back in because of the Rich altercation (I think). Something like that.
Anyway, we were all very nervous but wound up having a HUGE turnout (including Dawn!). I taught everyone that night how to sing Shockingly Happy with me, and there's a picture from that with everyone's mouths open looking like pacman. :)-
I was definitely a newbee in the upfront performance area and the difference in my style and relaxation on stage between then and now is like night and day. It was a great start, though! And people just loved it! We had a lot of people coming up to us afterwards and saying, "I don't remember when I've had so much fun at a show!" Success!"
Doug: You seem to have received some fine praise for the band over the years, did that spur you on to always try to be better?
Vamps

: "That definitely helped us want to improve. I feed off the people's energy (that's why I'm called Vamp – ha ha) at a show and the better we are, they better they like it, and so the better we are, and so on."
Doug: "known for their punchy hooks, driving pulse and a strong female vocalist who brings it all together. Kind of like the lovechild of Black Flag and Poly Styrene," - that's a cool quote. Did you purposely set out to trying and bring together the old school punk sound of say X-Ray Spex and that brutal hardcore edge of Black Flag or are they just being nice to you? In other words, what were the bands that influenced you into forming LTG?
Vamps

: "Let me start off by saying I have never met a reviewer who was "just being nice". ha ha!
That is probably one of my favorite quotes. I've heard the X-Ray Spex comparison more than a few times – just without the saxophone. (We did use saxophone for one of our Alarm covers on the Dave Sharp tribute CD. You'll have to go listen to figure out which one!)
I would not say I set out to do that. I just write what I love, and the influence of my collaborators always twists and turns the songs into something interesting, at least for me. I am somewhat non-genre specific in my taste of music, although I tend to lean towards old school punk, post-punk, nyhc, ska, goth-rock, darkwave, etc. But really I mostly love a good song structure with a catchy tune and great lyrics! If I can dance to it – whether it's skanking or looking-for-quarters – all the better. I don't think any of my songs sound like any of my other songs – they kind of bounce around the "punk-inspired rock" genre. That's why we called our genre "Grumpy". I mean, even the covers we've done: Joe Jackson; Henry Rollins mixed with Led Zeppelin; Henry Rollins mixed with Black Sabbath; The Alarm; The Cure. All part of the alt world I suppose, but none the same."
Doug: You've played around New York City in places like The Knitting Factory, what were your favorite places to play? Did you ever go on tour and play outside of New York?
Vamps

: "Ooh – favorite places to play in the NYC area… yes I have a few. It's weird, not a single venue that Flowers Inside played is still in existence. And only a few from my second band Vampness. It's very sad. Of the now departed clubs, my favorite venues were definitely the Spiral and CBGB's. I was really blessed to have been able to play the CBGB's main stage as both a drummer (with Vampness) and a singer (with Loki the Grump). We also played CB's Downstairs Lounge, which was fun, too. Currently my favorite clubs are Ace of Clubs (formerly Acme Underground) and Maxwell's in Hoboken, NJ. Knitting Factory is a great place to play as well, of course! One of our absolute favorite stages is a club called The Haunt, which is upstate in Ithaca, NY - about 5 hours away from NYC.
We have played many clubs outside of NYC and we went on two mini-tours, both with Girls Rock and Girls Rule. So we've explored a bit. Met some great people in great cities!"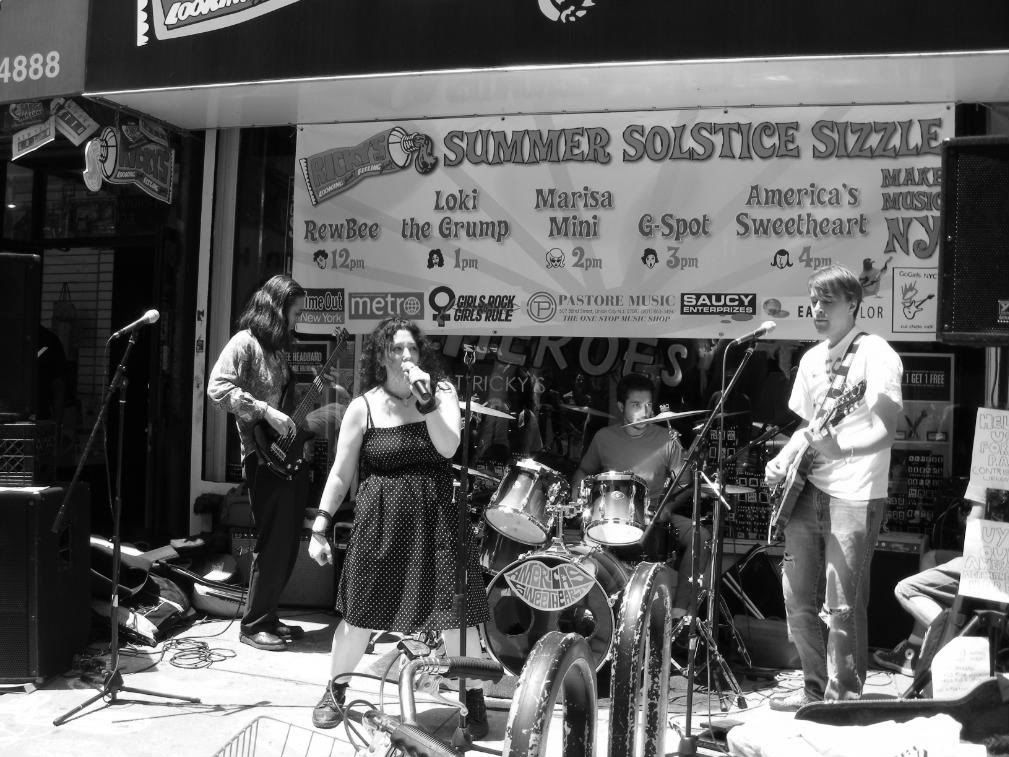 Doug: Explain a little what the whole Girls Rock Girls Rule group is. How did you get involved with that and is it something you would like to be involved with once LTG is laid to rest?
Vamps

: "My friend and fellow musician Gail from a band called G-spot started GRGR. It was created because there were not enough outlets for female rockers out there. Tons of stuff for singer/songwriters but really very little for those of us in harder-than-folk genres. It started out as one event per year and then just grew into something amazing! In 2006 a few of us offered to help Gail in her mission, forming the "core" of GRGR. We have now completed a few tours along the East Coast grabbing female rockers from all over the place. The feedback has been tremendous and bands seek us out now. We have great sponsors and the publicity just keeps getting bigger and better. It's been an amazing thing to be a part of and help expand.
And yes, I plan on being a part of GRGR past LTG. Loki the Grump is/was a great band for me but I feel like I have taken it as far as it's going to go at this point. I've already started writing some stuff with new people so I'm sure it's only a matter of time before I have a new project. And it isn't the band that's a core member of GRGR, it's me. It's separate."
Strength (For Love Hope Strength)
Doug: What music have you put out (ie. your own CD's, projects that you have appeared on)?
Vamps

: "Flowers Inside – a 4 song demo cassette (ack!); Vampness – a 3 song demo cassette (double ack!); some of my pop co-writes have appeared on an album by Michelle Gold, and a self-released CD by this artist Jessica something-or-other (blanking at the moment) who actually never informed me that two of my songs were on her album so that she didn't have to pay me. Nice, right? But it ain't over yet… Moving on… ; DuskMusik – a 3 song CD; Loki the Grump – 5 song EP CD; Loki the Grump – live & rarities CD; Loki the Grump – 12 song DIY CD; Loki the Grump appeared on the Dave Sharp Tribute CD with 3 Alarm covers that we recorded. I know there's more I just can't think of anything else at the moment…"
Doug: How did it make you feel the first time you released your music? Were you exceptionally proud to have released some music and what were you hoping might happen as people heard you? (Did you ever get played on the radio?)
Vamps

: "Every time has been amazing. But the first time, which was the Flowers Inside demo, was an incredible feeling. Drugs couldn't compare to the high of that for me. Music IS my drug! We did things a little backwards in F.I. We worked on the music and released the demo before we ever played out live. So the first show we ever played, people already knew the music and we had an obvious hit song called "Death By Diet" which everyone was shouting for throughout the gig. We couldn't believe it – it was totally surreal. And we were pretty awful that first show. LOL
The one band I had that I really thought would get somewhere was Vampness. The songs were really well written, the music was tight, the players were talented, we had a good image, we had a bunch of fans, etc. We were even finalists in Musician Magazine's Best Unsigned Band competition. Unfortunately internal band drama made us implode within a year.
As for radio play; yes I have definitely had radio play in all my different personalities. My pop stuff has gotten radio play; my dark stuff (DuskMusik) has gotten a nice amount of radio and club play; Vampness got radio play; and Loki the Grump has had the most radio play – including commercial radio, which was EXTREMELY cool. That happened on my birthday a few years back. So exciting. But college and underground radio has been really good to us. The one show I adore is called "Last Exit for the Lost" in Ithaca, NY. They have played my music for over a decade and have been extremely supportive. Loki the Grump has played acoustically on the air there and some showcases they've put together, etc. You can hear them on the Internet too (thelastexit.org). Great people!"
Doug: How does it make you feel when you have paid your dues and yet have met with minimal success and then some band comes along that is "punk" and seems to get success handed to them on a silver plater? Does it infuriate you or do you see that as record labels trying to cash in and find their own "punk" project from which they can make bucket loads of cash?
Vamps

: "Ya know, it's hard sometimes to keep up the energy and keep slamming up against the wall only to have little cracks here and there. But I could never deny a band their success. Yes, I do think many labels try to cash in and find their own band in the "hot" genre, etc. But I refuse to live a life of envy so if a band makes it – more power to 'em."
Doug: You mentioned that LTG is finishing up (Loki the Grump will play their final show in December 2009 and Michele is hoping to get the original line-up to play). What do you feel are the things about the band that you can look back on with great fondness? What about your future in music? Any plans?
Vamps

: "The band really brought a lot of joy into my life and apparently a lot of people's lives. It reminded me how to have fun with music again after my past music drama. I really learned a lot from it, and some great songs were birthed.
I have been writing music since I was little so I don't see that stopping.. ever! I do take breaks every now and then, though. And as mentioned previously I'm already writing some new stuff for a future project of some sort. No idea what it is yet but time will tell. :)- I plan on learning guitar as well (I know a little bit but not enough to comfortably do anything at the moment) so that I can go out and play on my own whenever I feel like it.
And there's a possibility that I might break out the kit and start banging on 'em again… we shall see.
And, if enough people are interested perhaps I'll get some UK musicians together and do a mini UK-style LTG tour over by you."
Brand New Me Live @ Ace of Clubs NY (7th Anniversary of GRGR)
Doug: Music so wonderfully forms a Soundtrack to our lives, in light of that can you name five albums that have been a big influence upon you, your own writing style and the music of LTG?
Vamps

: "Oh wow. Well, those would all be different, and it would change from day to day anyway for each of them. I don't know how I'm going to narrow this down, though…
Influence on LTG, at least mine and at least what I feel like right now. Ask me tomorrow it'll be different I'm sure. My band members would have totally different ones:
The Damned – Damned, Damned, Damned; Rollins Band – Lifetime; Joe Jackson – Beat Crazy; Concrete Blonde - Bloodletting; GBH – Oh No, It's GBH again!
Influence on my writing in general: The The – Dusk; Bauhaus – Mask; The Cure – The Head on the Door; Barry Manilow – 2:00am Paradise Café; Henry Rollins – Hot Animal Machine
Influence on me: The Clash – Combat Rock; The Alarm – Strength; Pink Floyd – The Wall; Madness – Madness; Joan Jett – I Love Rock'n'Roll
Is any of the above true? Probably. Ask me again tomorrow."
Doug: What is your all time Saturday night song?
Vamps:

"Stigmata - Ministry"
Doug: What is your all time Sunday morning song?
Vamps

: "Phantom Walls – The The"
Doug: If you could pass on three important pieces of advice to those who are contemplating a life in music, what would they be?
Vamps
:
1.Remember it's a business – be professional at all times
2. Forget it's a business – let your creativity flow as much as possible
3. Play what you love and love what you play.
Doug: When you look back over the life of Loki The Grump what will be the thing that you treasure the most?
Vamps

: "The music created, the battles fought and won, the places we got to play, the confidence gained and most importantly, the friendships made.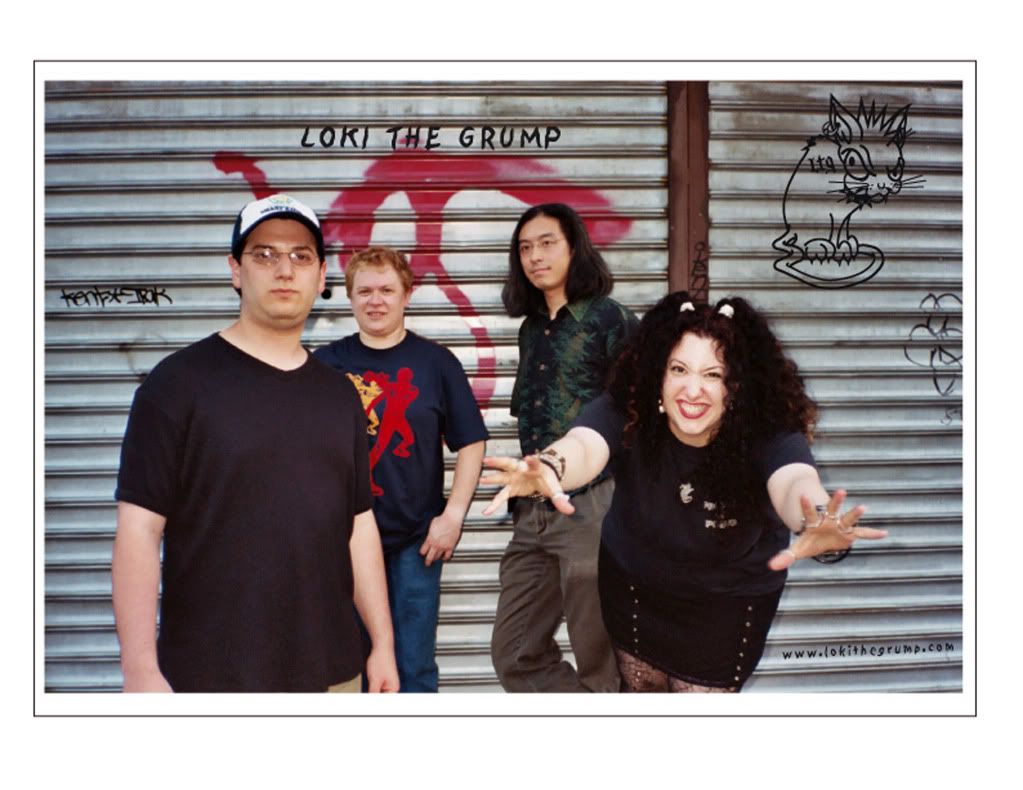 Doug: What will be the one thing that you miss about the band as you launch into a new area of musical creativity?
Vamps

: "I'll let you know.
"
Doug: Thanks for your time Michele, all the great memories you've shared and for the music of Loki The Grump.
Vamps

: "Thanks, Doug! This was fun and a bit disturbing!!"
Photo Credits: 1) Michele Jaffe. 2) Dietmar Stork. 3) Doug Watson. 4) (c) 2003 Michele Jaffe. 5) Andrew VanValen