Pretty Vacant / No Fun - Sex Pistols
A-Side: Pretty Vacant
B-Side: No Fun
Roy Carr's Review

for the NME

2nd July 1977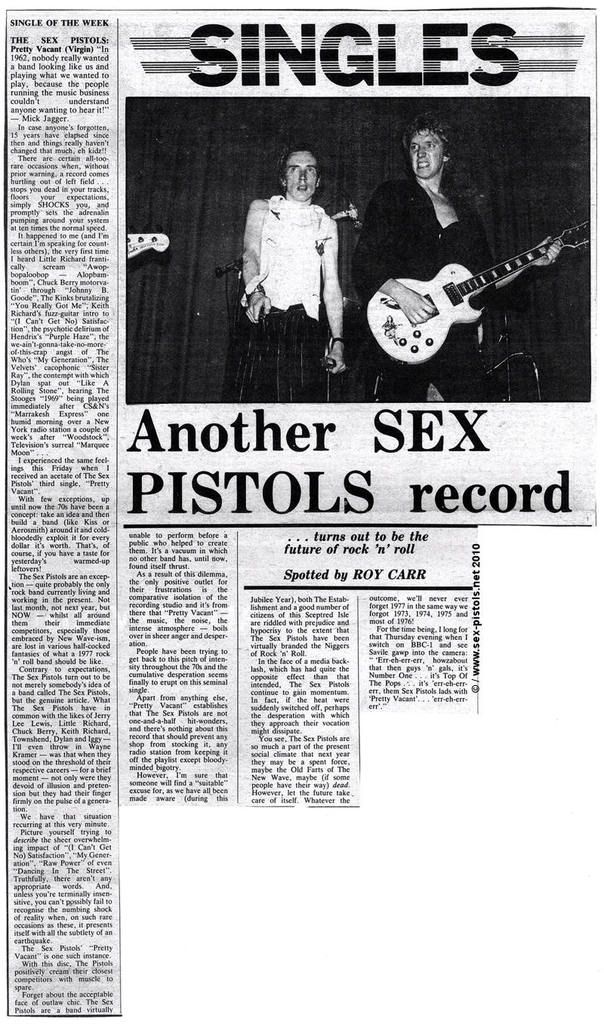 When you were used to a Singles Review just being a few lines it was quite remarkable that the NME basically gave Roy Carr an opportunity to give us a mini-essay about the greatness of the third single to be released by the Sex Pistols.
For those who don't have such great eyesight I'll use a few quotes from the brilliant review just to give you a wee taste:
There are certain all-too-rare occasions when, without warning, a record comes hurtling out of left field...stops you dead in your tracks, floors your expectations, simply SHOCKS you, and promptly sets the adrenalin pumping around your system at then ten times the normal speed.
It happened to me (and I'm certain I'm speaking for countless others), the very first time I heard Little Richard scream "Awopbopaloobop", Chuck Berry motorvatin' through 'Johnny B Goode, The Kinks brutalising 'You Really Got Me', Keith Richard's fuzz guitar intro to '(I Can't Get No) Satsifaction', the psychotic delirium of Hendrix's 'Purple Haze', the we-ain't-gonna-take-no-more-of-this-crap angst of The Who's 'My Generation', The Velvet's cacophonic 'Sister Ray', the contempt with which Dylan spat out 'Like A Rolling Stone', hearing The Stooges' '1969' being played immediately after CS&N's 'Marakesh Express' one humid morning over a New York radio station a couple of weeks after Woodstock, Television's surreal 'Marquee Moon'...
I experienced the same feeling this Friday when I received an acetate of The Sex Pistols' third single, 'Pretty Vacant'.
...Picture yourself trying to describe the sheer overwhelming impact of '(I Can't Get No) Satsifaction', 'My Generation', 'Raw Power' or even 'Dancing in the Street'. Truthfully, there aren't words. And unless you're terminally insensitive, you can't possibly fail to recognise the numbing shock of reality when, on occasions as these, it presents itself with all the subtlety of an earthquake.
The Sex Pistols' 'Pretty Vacant' is one such instance.
With this disc, the Pistols postively cream their closest competitors with muscle to spare.
I noticed that you can buy the copy of the NME that this appeared in on EBay for £14.99!! Turning rebellion into money eh? 😉
If you can manage to read the whole thing, do so, because it's an epic piece of writing I think. It blew me away reading it way back in 1977 and still gives me the chills as I read it today 40 years later!
Oh, and the record by the way is pretty tidy. Every time I hear that guitar intro I'm transported back to my younger days! It's an absolute belter. It might not have been as revolutionary as Anarchy in the UK or as in the moment as God Save The Queen but it stands the test of time I think.
Jamie Reid's artwork with the two buses depicting their destinations as 'Nowhere' and 'Boredom' is probably one of my favourite pieces of Punk Art.
The B-Side, a ramshackle version of The Stooges 1969 classic No Fun (that appeared on their Debut Album), stretching beyond six minutes was apparently from an older session produced by Dave Goodman.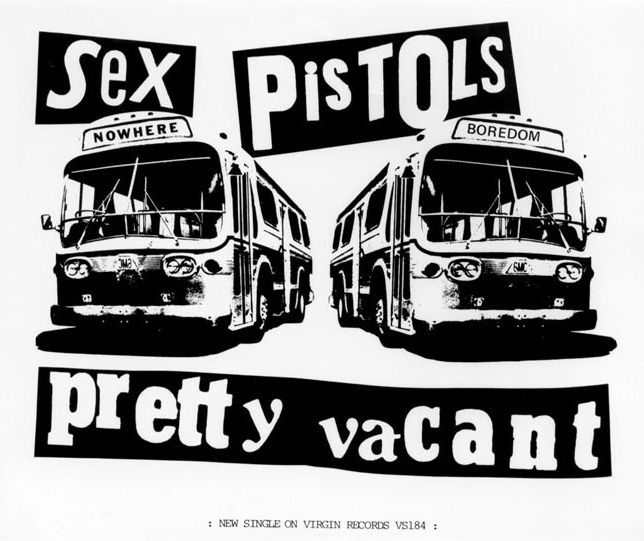 The single has been reissued a number of times over the years with various picture sleeves and in various formats like Picture Discs and CD's as well as 7" and 12" Vinyl. You can check out all the different ones over on Discogs (Click Here).
(Virgin Records Germany 2017 7" Vinyl Picture Disc Release)
NME Best Singles of 1977
1. Pretty Vacant - Sex Pistols
2. Watchin' The Detectives - Elvis Costello
3. Sex & Drugs & Rock 'N' Roll - Ian Dury
4. God Save the Queen - Sex Pistols
5. Sheena Is A Punk Rocker - The Ramones
6. Heroes - David Bowie
7. 2 4 6 8 Motorway - Tom Robinson Band
8. Waiting in Vain - Bob Marley & The Wailers
9. Do Anything You Wanna Do - The Rods
10. Alison - Elvis Costello
11. Roadrunner - Jonathan Richman
12. Spiral Scratch EP - Buzzcocks
13. Sweet Gene Vincent - Ian Dury
14. In the City - The Jam
15. All Around the World - The Jam
16. Complete Control - The Clash
17. Looking after No. One - The Boomtown rats
18. Peaches - The Stranglers
19. Oh Bondage! Up Yours - X Ray Spex
20. Solsbury Hill - Peter Gabriel
21. Looking through Gary Gimore's Eyes - The Adverts
22. More Than a Feeling - Boston
23. American Girl - Tom Petty
24. Short People - Randy Newman
25. Showroom Dummies - Krafwerk
26. Dirty Pictures - Radio stars
27. Orgasm Addict - Buzcocks
28. Red Shoes - Elvis Costello
29. Sound & Vision - David Bowie
30. Jamming - Bob Marley & The Wailers



Honourable Mentions to...


Blank Generation - Richard Hell
White Riot - The Clash
Do the standing still - The Table
Daddy cool - Darts
Dancing in the Moonlight - Thin Lizzy
Baby Don't Change Your Mind - Gladys Knight
Whole Wide World - Wreckless Eric
Psycho Killer - Talking heads
Tryin' To Love Two - William Bell
My Baby Does Good Sculptures - The Rezillos
Prove it - Television
Cokane - Dillinger
Don't Dictate - Penetration
Lovers of Today - The Only Nnes
Love Lies Limp - Alternative TV
Uptown Top Ranking - Althea & Donna
Two Headed Dog - Roky Erikson
Straighten Out - The Stranglers
Born for a Purpose - Dr Alimantado
Ain't Gonna Bump No More - Joe Tex