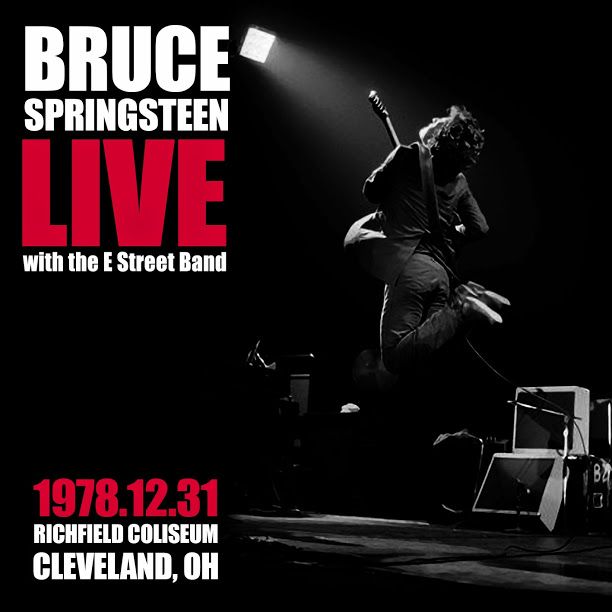 Darkness On The Edge of Town Tour
(Soundboard Recording ends at Rosalita, the rest is an audience recording and Quarter To Three fades before the end)
The River Tour 1980
01. "Intro"
02. Night
03. Prove It All Night
04. Spirit In The Night
05. Darkness On The Edge Of Town
06. Independence Day
07. Who'll Stop The Rain
08. This Land Is Your Land
09. The Promised Land
10. Out In The Street
11. Racing In The Street
12. "Piano Intro"
13. The River
14. Badlands
15. Thunder Road
16. "Intro"
17. Cadillac Ranch
18. Sherry Darling
19. Hungry Heart
20. Merry Christmas Baby
21. Fire
22. Candy's Room
23. Because The Night
24. 4th Of July, Asbury Park (Sandy)
25. Rendezvous
26. Fade Away
27. The Price You Pay
28. Wreck On The Highway
29. Two Hearts
30. Ramrod
31. You Can Look (But You Better Not Touch)
32. Held Up Without A Gun
33. In The Midnight Hour
34. Auld Lang Syne
35. Rosalita (Come Out Tonight)
36. Santa Claus Is Coming To Town
37. Jungleland
38. Born To Run
39. Devil With A Blue Dress
40. Good Golly Miss Molly
41. C.C. Rider
42. Jenny Take A Ride
43. I Hear A Train / Devil With A Blue Dress (Reprise)
44. Twist And Shout
45. Raise Your Hand

********************
New Year's Eve. Wow! We are now into the final day of the year and despite the many sad losses in the world of music it has been another good year for releases from older artists and newer ones also.
Here on Soundtrack4Life I've tried my best to post something at least once a day (and only failed to do so a few times) and the result has been that many albums covering many different spheres of music has been shared and I hope that you have found something here to your liking. I'd like to thank you whatever country you call home for visiting this blog. It is a constant source of wonder that people have been checking in from far away places like South America and parts of Eastern Europe as well. I trust that your musical palate has been whetted as a result of an album heard or a video seen or even a word written. Without people checking in I'd just be talking to myself (and my wife would probably be calling in the men in white coats to take me away for a check up from the neck up!). So a big thank you for taking time in your day to check out what's been posted.
May God bless you and grant you a New Year with new possibilities, opportunities and joy on the path in which you tread.
One of the things I'll be spotlighting next year will be the 40 Years of Punk and New Wave. This year has seen a lot of events celebrating the 40 Years of Punk and whilst I think that was a good thing to do 1977 was an important year as well because we began to get Singles and Albums from many of the bands who had formed in 1976. I've already been preparing a little for what's come and hopefully there will be some out there who will be appreciative of being reminded of the music that shaped their younger lives.
On top of that no doubt there will be a spotlight on new music that is coming as well as reminding ourselves of great releases from the past.
So, have a good one people and big thanks again for choosing to read my blog among all the other things you are no doubt pursuing.
Today's choice of music is two New Year's Eve shows from Bruce Springsteen and The E Street Band, the 1980 show on the original River Tour I had posted last year on The Soundtrack4Life Concert Series but some tracks were withheld from it, this time around it is all there for one of Springsteen's finest shows ever. The 1978 show on The Darkness at the Edge of Town Tour is a gem as well and is probably more known for an incident during the show where a punter tossed a firecracker and it exploded close to the face of Springsteen causing a little damage to the singer but he carried on with the show regardless. It is commonly known as "The Firecracker Show".
Let The Day Begin...Let The Day Start!