Monday, 31 March 2014
Posted by

Doug at Soundtrack4Life
at 12:54
No comments:

Saturday, 29 March 2014
For awhile I have wanted to do a post on Jason Isbell but felt he was just a little bit too new to my ears to give it the attention he deserved, so in order to set it straight and get a post about him here on Soundtrack4Life I asked a good buddy of mine, Colin Busher, from Ireland if he would kindly write a few words about the man. And as if by magic, here it is. Enjoy. Click on the links for further information and for music from Jason Isbell.


(Photo: Joshua Black Wilkins)

DISCOVERING JASON ISBELL
by Colin Busher

Towards the end of his book "Walk Like a Man", Robert J. Wiersema laments the change in your reaction to discovering new music as you get older.

As a teenager, the effect is a very visceral, physical one, from devouring every note, pouring over every word. Your heart, he says expands in your chest as if it's about to burst. We've all been there in our younger years, finally having found an artist that just 'gets you and your life – understands you' with their lyrics and music. As we get older the reaction to new music he argues is more cerebral, appreciative rather than passionate. You love the new music but you're not IN love with it. He then proceeds to blow this argument out of the water as he discovers The Hold Steady.



One cold morning last October in Cologne the same thing happened to me. Walking off a hangover in the cold at 7am I was listening to Jason Isbell's 'Southeastern album'. As I rambled around unfamiliar streets I found myself thinking just how good is this guy I'd never heard of until a few weeks previously. Songs like Cover Me Up, Traveling Alone, Live Oak, Different Days, Songs that She Sang in the Shower,

Yvette

and the kicker - Elephant, are all songs worthy of having a film made from them*. Not a dud in sight.

Isbell's narratives read like those of a world weary soul having felt, loss, regret, loneliness, recrimination, love and salvation. A lifetimes worth of experiences. But he's only 34. Man I can't wait to hear what he's gonna write when he's 60!

That physical reaction that Wiersema speaks of in his book took hold of me that day. I went out determined to get hold of his back catalogue and over the next few months I have managed to get all but one of his previous albums on vinyl. Each one a corker in it's own right.

A former member of Drive By Truckers (who I have to listen to – but am assured of great things by the good people on Facebook) Jason Isbell wrote material with them for the three albums,

Decoration Day

(2003), The Dirty South (2004) and Blessing and a Curse (2006).



Due to alcohol and drugs, Isbell is reported as saying "I'm lucky to have a second chance at all this. I don't remember a lot of the good times from my days with the Truckers." This time I want to remember it all. Thankfully his now wife Amanda Shires and friend Ryan Adams got him into rehab back in 2012 and everything seems to be going on an even keel at the moment.

I managed to catch him live in Dublin back in November for what for me was my gig of the year. At first appearing self effacing, he grew to be charming, funny and very appreciative of the audience telling tales of his exploits with the bottle, how he suffered his wife's study of James Joyce and the enthusiasm of DBT fans. The songs of course stood out in their own right. Each one had the audience transfixed – particularly Yvette and my own favourite Different Days.**

Jason Isbell is on tour in the UK in May – make an effort to get to see him. You may just be transported back to those visceral, physical feelings of discovering new music you had when you were a teenager.

*I have plans for all the movies on Southeastern in my own mind's eye!

** Doug note for Colin: found the video of the song from Dublin. Just for you.

Posted by

Doug at Soundtrack4Life
at 13:48
No comments:

Posted by

Doug at Soundtrack4Life
at 09:57
No comments:

The Cure played last night at The Royal Albert Hall in London in aid of The Teenage Cancer Trust and will play tonight also at the historic venue. Last night they pulled off a three and a half hour show that featured a very strong 45 song set! Yep, you read that right, 45 songs! A 29 song main set and 16 songs spread across three encores! Memories of last years' show in Mexico for Robert Smith's 54th birthday come creeping back when the band played for 4 hours and 16 minutes and bashed out 50 songs!
I've tried to find as many links as I can from the show and will add more and better quality ones when they become available. Enjoy.
Setlist: The Cure, Royal Albert Hall, London, UK, 28/03/14
36. "Catch"
37. "The Lovecats"
38. "Hot Hot Hot"
39. "Let's Go to Bed"
40. "Freakshow" - (First time since 2008)
41. "Close To Me"
42. "Why Can't I Be You?"
Posted by

Doug at Soundtrack4Life
at 08:59
No comments:

Friday, 28 March 2014
Reg King - Vocals
Alan 'Bam' King - Guitar and Vocals
Mike 'Ace' Evans - Bass and Vocals
Roger Powell - Drums
Peter Watson - Guitar and Vocals
One of the most underrated bands to come out of the 1960's in my honest opinion were The Action, hailing from Kentish Town, North West London.
"We all tried our hand at getting that [Motown] sound you know... all the bands in the mid '60s.
The best ones at it were the Action... They were an amazing band." (

Steve Marriott, 1987

)
"Of all the groups to emerge during the 1960s British beat explosion THE ACTION are most deserving of the epithet "unsung"."
(Sir George Martin)
Prior to becoming The Action they had begun life in 1963 as The Boys and had recorded a couple of singles, firstly as Sandra Barry and The Boys: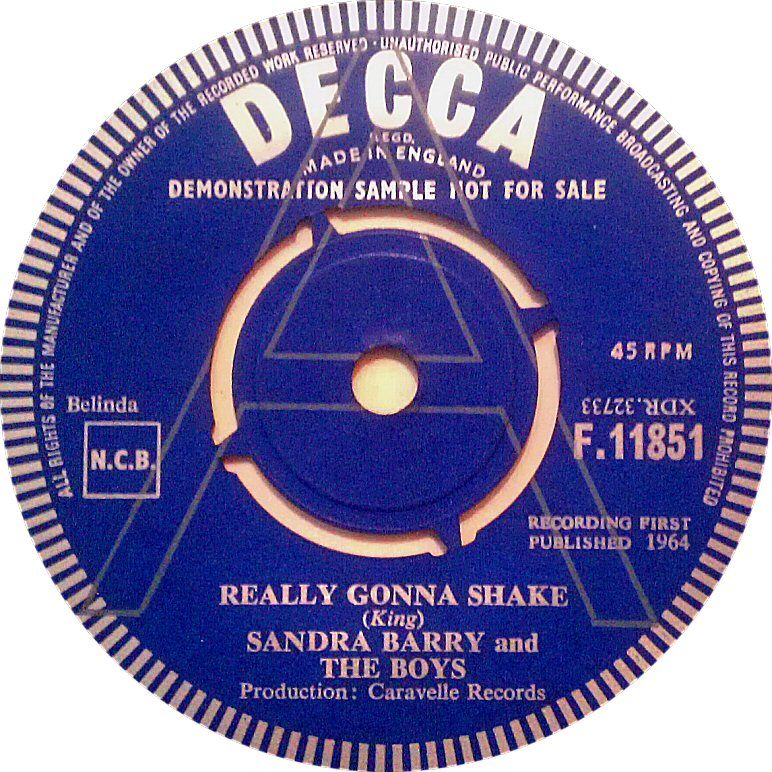 What was probably unusual for the time, both the A-side and B-side of the single were written by vocalist Reg King.
The Second single, released just as The Boys was 'It Ain't Fair' (November 1964 on Pye Records).
In 1965, with the addition of Peter Watson on guitar the band changed their name to The Action.
They also signed with Parlophone and released their debut single: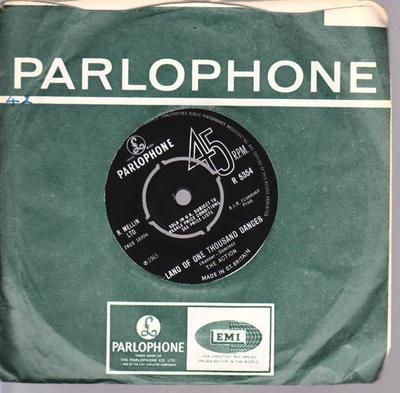 Peter Watson left the band in 1966 and The Action were seemingly getting nowhere. The critics enjoyed their music but they just couldn't get a hit record. Even the February 1966 follow-up to the 'Land' single didn't even make a dent.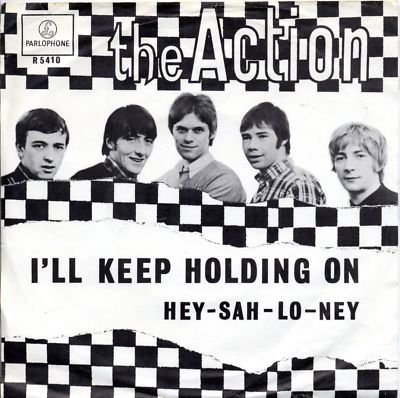 A few more singles followed on Parlophone before they were let go by the company:
Reg King would leave the band in 1967 with Alan King taking over on vocals and only one more single would see the light of day:
German only release in 1968.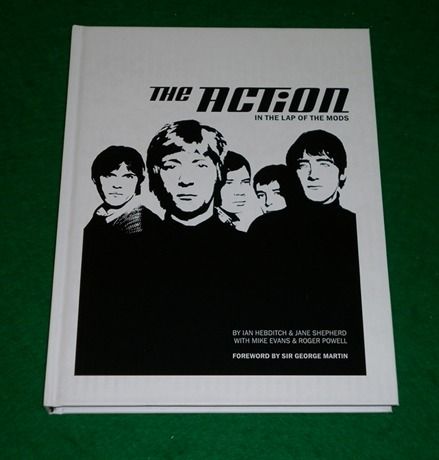 Reg King would go on and have a bit of a solo career releasing a single:
And an album in 1971 also:
Reg King died in 2010 from Cancer.
Alan King went on to form Psychedelic band Mighty Baby (with Evans and Powell of The Action) who released a couple of albums between 1969-71.
Mike 'Ace' Evans died on 15th January 2010.
Alan 'Bam' King went on to form Ace featuring Paul Carrick. They released three albums between 1974-77, and a number of singles, most which didn't sell well or even chart but their debut single 'How Long' peaked at #20 in the UK and hit #3 in the US Billboard Chart.
Posted by

Doug at Soundtrack4Life
at 14:49
No comments:

Posted by

Doug at Soundtrack4Life
at 10:05
No comments:

Thursday, 27 March 2014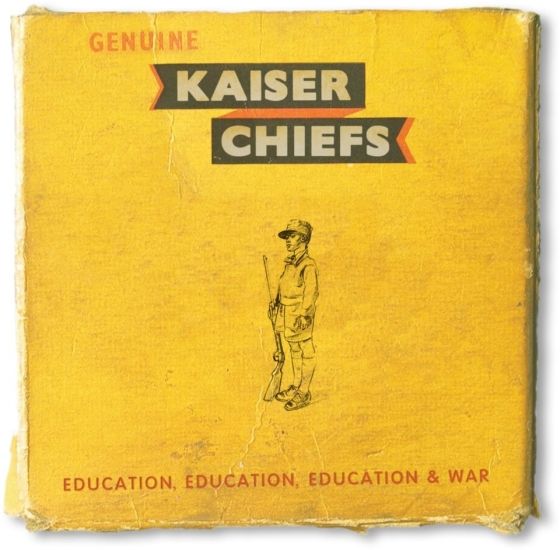 The fifth studio release from The Kaiser Chiefs will see the light of day at the end of this month. It is the first one since the departure of Nick Hodgson, their drummer and principle song writer. The US release will be a day later on 1st April 2014.
In December they released on their Soundcloud page a new song and one of the best on the album, 'Misery Company'. 'Bows and Arrows' followed in January on the Rolling Stone website and then released as a single. In February they released 'Coming Home' as a single and that was closely followed by a promo video for the single. 'Coming Home' I actually think is the weakest song on the album and so was surprised that it was the first song they made a video for prior to the release of the album. My personal view is that 'Factory Gates' would have made a great single.
I have to say that I really like the new material. After the 2nd album, 'Yours Truly, Angry Mob' I felt that they kind of lost their way a bit with the following two albums ('Off With Their Heads' and 'The Future is Medieval'). So in many ways this is a return to form I think.
Frontman Rick Wilson is currently a judge on the UK version of The Voice on the BBC.
Live at FIB 2013 (Full Set).
SETLIST:
Everything Is Average Nowadays
Everyday I Love You Less and Less
Little Shocks
Na Na Na
Modern Way
Never Miss A Beat
Ruby
I Predict A Riot
Angry Mob
Oh My God
Posted by

Doug at Soundtrack4Life
at 23:24
No comments:

Posted by

Doug at Soundtrack4Life
at 12:28
No comments:

On this day in musical history U2 performed from the roof of a store in downtown LA to make the video for 'Where The Streets Have No Name', attracting thousands of spectators and bringing traffic to a standstill. The police eventually stop the shoot.
Posted by

Doug at Soundtrack4Life
at 09:47
No comments:

Tuesday, 25 March 2014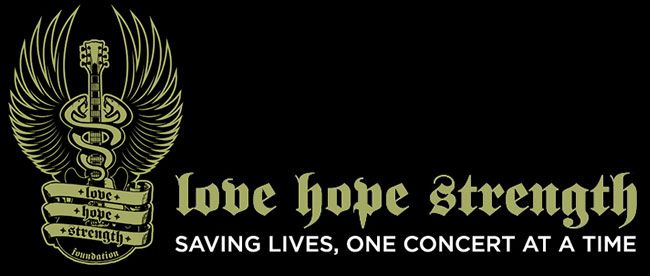 James Stevenson, Smiley Barnard, Lydia Franklin and Steve Webster (and not forgetting Kerry Barnard - not pictured) joined together to record a song written by Lydia called 'Don't Take Action'. All money generated by downloading the song from Reverbnation will go towards Love Hope Strength.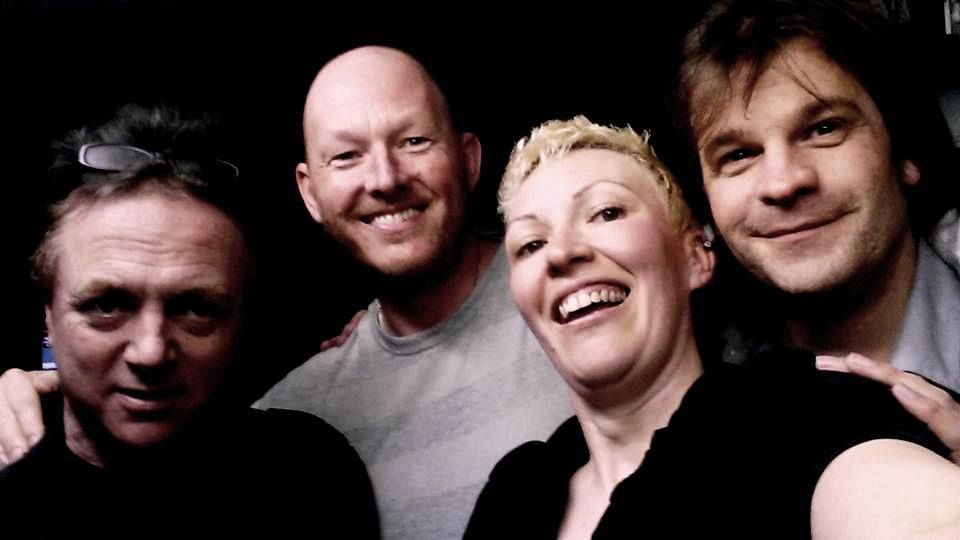 Posted by

Doug at Soundtrack4Life
at 12:18
No comments: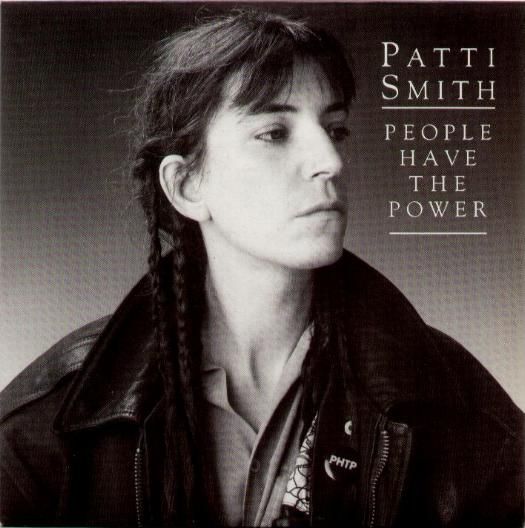 I was dreamin' in my dreamin'
Of an aspect bright and fair
And my sleepin' it was broken
But my dream it lingered near
In the form of shinin' valleys
Where the pure air recognized
Oh, and my senses newly opened
And I awakened to the cry
And the people have the power
To redeem the work of fools
From the meek the graces shower
It's decreed the people rule
People have the power
People have the power
People have the power
People have the power
Vengeful aspects became suspect
And bending low as if to hear
Well, and the armies ceased advancin'
Because the people had their ear
And the shepherds and the soldiers
And they laid among the stars
Exchanging visions, layin' arms
To waste in the dust
In the form of shinin' valleys
Where the pure air recognized
And my senses newly opened
And I awakened to the cry
People have the power
People have the power
People have the power
People have the power
Where there were deserts, I saw fountains
Like cream the waters rise
And we strolled there together
With none to laugh or criticize
There is no leopard and the lamb
And lay together truly bound
Well I was hopin' in my hopin'
To recall what I had found
Well I was dreamin' in my dreamin'
God knows a pure view
As I lay down into my sleepin'
And I commit my dream with you
People have the power
People have the power
People have the power
People have the power
The power to dream, to rule
To wrestle the earth from fools
But it's decreed the people rule
But it's decreed the people rule
Listen, I believe everythin' we dream
Can come to pass through our union
We can turn the world around
We can turn the earth's revolution
We have the power
People have the power
People have the power
People have the power
The power to dream, to rule
To wrestle the earth from fools
But it's decreed the people rule
But it's decreed the people rule
We have the power
We have the power
People have the power
We have the power
Posted by

Doug at Soundtrack4Life
at 11:38
No comments: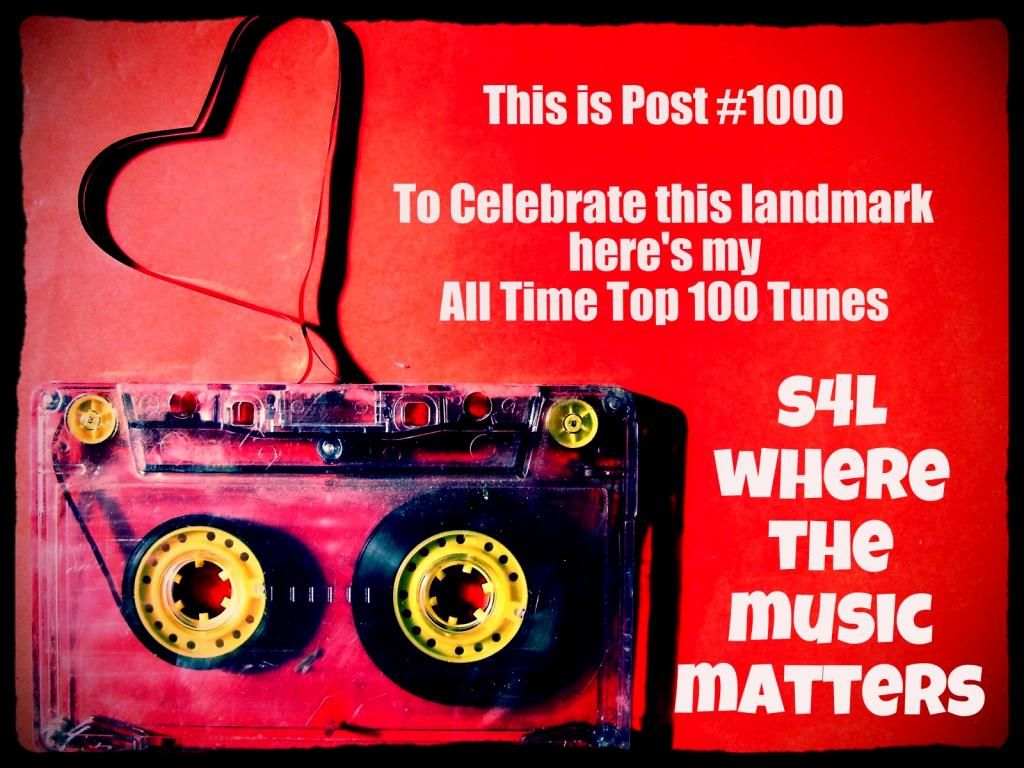 Wow, I can hardly believe that we have reached a thousand posts on this little blog that I set up firstly for my own enjoyment and along the way there have been almost 100,000 views from all across the world. Thank you for stopping by and enjoying the music with me.
Back in May last year I posted a couple of pieces outlining 50 of my favourite albums that have stuck with me through thick and thin down through the years and by no means was it a set in stone list of what my favourite albums of all time are, though some of them would easily be in a proper list:
So for this 1000th post I thought I would do a proper listing of my 100 All Time Favourite Songs. A couple of things before we begin. Firstly, these are my choices and I hope you might find something to your own liking among them. Secondly, your choices would be totally different from mine so why not sit down and work it out and share it with me and with others. Thirdly, it would have been way too easy to fill up a hundred spots with multiple tunes by a number of artists so I set myself the task of finding the one song that I loved more than anything else from the particular artist. Of course there are probably better songs, but these are the ones that do it for me.
As usual click on the links to enjoy the music.
Posted by

Doug at Soundtrack4Life
at 08:27
No comments:

Elvis hosting Letterman 12th March 2003.
Up Next the 1000th Post on Soundtrack4Life
Posted by

Doug at Soundtrack4Life
at 08:26
No comments:

Monday, 24 March 2014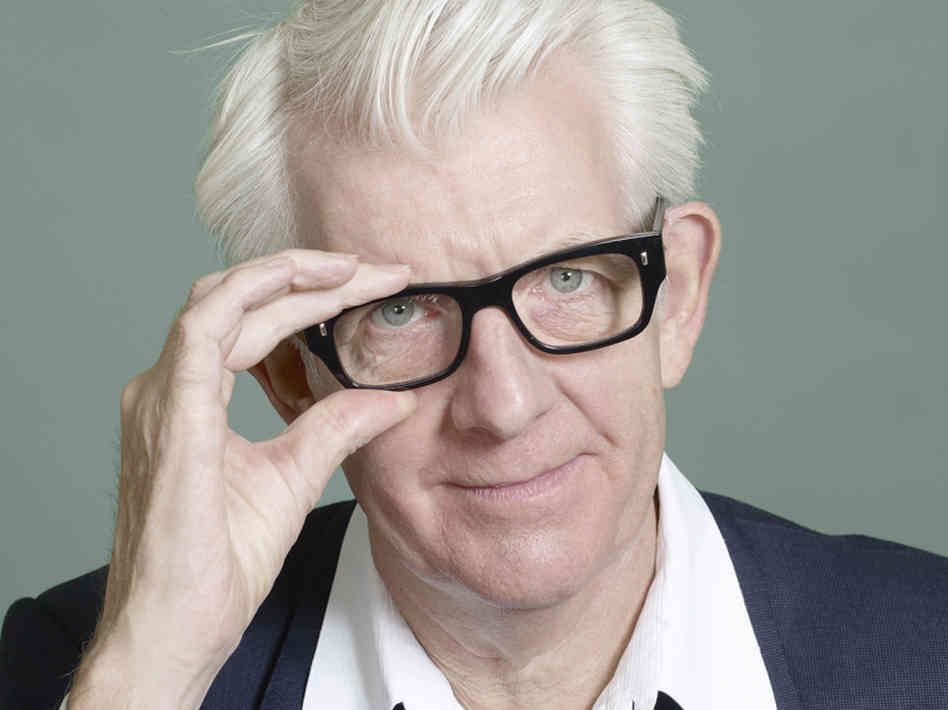 Nick Lowe is one of the most underrated singer/songwriters to come out of the UK.
Click on the links to enjoy the music.
Posted by

Doug at Soundtrack4Life
at 16:13
No comments:

I want to dedicate this blog post to two dear friends Rue and Liz. The adventure is soon to begin.
Every story of course needs a soundtrack and it's actually amazing the amount of songs that are out there that focus on issues of family, kids and growing up and so I thought it would be fun to bring a few of those songs together in one place. Because family is such a varied thing, no two are ever the same, and because life throws up it's surprises in many different guises so the soundtrack is very eclectic drawing from many differing musical strands. So, from the fun to the serious I offer up this list to Rue and Liz and to all who know the joys and heartaches of family life.
Posted by

Doug at Soundtrack4Life
at 14:31
No comments:

Sunday, 23 March 2014
It took a good few years from the original desire to work together to finally get Wilko Johnson and Roger Daltrey in the same studio and boy how we are glad that Wilko has not passed out of this world just yet because we might never have seen this happen.
So, 'Going Back Home' is released on Chess Records! It seems perfectly fitting for these two blues warriors who have thrilled us with their own brand of Chicago Blues to get the album released on the the label that first brought to our attention the likes of Bo Diddley, Little Walter, Muddy Waters, Willie Dixon and Chuck Berry.
The album is made up of ten Johnson originals (from his days in Dr Feelgood and his group The Solid Senders) and a cover version of a Bob Dylan track - 'Can You Please Crawl Out Your Window?' (originally released by Bob on 'Highway 61 Revisited').
My only criticism is that it is only 35mins long.. But I won't dwell on that because thankfully we have a repeat button, so we can just play it again and again!
Daltrey actually is sounding fantastic, and for a bloke of 70 years, his pipes seem to be in great condition as he pulls off moment after moment on the album.
04.
Can You Please Crawl Out Your Window?
08. Sneaking Suspicion.**
09. Keep It Out of Sight.**
*This is the Promo Video.
** This is a studio version as it appears on the album. Some links have been removed by you tube.
*** Denotes a live version from the Empire show in London.
The Times + Event with Wilko and Roger.
Setlist
1. All Right
2. Barbed Wire Blues - 3:37
3. The More I Give - 8:07
4. Dr Dupree - 11:42
5. When I'm Gone - 15:57
6. Roxette (long version) - 24:30
Part 2: Wilko, Norman, Dylan, Roger Daltrey (Vocals), Mick Talbot (Keys), Steve Weston (Harmonica)
7. Going Back Home - 30:35
8. Keep It To Myself - 34:32
9. Please Crawl Out Your Window - 39:45
10. Keep On Loving You - 44:00
11. Some Kind Of Hero - 50:03
12. Ice On The Motorway - 54:36
13. Sneakin Suspicion - 57:58
14. Everybody's Carrying A Gun - 1:03:50
15. Keep It Out Of Sight 1:08:15
16. All Through The City - 1:13:13
17. I Can't Explain - 1:17:40
18. Keep It To Myself (again!) - 1:21:40
Posted by

Doug at Soundtrack4Life
at 23:42
No comments: