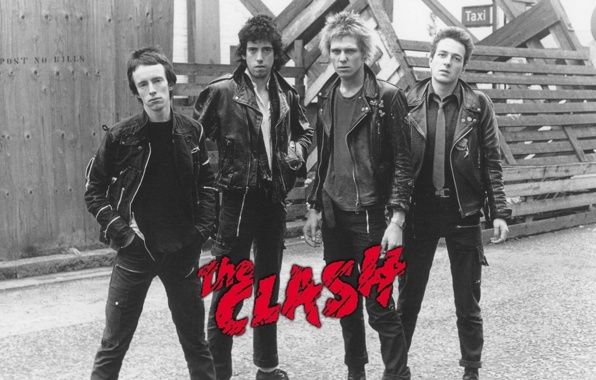 During the lifetime of The Clash there were no "Greatest Hits" Compilations, infact the only Compilation that was released whilst they were on the go was Black Market Clash that was released in October 1980 as a 10" EP and contained 9 tracks that were not at the time available in the USA (some B-sides, a couple of album tracks from the Debut and an unreleased version of Time is Tight). It was deleted in 1993 when it was replaced with Super Black Market Clash ( the 9 tracks had been expanded to 21).
The first comprehensive look at their career came in the form of The Story of The Clash Volume 1 (I don't recall their ever being a Volume 2!). Surprisingly the album reached #7 in the UK (only London Calling and Combat Rock went higher, both reaching #2).
Now, I do have a bone or two to pick at about this compilation. Firstly, who on earth was responsible for putting it together? The album might be called 'The Story of The Clash' but it is so messed around with that the beginning of the story doesn't even come until the second disc (or sides 3 and 4). It's disjointed, telling the story backwards, forwards, sideways and back again! It's like buying a book that the printers messed up when they were putting it together giving you the ending first and the beginning at the end! Actually, saying it gives the end first is not quite correct because obviously anything from Cut the Crap is absent and most compilations that followed discarded anything from it (This is England single was part of the Singles Boxset release in 2006, even the mammoth boxset Sound System avoided anything from Cut The Crap!)
Secondly, the draw for any fan of The Clash would have been the inclusion of the Interview on The Circle Line (not the full version either, but only part two of it) from the Captial Radio EP that was a Freebie back in 1977 for the NME. Apart from that everything on it most sensible fans of the band would already had in their collections.
I'm not always a huge fan of these types of albums but I will say that if you had wanted an album better than this that told the actual Story of The Clash then the 1991 3CD Boxset released as Clash on Broadway was a much better release, at least it gave the story in pretty much chronological order. Also it contained a few more rarities in the form of live tracks, some demos, and unreleased studio tracks
The Story of The Clash - The Clash
CBS/Epic
Various Producers
Released 29th February 1988
UK Chart #7
US Chart #142