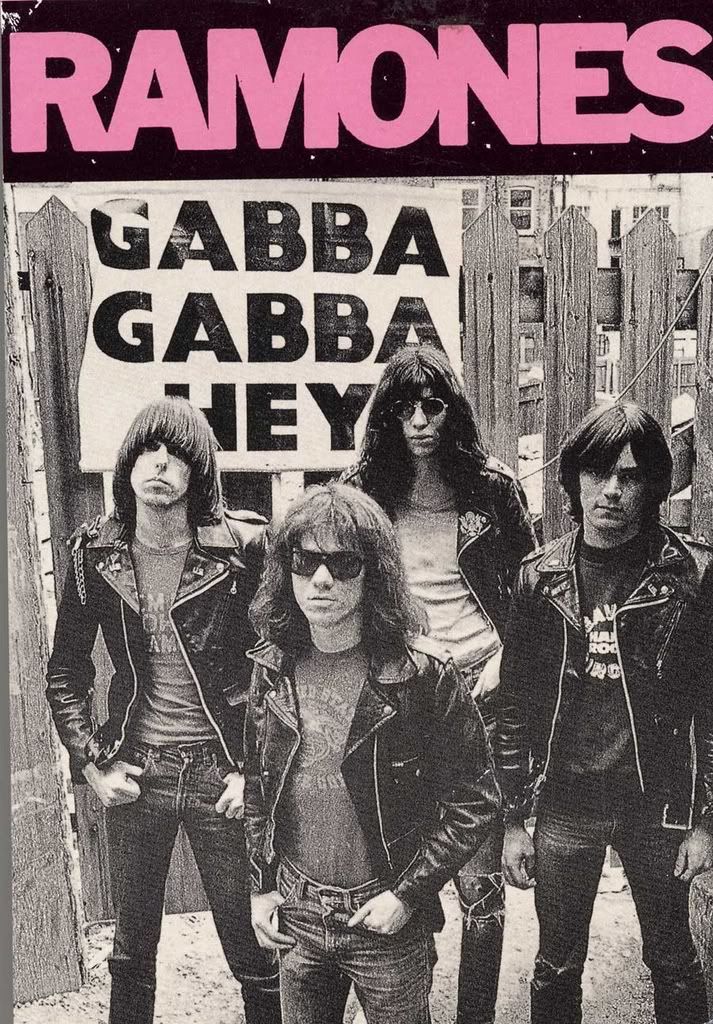 I said last time that I would mention a little something about the live recordings of The Ramones and I will do so briefly before finishing up.
There are seven "official" Live releases by the band (though one of them, 'You Don't Come Close' was not released on any of the labels that the band were home to): 'It's Alive' (1979), 'Loco Live' (1992), 'Greatest Hits Live' (1996), 'You Don't Come Close' (2001), 'Loud Fast Ramones: Their Toughest Hits' (2002) and NYC 78 (2003).
The best of them all is 'It's Alive' recorded at The Rainbow Theatre on 31st December 1977. It contains 28 tracks that span their first three releases and clocks in at 54 minutes and 49 seconds. It is considered to be one of the best live albums in music history.
As a young lad of 14 I was at this show and from what I can recall the front row seats at The Rainbow got trashed (that also happened when The Clash headlined there on the 'White Riot Tour' earlier in the year) but it was not a violent show, people needed room to dance and the seats were in the way!
Besides being recorded it was also filmed and the footage finally saw the light of day on the 'It's Alive 1974-1996' DVD package that was release in 2007 (a must for any fan of The Ramones. It contains 118 tracks from 33 performances in eight countries but only fourteen of the original setlist from The Rainbow show - I wonder what happened to the rest of them?).
The Rainbow Part One
The Rainbow Part Two
The Rainbow Part Three
I watched this afresh today and was totally blown away by it.
It would be many years before another live album appeared and when it did we kind of wished it didn't. It's not that 'Loco Live' is a bad set of songs, because it is a fantastic set list. It was the first release that CJ played on and he hates the album. He thinks that it is the worst thing he has ever played on! The show was recorded in Barcelona in March 1991 but it is mixed badly. The drums stand out too much and you could almost think that it was a very poor bootleg!
'Greatest Hits Live' was a lot better and it contained two songs that up to that point had never been on any studio releases (Lemmy's tribute to the band, 'R.A.M.O.N.E.S.' and 'Any Way You Want It' orignally recorded by The Dave Clark Five both with CJ on vocals).
'We're Outta Here' is a record of the final show by The Ramones that took place at The Palace in LA on 6th August 1996 - the album was released in November 1997. Again it's a pretty good set but personally I thought that the inclusion of all the different guests was not called for. It was show 2,263 of the band's career and the final time they would play together. Yes it was good that Dee Dee got a shot to play one more time with the band who gave him his identity and maybe it was a nice touch having Lemmy come out and sing his tribute to the band. But I could never understand why the guys from Rancid, Soundgarden and Eddie Vedder were part of the show. And I was even more puzzled that the final ever song The Ramones would play live would be the Dave Clark Five cover and not one of their own!
I have to admit I probably played the album once or twice and that's it. I always go back to 'It's Alive'. That record gives a proper account of what they were like live more than any of the other releases.
'You Don't Come Close' was recorded in 11th September 1978 in Bremen but wasn't released until 2001. Don't really know much about it. My guess is that it was originally a bootleg.
'Loud, Fast Ramones: Their Toughest Hits' was compiled by Johnny. The first 50,000 copies included an 8 track disc recorded at The Lyceum Ballroom, London on 25th February 1985 - the only official live release to have Richie on drums.
NYC 78 was recorded a week after The Rainbow show for the King Biscuit Flower Hour Radio Show. The set list is pretty similar to 'It's Alive'. The thing that stands out about this release is that it was the final recording with Tommy on the drums.
There have been loads of Ramones compilations over the years, about 12 I think. 'Ramones Mania' is superb as is 'The Anthology' and 'Weird Tales of The Ramones' (a 3CD, DVD and Comic Box Set) is worth a look at. Johnny compiled the set and it was released in 2005 - there's nothing new on it though the DVD does have a version of 'Substitute' that was banned by MTV as well as the documentary 'Lifestyles of The Ramones'.
On the subject of DVD releases there's a few worth checking out. I already mentioned 'It's Alive 1974-1996'(2007), 'End of the Century' (2003) is pretty good, as is 'Ramones Raw' (2004) and lastly 'Too Tough To Die: A Tribute to Johnny Ramone' (2006).
The 'Rock 'n' Roll High School' movie (1979) is worth a watch but it is very tacky and you can pick it up very cheaply these days.
So there you go. That's The Ramones. They have influenced so many down through the years and you can hear it on a thousand and one songs today. Dave Fricke from Rolling Stone magazine once said this about them and it is a great note to end this look back at their music on:
"The Ramones represent the truth of the fact that you are never too old to rock 'n' roll as long as you believe in what you are doing, and you can do it with purity and conviction. The age of your band is irrelevant. Rock 'n' roll is not for the young. It's for people who refuse to not give a s***.
They started by celebrating the most absurd aspects of teenage life. Sniffing glue, chasing girls around Queens, going to the beach. They took all that stuff and showed how timeless the basic content and emotions in those songs were - and yet to do it with such a joy and do it with such force, it's such exultation. Who hasn't wanted to beat on some guy with a bat because they're a pain in the ass?" (as told to Everett True in his book 'Hey Ho Let's Go: The Story of The Ramones' (Omnibus Press 2002)