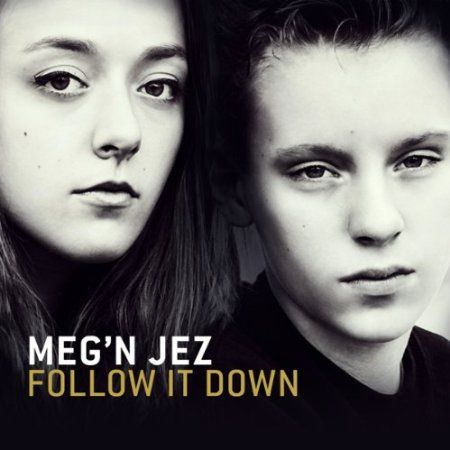 On this blog I have given mention to a few youngsters who are currently putting out superb music (The 45's and The Strypes in particular) and so it a real joy to add to that list Meg'n Jez.
For a spot of background info on Meg'n Jez check out the blog I did ten days ago.
The album is released today and what a great record it is! It's loaded with brilliant songs (Originals and very wise Cover Versions) and it's hard to think that Meg is still a youngster with that great soulful voice that she has!
Let's start with the Cover Versions: Die Toten Hosen's 'Call of the Wild', from their 1999 album 'Unsterblich'. This stripped down acoustic version really brings the power of the lyric to the fore. It's almost like they are preparing themselves against those who would put them down and they want you to join them in the battle.
'Stop Crying Your Heart Out' is my favourite Oasis song and it's sung so gorgeously and to perfection (Noel Gallagher wouldn't be able to produce that emotion that this version brings!).
'The Lion and The Lamb', not a lot of people give credit to what an amazing songwriter TV Smith is and this song is one of his finest ever. Meg'n Jez pull off a superb cover with added Strings that totally enhance the song (have to give some kudos to Producer Pete Walsh for the String arrangements throughout the album, they add a beautiful depth not found on the original songs).
'Wish You Were Here' - Oh boy, I wasn't expecting this! I've heard a lot of versions of this classic Pink Floyd track down through the years and not many have moved me like the original, but the vocal on this one is just way too beautiful and for one so young Meg'n captures the heart and soul of the song.
Sarah McLachlan's 'Angel' has been covered by many artists since it's release (Westlife, Prince, Kelly Clarkson, and Beyonce to name but a few) and this version with Jez's tender guitar and Meg'n's passionate vocal bring it a lot closer to the original yet at the same time they manage to put their own stamp on it.
'Son of a Preacher Man' builds from the just the guitar and voice and launches into a full scale foot-stomper.
What about the rest of the songs? Well, 'By Myself', which opens the album and 'Don't Worry' were written by another youngster, Phoebe York, who is based in Norwich. Another bright light indeed (Check out her version of 'By Myself').
'Follow It Down', 'Epic Fail', 'Flashback' and album closer 'Happy End' were written by Meg'n and Jez and they show great potential. I'm hoping for good things in future days for these kids. They've already had a wild ride supporting TV Smith and having the opportunity to play on stage with Die Toten Hosen. The future looks bright.
All the

video links

above are for live versions of the songs and not the audio contained on the album. To get a taste of the album watch the video below.
The album is available on iTunes, Amazon and also from Drumming Monkey Records.