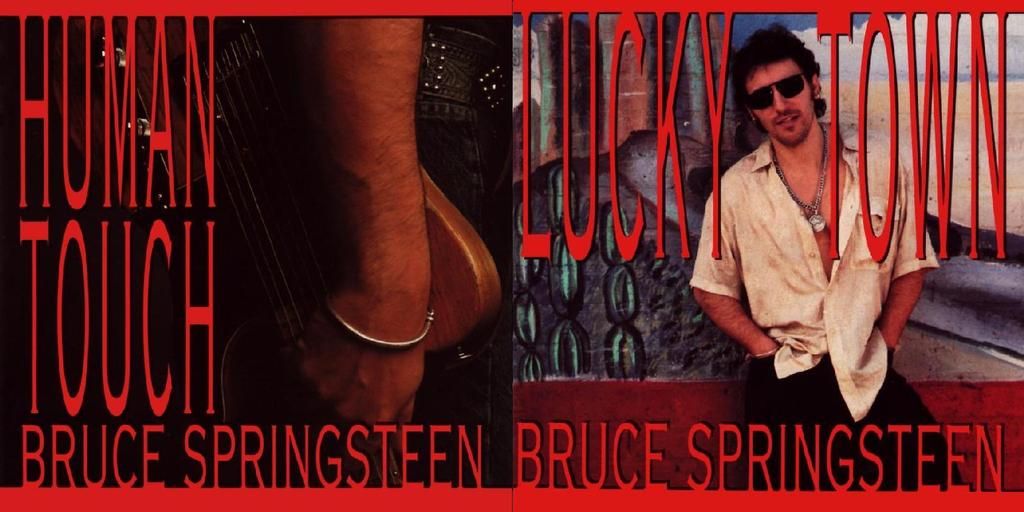 It had been five years since the recording and release of 'Tunnel of Love and a whole lot of quiet was suddenly broken not by the release of one album by Bruce Springsteen, but the release of two albums on the same day!
The tracklists of each album I have tried to find alternative or live versions of the particular songs. Click on the links to enjoy some Human Touch in a Lucky Town!

Human Touch
US Chart #2
UK Chart #1
All songs by Bruce Springsteen unless otherwise noted
Lucky Town
US Chart #3
UK Chart #2
All songs by Bruce Springsteen
Bruce Springsteen - SECC Glasgow
Lucky Town filmed for Top of the Pops
On this day in 1993 I took my wife (of then 5 months) to her first ever Bruce Springsteen show.
Setlist
DARKNESS ON THE EDGE OF TOWN / MANSION ON THE HILL / THIS HARD LAND / BETTER DAYS / LUCKY TOWN / ATLANTIC CITY / 57 CHANNELS (AND NOTHIN' ON) / TRAPPED / BADLANDS / IF I SHOULD FALL BEHIND / MY HOMETOWN / LEAP OF FAITH / MAN'S JOB / ROLL OF THE DICE - EVERYBODY NEEDS SOMEBODY TO LOVE / HUMAN TOUCH / BECAUSE THE NIGHT / BRILLIANT DISGUISE / THE RIVER / SOULS OF THE DEPARTED / THE STAR-SPANGLED BANNER - BORN IN THE U.S.A. / REAL WORLD / LIGHT OF DAY / GLORY DAYS / BOBBY JEAN / THUNDER ROAD / BORN TO RUN / MY BEAUTIFUL REWARD / WORKING ON THE HIGHWAY