(There will be links to various things throughout this post so click on them to enjoy music and further information. Cheers for reading this blog in 2017. - Doug at S4L)
I trust that all of you who visit Soundtrack4Life have had a good Christmas and I apologise that I have not been on the ball enough to even offer up any seasonal music or even a Christmas Greeting to you. On this last day of 2017 I wanted to look back a little bit over the year on the blog and then try and look forward a little to what 2018 might bring us.
For the first time since 2011 I managed to post less than 200 blogposts which I am a little disappointed by as I had begun 2017 with some high hopes for this blog but it didn't quite pan out as I had thought due to various issues that I will mention as we go on through this piece.
One of the things you would have noticed on the blog is that some of the earlier posts from this year and also from the archives is that a lot of pictures are missing. This was due to a problem with Photobucket where I ended up losing my previous account and therefore thousands of pictures that were personal and also used for the blog. I have tried in a few places to rectify this but it is such a labour intensive task that I fear I must just let it be! The same goes for dead links etc I have been able to update some but going back over a decade of posts is a tough job and takes so much time and I was able to redo a few under the banner of Rewind or Revisiting...
Throughout the year there have been a number of series running:
The continuing series 45RPM .
As is the circle of life we said goodbye to a few musicians who have had an impact upon us down through the years: Mike Kellie (The Only Ones), Overend Watts (Mott the Hoople and Producer), Chuck Berry, Fats Domino and Tom Petty, to name but a few.😢
Continuing with that subject: Personal loss was also something that came this year as on the 28th December as my Mum passed away after a long battle with cancer. 😢 I had said over on Facebook that I attribute to my Mum my love of all kinds of music and whilst she did not always approve of my musical choices and purchases but I think she would have been proud to know just how her own love for music had made an impact in my own life.
As for health matters, that has actually played a huge part in not always being so active on the blog. I got diagnosed with Epilepsy earlier in the year and went through a period where I was having a number of issues relating to that and it meant that I was finding it difficult to think and give the time to writing that I really wanted to (sometimes a piece can take between 2-5 hours to prepare and my brain was struggling to focus for such long periods and so I didn't get around to posting half the stuff that I wanted to). This diagnosis of course had the knock on effect of meaning that going to gigs is something that I have had to cut back on even more (I haven't really been out to many shows in the past few years due to other health issues that I won't trouble you with at this time!). In February this year I attended The Gathering down in Wales for a weekend of music by Mike Peters and The Alarm and also went to see Stiff Little Fingers at the Barrowlands in March with friends who had come up from down South. I found both to be a bit of a struggle for me, what with all the flashing lights etc and therefore came to the decision that my gigging days would have to come to an end until I can get some control of my epilepsy issues.
Whilst this is discouraging it hasn't dampend my love for music one bit and over 2017 I have tried to spotlight some new music as well as the old. The lights have been shone upon new albums/videos from Dropkick Murphys, Alison Krauss, Rhiannon Giddens, Ruts DC, John Mayall, The Darling Buds, Paramore, The Primitives, The Alarm, Blondie, Die Toten Hosen, Little Steven, Lindsey Buckingham/Christine McVie, Quatro, Scott and Powell, Henry Priestman and Les Glover, and of course many more that can be found in The Best of 2017 Series.
As for the Old, I have posted such a diversity of musical sounds that I scarely know where to begin. There was Janis Joplin, The Waitresses, Dr. Feelgood, David Bowie, MC5, Keith Hudson, Slade, Stiff Little Fingers, Patti Smith Group, Evanescence, Johnny Moped, Bruce Springsteen, The Photos, The Cult, Ramones, Neil Young and Crazy Horse, Buddy Holly, Otis Redding, The Damned, The Waterboys, and many more.
One of my favourite posts of the year would be from January as part of the 45RPM Series spotlighting a single that I had never heard of before but it brought out a level of musical anorakness in me that had me smiling for ages. The particular post was on The Snakes and their cover of The Flamin' Groovies' song Teenage Head.
What about the way ahead? Well in 2018 I will try my best to post as often as I can and offer up the best old and new music that I enjoy as well as trying to continue with the S4L Radio Show Playlist and a few other things. It might not be everyday that I post but I do hope that you will come back from time to time to check in and enjoy some music.
Thank you to the many who continue to revisit this blog. I am always amazed when I discover visitors from all across the world accessing this little place of musical respite and I trust that you will continue to maybe find something old and something new that thrills you and enriches your own love for music.
I wish you well for 2018 and in the words of Mr Springsteen I offer up this little verse that seems like a good parting shot for the year that has passed: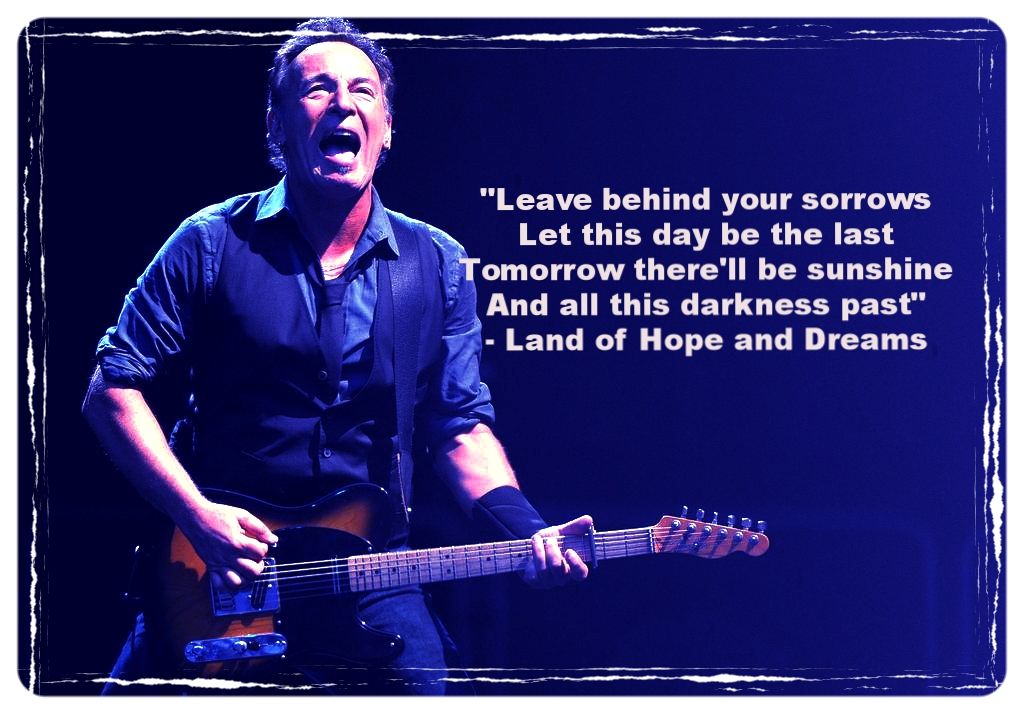 Land of Hope and Dreams
Live in Perth, Australia 2017