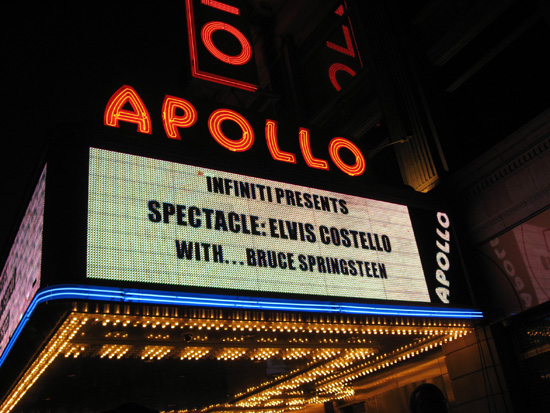 Costello and the Imposters opened the show with a cover of "Point Blank," setting the tone early for what was to be a night of many non-traditional Springsteen tunes. At Costello's request, Bruce opened with "Wild Billy's Circus Story," for which he was joined onstage by an acoustic Nils Lofgren (who had performed "Like Rain" earlier with The Imposters backing him) and Roy Bittan on accordion. Costello coaxed some early memories from Springsteen regarding the traveling circus in Freehold and the sense of wonder and fear it inspired in him as a child. This was not Storytellers Part II, though. There was no line-by-line deconstruction of songs. Costello seemed primarily interested in the emotional effects of the music, both on Springsteen and his audience, and a major portion of their talk was devoted to the thematic shift that occurred following Born to Run. As Springsteen explained it to Costello, he became more invested in writing songs he felt he would still be able to relate to at the ripe old age of 40 (this of course drew a laugh).
The show was very explicitly a television taping and not a "concert," though, which meant a lot of stopping and starting to rearrange the stage and to get things just right. A solo acoustic version of "American Skin (41 Shots)" came off after a false start, and Springsteen initially forgot that "Galveston Bay" was in Drop D tuning. When the conversation wandered to Roy Orbison, Costello joined Springsteen in an impromptu cover of "Pretty Woman" that ended abruptly halfway through. They redeemed themselves shortly after with a show-stopping rendition of Sam
and Dave's "I Can't Stand Up For Falling Down," Bruce taking Sam's part and Elvis taking Dave's.
Following a quick break, the two reconvened with talk of family life. Costello praised Patti's role as musician, wife, and mother, and performed an acoustic version of her "Black Ladder." Springsteen discussed the pleasure he felt standing outside of his son's room one evening and hearing him listen to "Chimes of Freedom." "What do you think of it?" he asked. "Epic," his son replied, "it's epic, dad." And who could argue with that?
More than three hours into his own epic discussion, Springsteen expressed fear that the audience would keel over soon and indicated that it was time for the finale. He strapped on an electric guitar and delivered a gut-wrenching version of "The Rising" backed by the Imposters, Bittan, Lofgren, and Costello (who stepped up for the dream of lifes). There was a fiery quality to the performance that was only intensified moments later when the band ripped into "Seeds." Springsteen wailed on the guitar and bellowed like he was half his age or younger, and the crowd was on its feet. The night concluded with a "Radio" medley, connecting Springsteen's "Radio Nowhere" with Costello's "Radio Radio." While the two might not have been the perfect musical pairing to mash together, it was a thematically appropriate and satisfyingly creative ending to a truly unforgettable night.

- Anthony D'Amato reporting - photograph by Frank Stefanko
Point Blank (Audio only)
(Costello
and The Imposters)
Like Rain (Lofgren and The Imposters)
She's the One
(Costello
and The Imposters)
Wild Billy's Circus Story (Springsteen, Lofgren, Bittan)/American Skin (41 Shots) (Springsteen)
Galveston Bay
(Springsteen, Bittan)
Pretty Woman [Aborted]
(Springsteen, Costello)
I Can't Stand Up For Falling Down
(Springsteen, Costello, The Imposters)
Black Ladder
(Costello, Springsteen, Lofgren)
Brilliant Disguise
(Costello, Springsteen)
The Rising
(Springsteen, Costello, Lofgren, Bittan, The Imposters)
Seeds
(Springsteen, Costello, Lofgren, Bittan, The Imposters)
Radio Silence/Radio Nowhere/Radio Radio
(Springsteen, Costello, Lofgren, Bittan, The Imposters)
©1998-2009 The Backstreets Publishing Empire