🌟🌟🌟🌟
½
In The City - The Jam
Produced by Vic Smith and Chris Parry
Personnel




T

h

e

J

a

m




Paul Weller - vocals, guitars


Bruce Foxton - bass, vocals


Rick Buckler - drums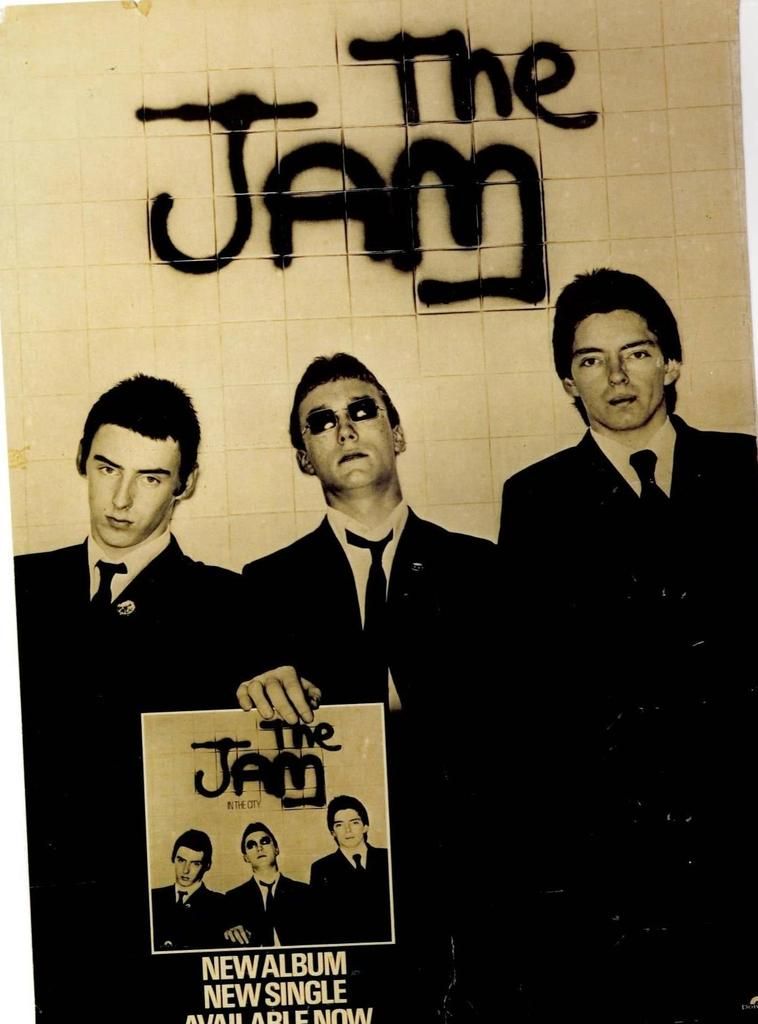 Just as Paul Weller was releasing his 13th Studio Solo Album in 2017 - A Kind Revolution - it was a reminder afresh that he has been around a long time and has undergone some interesting image changes down through the years and yet basically remaining himself!
Seven days after its release was the 40th Anniversary of the Debut Album from his former band The Jam!
Like Dr. Feelgood, who I posted about a couple of days ago, The Jam were not really a Punk band as such but were very much considered as part of the ever growing scene in 1977. Where Dr. Feelgood looked like they had been dragged through a hedge backwards with their suits, The Jam actually looked pretty smart and nothing like an angry rock and roll band! If you saw a picture of them not knowing anything about them you might have assumed it was a band from the 1960s rather than 1977.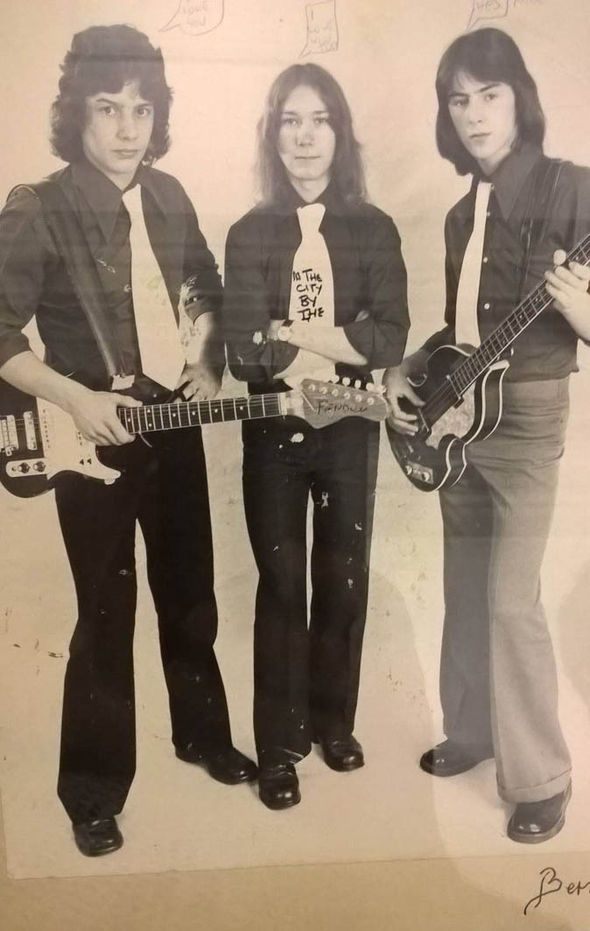 (The Jam in 1975 prior to Foxton joining - Brookes , Buckler and Weller)
The band had actually formed five years before when Weller and Co. were still at secondary school but the line-up did not become a stable one until the mid 70's when it consisted of Paul Weller (Bass), Steve Brookes (guitar), Bruce Foxton (guitar he joined in late 1975) and Rick Buckler (drums). In the early days the band were playing American rock and roll covers by the likes of Chuck Berry and Little Richard and it was only on discovering the My Generation album by The Who that a fascination with Mod culture began to take root within the band. Brookes left the band in 1976 and he was not replaced. Weller moved over to guitar and Foxton to bass and thus established the Classic three piece line-up of the band.
Coming from outside of London the band were treated with some suspicion among "the Punk Elite" but they worked hard to build an audience for themselves with a residency at the Red Cow in Hammersmith and The Nashville Rooms in West Kensington that drew more and more people each time they played. This no doubt drew the attention of Polydor Records who offered them a deal in February 1977. Paul Weller was 18 years old, still living with his folks on a Woking Council Estate.
The Jam were heavily influenced of course by bands like The Who, The Beatles, The Kinks and The Small Faces as well as Dr. Feelgood. Also add to that the Soul Music of Stax and Motown and clearly you could see they were very different to the Sex Pistols, The Clash and The Damned.
Those influences would come out in their live performances and even as they begun recording their Debut Single and Album. Their Debut would be entitled In The City (which strangely enough was also the title of a song by The Who which had originally appeared as a B-Side to I'm A Boy released in 1966).
Included on the album was the Batman Theme which The Who had released on their Ready Steady Who EP in November 1966 (they would also later go back to this EP and take Disguises and record it for the B-Side of Funeral Pyre in 1981). The other cover on the album was Larry Williams' Slow Down (which The Beatles also used to perform).
Added to those two cover versions were ten songs from the pen of the young Paul Weller.
The goal was to record the band and try and capture a little something of what they were doing in a live setting and these were the songs that they were playing night in and night out around the Capital and when they ventured further afield.
So, let's break the album down track by track.
Side 1
From the opening chords of Art School you just knew that you were listening to something that was rooted in the past but at the same time was totally a thing of the present day. Lyrically it was saying similar things to what the Sex Pistols were saying in their song I Wanna Be Me and showing the new sense of liberty that was to be found in the current scene and how in some ways it was similar to the art culture of the 1960s:
"Anything that you wanna do, anyplace that you wanna go
Don't need permission for everything that you want
Any taste that you feel is right
Wear any clothes just as long as they're bright
Say what you want,
'cos this is a new art school
Do what you want, 'cos this is the new art school"
The R 'n' B feel of I've Changed My Address with the young Weller declaring "Couldn't see me settling down with a mortgage and a kid" must seem quite funny to him now that he's a father of seven kids! The guitar work on it though is outstanding even if the lyrics are a bit naff.
The cover of Slow Down is more akin to The Beatles cover that they recorded for their BBC Sessions than the original Larry Williams version. It was setting out their stall despite the fact that some in the scene around them were dismissing The Beatles (The Boys were one of the only other bands I knew of at the time who spoke of their great fondness for The Fab Four).
I Got By In Time was Weller writing about his best friend when he was younger, former member of the band Steve Brookes. I'm sure many of us can testify to having a similar experience with former friends! Things don't always go the way we wish them to go and all you can do is get on with living..."I Got By In Time":
"Saw a guy that I used to know
Man he'd changed so much
I think it hurt him to say 'hello',
'Cause he hardly opened his mouth
Yeah well he was my best friend a few years ago
Truly inseperable
We were young and full of ideals
We were gonna rule this whole world
But something happened I didn't know why
But that's the way that it goes"
By the way, on this one I really love Rick Buckler's drumming.
Away From The Numbers is one of my all-time favourite songs by The Jam. The song is about Weller's disatisfaction with his surroundings and the crowd ("the numbers") he was hanging about with and how he needed to "break away and gain control" of his life "so this link's breaking away from the chain":
"I was sick and tired of my little niche
Well gonna break away and find where life is
And all those fools I thought were my friends
(coaching is easy)
They now stare at me and don't see a thing
(reality's so hard)
Till their life is over and they start to moan
How they never had the chance to make good"
The Batman Theme as I mentioned above was a clear influence from The Who, and The Jam version is clearly on a different level as it is way faster and manic sounding and in step with the times.
Side 2 kicks off with the title track and single In The City. Although not as big a hit as they would have liked, getting on Top of the Pops was huge for them (one of the first Punk/New Wave bands to appear) and that was the day before the album was released!
The NME when reviewing the single had declared:
"'In The City' is the most convincing British penned teenage anthem I've heard in a Very Long Time - perhaps since the halycon days of the '60s."
Sounds from the Street was like a declaration and a defence of who he and his band were:
"I know I come from Woking and you say I'm a fraud
But my heart's in the city, where it belongs"
It was Weller being honest about himself and about the music of The Jam: "It's something new, it's something young for a change". And there were harmonies on it! You wouldn't get that on a Pistols or Clash record! 😏
"Sounds from the street, they sound so sweet
They gotta take notice
Why should they stop us? We don't need them
We're never gonna change a thing
And the situation's rapidly decreasing
But what can I do?
I'm trying to be true
That's more than you, at least I'm doing something"
I liked that about Weller, "I'm trying to be true". I don't know why he felt the need to try and justify himself and his place in the scene. The music the band were playing clearly showed that they had something to say and that it was finding a place within the hearts and minds who were becoming fans. Sometimes with the likes of The Pistols and The Clash you got the feeling that they were trying to be what Malcom and Bernie, their managers, wanted them to be rather than being themselves (of course I'm sure they would deny that).
Non-Stop Dancing - Weller's ode to Northern Soul All-Nighters:
"Cause when you're dancing all night long
It gives you the feeling that you belong"
Belonging was something that many of us were looking for back then, and whilst I have to confess that Northern Soul was not something I listened to then (in the past couple of decades or so I have heard a lot that I do like though), and I have never been to such an All-Nighter. I did know a little something of how casting your lot in with a particular style of music gave you that sense of belonging though and that was what I took out of the song for me!
Time For Truth - politics was something Weller even in his younger days never shyed away from and here he tackles the incompetence of the Labour Party ("Uncle Jimmy" being James Callaghan the leader of the party and Prime Minister at the time) and also the drifting towards "a police state /So you can rule our body and minds" and the Police brutality that led to the Murder of Liddle Towers (a theme that was current in a number of bands at the time and the following years - see this post from last month where I talk a little about the whole Liddle Towers situation). Weller made it abundantly clear what his whole perspective of the situation and the remedy was!:
"I bet you sleep at night with silk sheets and a clean mind
While killers roam the streets in numbers dressed in blue
And you're trying to hide it from us
But you know what I mean
Bring forward those six pigs
We wanna see them swing sod high"
Takin' My Love - was the B-Side to the Debut single and is actually an older song, written in 1973 (a co-write with Steve Brookes - though he is uncredited for one reason or another) though you'd never guess it was four years old! There is a little touch of Dr. Feelgood about it only more energetic!
The album ends with Bricks and Mortar. Another speaking of the disaffection of the times when the Government was "pulling down houses and build(ing) car parks" and "While hundreds are homeless they're constructing a parking space" - seen in today's light you could say things haven't changed that much as they are still "pulling down houses" to build high speed railways or demolishing villages in order to put a new runway in at the airport. Bricks and Mortar over people who are struggling with real needs and having their benefits cut, or being homeless and a lack of Social Affordable Housing for them to go and live in, or a declining National Health Service that is badly in need of serious help but the Government can find money to fund the building of Nuclear Submarines or pay millions for the restoration of the Houses of Parliament and Buckingham Palace, it's like they are saying, "hey what's a few thousand starving people who can rely on a food bank to help them as long as we can bring in the tourists and fill the coffers! Bricks and Mortar"...I tend to be in agreement with Weller on this one, the Government needs a right perspective. People matter more than buildings and people's health, education and personal security of a home are far more vital than spending millions tarting up a Palace! ..."Knock 'em down!"