Opening week of the Guerilla Tactics Tour @ King Tuts we were blown away by just how tight the band have become and just how passionate Mike Peters continues to be about Rock and Roll and especially The Alarm. Last week Mike was on a mission to touch the lives of those who have
stood by him through thick and thin, sickness and health, and he succeeded.
This show was so much better! I know we probably say that every time we see The Alarm, but honest, it was absolutely stunning.
Davie Sharp kicked off the proceedings with a short set that included a wonderful version of 'One Step Closer to Home', which of course provoked the first sing-a-long of the night. He ended his set with a rousing rendition of 'With Little Help of My Friends'.
The Crowd at King Tuts was really up for what was to follow. Another sold out show and the place was jammed to the rafters and prior to Mike and the Boys hitting the stage there was already such a buzz of excitement. Last weeks show moulded all the eras of The Alarm together and served them on a silver plater to the hungry masses. This week was no different. The set list had changed (some songs were still there but new ones added).
From the opening chords of 'Coming Home' the place was bouncing. The voices of hundreds singing together as they launched into 'Rescue Me', 'Fightback' and the superb 'Deeside' was beautiful to behold. Almost without taking a breath it was 'Sold Me Down the River', 'Without a Fight' and 'Absolute Reality'. A breath finally taken, we soared the dizzy heights once again with 'The Drunk and Disorderly' which prior to the end of the song was beginning to sound like The Who before Mike brought it all back down with "I am powerless..."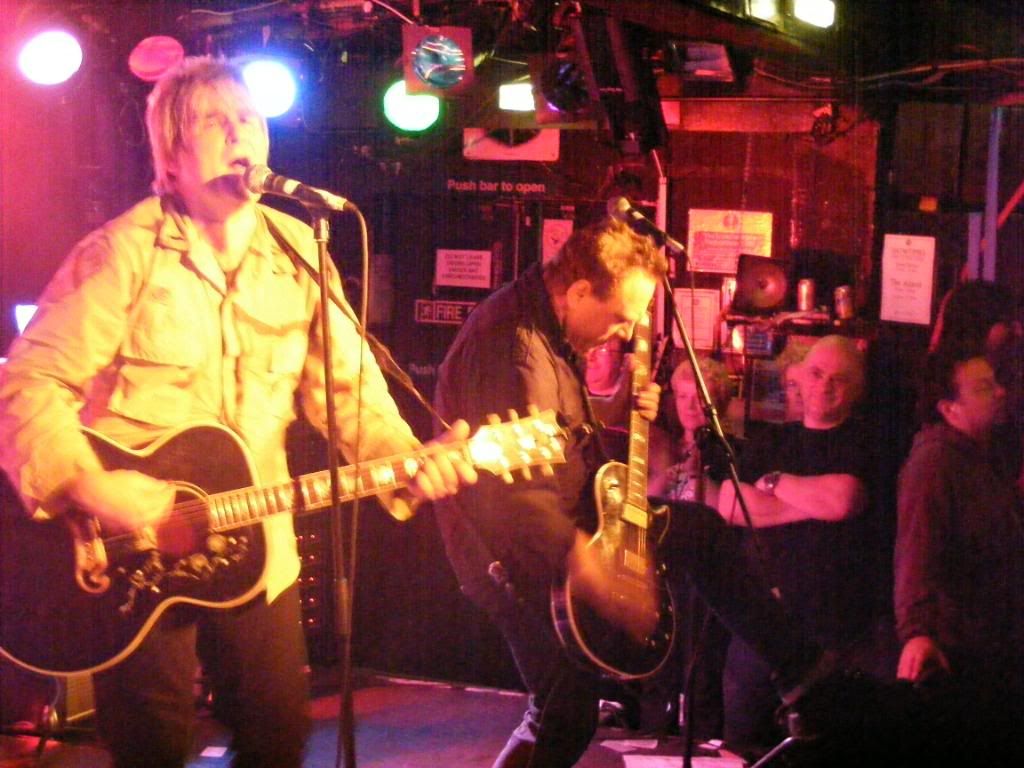 First set ended there was ten minutes to get a break and before you know it right there in the heart of the mosh pit stands Mike Peters, Guitar in hand, ready to do battle again. Interesting song choice for his little acoustic set included one I hadn't heard in along time, 'Rose Beyond the Wall' and that was followed up with 'The Deceiver', 'The Stand' and one of Mike's finest modern anthems in 'Love, Hope and Strength'. The sense of community during this mini set is amazing, the singing would put to shame many a football terrace, but instead of the hostility of the terrace there is love and respect in the mosh pit!
Man, if it had all ended there we would have gone home happy souls, but there was loads more to come and a few surprises along the way.
'Where Were You Hiding' kicked it all off again and the band were into overdrive. Anyone who does not recognize the talent of James, Craig and Stevie really does need their head seeing to! These guys respond to every move Mike makes and hardly a word needs to be uttered between them as they are so musically in sync. It is those three guys who along with Mike have given us some of the finest Alarm music since the 80's. If you don't like that, go and deal with it!
'Regeneration' followed 'Hiding'(another song I hadn't heard in a long time) before launching into an all scale assault from 'Under Attack' to 'Guerilla Tactics' ('Three Sevens Clash', 'I Never Left','Alarm Calling' and 'My Town'). We were reminded of 'fallen friends' as Mike launched into a beautiful rendition of 'In A Big Country' and then powered into The Anthem - Spirit of 76! I must admit I was quite chuffed because a while back I sent a mail and request 'Walk Forever By My Side' for this very night because it was my anniversary and my wife Kerstin was by my side at the gig, and so drifting off into 'Walk Forever' before spring boarding back into 'Spirit' was a sweet moment to savour.
Mike always ends the show on a roller coaster of high energy Rock and Roll and he doesn't disappoint tonight. '45 RPM' becomes a great medley with shouts of 'Hey Ho Let's Go' and into 'Cease and Desist' and right back again to '45 RPM'. So off they troop to chants of 'Going Out In A Blaze of Glory', but we know they'll be back.
For the encore it's a steady diet of Old School Alarm. 'Knife Edge', '68 Guns' and of course 'Blaze of Glory' which had a nice little twist to it as the band (along with Dave Sharp) burst into 'My Generation' before bringing it back down to 'Blaze' and leaving us gasping for air and longing for next week to come around quick so we can once again feast on the great delights of The Alarm.
I have no idea if they are gonna top this show next week, but if I were a betting man I'd be laying down a wad that says they will go above and beyond!