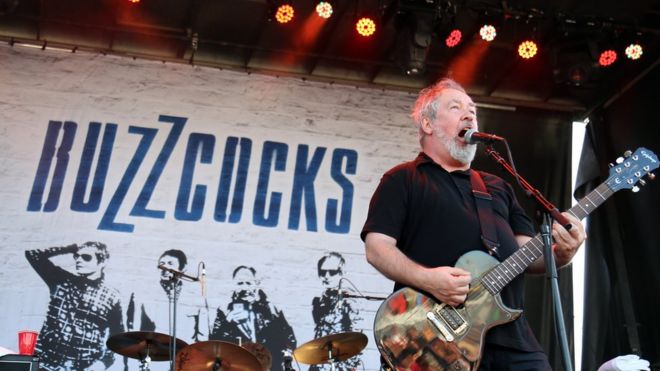 (Jackie Butler/Getty Images)
Lead Vocalist, Songwriter and Guitarist for the legendary Buzzcocks, Pete Shelley aged 63, passed away earlier today due to a suspected heart attack in Estonia where he has lived for the past number of years.
There's not an awful lot more information available at this time but I would like to extend my condolences to Pete's family, fellow Buzzcocks and along with them many friends who will be rocked by this sad news.
So as a tribute to Pete Shelley I thought I would post a few musical highlights from his days in Buzzcocks. I actually can't speak too much with regard to his Solo material as I only really knew a couple of songs so I'm sure you will forgive me for not touching on that particular area of his musical life. Click on the links below to listen to the most of the albums (and I'm sure you could find the self-titled one on Spotify or whatever your musical streaming preference is).
There were only nine studio albums by the band, three were released between 1978-1979 (Another Music in a Different Kitchen and Love Bites in '78 and A Different Kind of Tension in '79); the remaining six coming after their reformation in 1992 (Trade Test Transmissions in '93, All Set in '96, Modern in '99, Buzzcocks in 2003, Flat-Pack Philosophy in 2006 and then after a long wait of eight years their last studio album was The Way in 2014).
Buzzcocks songs written by Pete Shelley
I'm sure your Top Ten would probably be different but here's the ones that I love.
1. Moving Away From The Pulsebeat
4. Ever Fallen In Love (With Someone You Shouldn't've)
10. Noise Annoys