All rights reserved by cgayler
Steve 'Smiley' Barnard
, has had a colourful career as a drummer working with
Robbie Williams, The Mock Turtles, Spear of Destiny, Bad Company and Joe Strummer
and is currently the man at The Stool for
The Alarm
. Alongside having his own studio (
Sunshine Corner Studios
) and providing drum tracks he's also an artist in his own right and has managed to put together a great little debut album with the help of a few of his friends.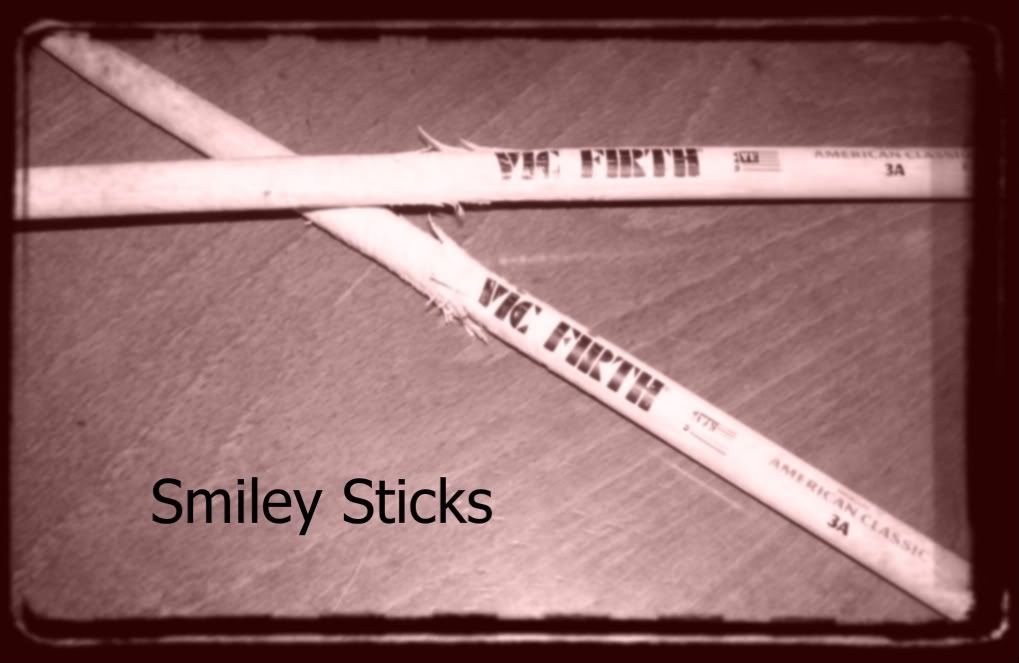 Photo by Doug Watson
It's a bit of a star studded cast that have contributed to the album - Mike Peters and Mark Taylor (from The Alarm), Chesney Hawkes (you remember him of the 'I am the One and Only' fame), Gary Nuttall (sings and plays guitar on a couple of tracks and has played with Take That), Pablo Cook (of The Mescalaro's) and the lovely vocal talent of Kerry Schultz.
The big question to be asked of course is, "Is it any good?" The answer to that is, "yes". It contains 12 tracks of shimmering pop that deserve a hearing in more places than your own personal sound system. There's a number of tracks that would sound great on the radio (time to start pestering your local stations methinks).
The opening 'Paparazzi' has a great 1960's feel to it and contains some nice keyboard touches that are very like The Doors. 'So So Long' follows hard on it's heals and at first I thought they were going to break out into The Monkees 'Last Train From Clarksville' but then burst into a terrific pop tune that sounds a little like The Kinks at times (not a bad thing). 'Everybody Knows' has a bit of an '80's feel to it and reminded me of bands like Love and Money or The Blessing.
Chesney Hawkes
surprised me a bit on
'Halcyon Daze
', I wasn't quite expecting such a mature sounding vocal (but then again it has been a good couple of decades since the big hit), and it's a nice mellow tune that deserves an airing on
Radio 2
sometime.
'The Cross on the Hill'
is all
Smiley
and it's funny because you rarely get a chance to hear the lad singing as he's so busy crashing the drums for
The Alarm
, so it's a bit of a shocker to say, but
that drummer can actually sing!
'Leave You Now'
has
Kerry Schultz
on vocals it's a cracking tune. I hope that we can hear more of her singing as she has a nice voice that would not be out of place alongside the likes of
Lily Allen, Adele etc
.
'Going On'
has a summery vibe to it and once again is a good little pop tune, it would be a good single I think.
'Hearing is Deceiving'
is
Smiley
at the controls again it reminded me of something that I couldn't quite put my finger on it, but my mate Joff on
In The Poppy Fields
name checked
Noel Gallagher
and felt that was a close as it gets.
John James Newman
does a terrifc job on
'You'
which he co-wrote with
Smiley
and
'Films of Yesterday'
is another catchy pop number.
'Stars' is quite an interesting track, it's very Britpoppy (hope Smiley doesn't mind that association) and musically is very different to all that has gone before (I think) and has touches of Primal Scream in it ('Screamadelica' period). The final track, 'L.O.L.A.' I thought was going to be a cover of The Kinks classic (that Madness ruined so perfectly on The Dangermen Sessions album), but thankfully it wasn't, 'L.O.L.A.' standing for 'Look of Love Again'. It was a nice ending to a good listening experience. Kerry Schultz delivered a lovely vocal (and makes me want to hear more of her), and it has a nice edge to it that was most pleasing to the ear..
All in all this is an album that deserves to be heard. Good musicianship and quality songwriting make it a refreshing sound that throws up a hundred and one influences and yet for some reason actually doesn't sound too out of place within the current musical climate.