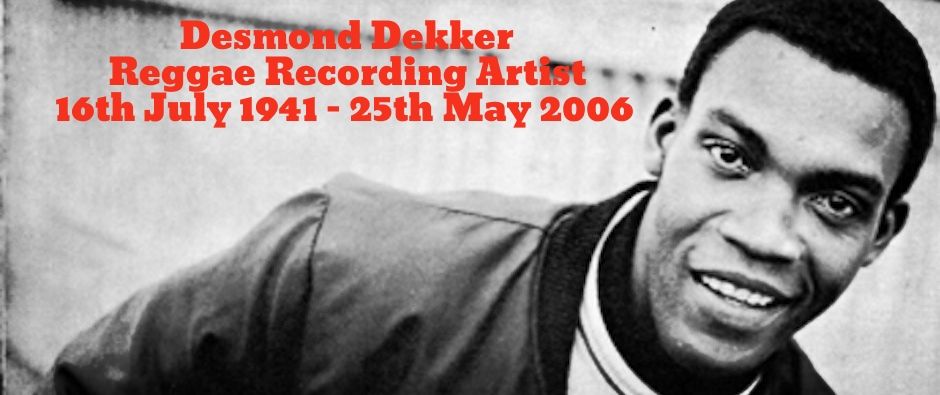 Born Desmond Adolphus Dacres in Kingstown, Jamaica on this day in 1941. He died on 25th May 2006 at his home in London of a heart attack aged 65.
Dekker (whose name change came around 1963) had managed to get an audition for Coxsone Dodd of Studio One and Duke Reid of Treasure Isle but neither was succesful and he eventually signed a deal with Leslie Kong's Beverely label but it would be another two years before his first recorded work appeared.
(Click on the Links to enjoy the music)
That first single, 'Honour Your Father and Mother'. He followed that up with 'Sinners Come Home', and 'Labour For Learning'. He was breaking into the Jamaican charts with these early singles but his best was yet to come. Backed by The Cherrypies (aka The Maytals) his fourth single 'King of Ska' (1964) brought him further success and his music reached a new audience as he became one of the islands biggest stars.
In 1967 he appeared alongside his band The Aces on Derrick Morgan's 'Tougher Than Tough' and then solidified his status among the Rude Boy Culture with the release of '007 Shanty Town'. That single gave him a top 15 hit in the UK and his reputation grew with sold out concerts and a heavy mod following. 'Rudy Got Soul' (1967) and 'Rude Boy Train' (1967) continued the Rude Boy theme. In 1968 he scored his first number one hit in the UK with 'Israelites'. The single was also a top ten hit in the USA a year later. In 1969 relocated to London and continued releasing singles.
1970 he had another top chart single, reaching #2 with the Jimmy Cliff song 'You Can Get It If You Really Want' on the mighty Trojan label. When 'The Harder They Come' movie was released in 1972 Dekker's '007 Shanty Town' was part of the soundtrack. 'Sing a Little Song' (1975) would be his last hit in the UK reaching the top twenty.
Prior to going bankrupt in 1984 he signed with Stiff Records and produced 'Black and Dekker' in 1980.
On this album he was backed by The Rumour (Graham Parker's backing band) and Akrylykz (which featured Roland Gift of Fine Young Cannibals). The album was a bunch of cover versions and rerecorded versions of his hits. Robert Palmer produced the 1981 album 'Compass Point' and despite declining sales he still continued to tour backed by The Rumour.
In 1993 he recorded an album 'King of Kings' with The Specials.
There have been untold compilations of Dekker's music down through the years and his music regularly turns up on Trojan Boxsets.