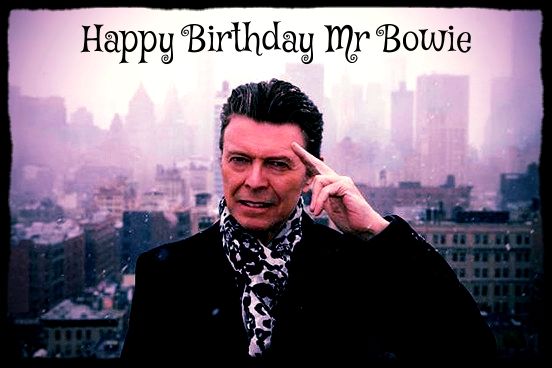 Born David Robert Jones on 8th January 1947 in Brixton (he's a good South London lad). At the age of six he heard 'Tutti Frutti' by Little Richard and declared that "I had heard God".
In 1964 he released his first single under the banner of Davie Jones and The King Bees ('Liza Jane'). In 1965 he released his second single 'I Pity the Fool' with the name The Manish Boys but like the debut it didn't chart. Neither did his third single 'You've Got a Habit of Leaving' as Davy Jones and The Lower Third. In 1966 he had changed his name to David Bowie and released another single with The Lower Third ('Can't Help Thinking About Me'), but that had no chart success either. By April he was releasing music as plain old David Bowie and put out a further three singles without charting. It would be 1967 before his first hit and actually it's a bit of a novelty song, 'The Laughing Gnome', reaching #6.
It's hard to believe that it was the same man two years later who released 'Space Oddity' and took it to #1 on the Charts. The song released on 11th July five days before the launch of the Apollo 11 (funnily enough, the BBC would not play the song until the Apollo Mission was completed and all Astronauts were safely back on terra ferma!).
It wouldn't be until 1972 that Bowie would score his next hit single. In the mean time his albums were beginning to show small signs of chart success. His Debut - 'David Bowie' (1967) was released on the same day as the ground breaking 'Sgt. Pepper's Lonely Hearts Club Band' by The Beatles and unlike the Fab Four, Bowie's album was a commercial failure along with the singles released from it. His second album, also entitled 'David Bowie' but known far more by the masses as 'Space Oddity' was released in 1969 and reached #17 in the UK and #16 in the USA. 'The Man Who Sold The World' followed in 1970 (US) and 1971 (UK). It reached #26 in the UK but stumbled to only #105 in the States. At the end of 1971 Bowie would release the album that would be his greatest success to date - 'Hunky Dory' (hit the heady heights of #3 in the UK Album Charts). It's actually amazing thinking back about this album that the lead single 'Changes' was not a hit at all! The biggest song and in fact one of Bowie's most famous, 'Life on Mars' was not released as a single until 1973 (and inbetween that time he released a further two albums)!
Bowie has always been the master of reinvention and no greater reinvention came than with the release of his album 'The Rise and Fall of Ziggy Stardust and the Spiders from Mars'. 'Ziggy' reached #5 and it would be his next album, 'Aladdin Sane' that would give him his first #1 album in 1973. 'The Jean Genie' single from the 'Aladdin Sane' album would give him his highest chart placing yet reaching #2. In the same year he would release his 7th album and it is probably one of the most un-Bowie like albums of his career - 'Pin-Ups', a collection of 12 cover versions. It would be another #1 album and the single 'Sorrow' peaked at #3.
For his 8th album release Bowie returned to the Concept approach again, 'Diamond Dogs' released in April 1974 was loosely based on Orwell's 1984 and Bowie's own glam filled vision of a Post-Apocolyptic world. The album would become Bowie's third in a row to reach #1 and it contained one of his standout songs ever in 'Rebel Rebel'. That single would peak at #5 in the UK. In October '74 he would release his first live album and this was the one that began the transformation from the Ziggy/Aladdin Sane years to a more Soul oriented sound. The 'David Live' (Side 1 and 2. Side 3 and 4) album would reach #2.
I'll leave Part 1 there and we'll pick up next time beginning with 'Young Americans'.