In 1974, Bowie had relocated to the USA, firstly based in NYC before settling down in LA. His 'Diamond Dogs' album was out and the 'Diamond Dogs Tour' was in full swing to promote it. I mentioned last time that the fruit of this tour was the 'David Live' album and how that had begun to show off Bowie's leaning toward a more soulful edge. During a break in the tour they were in Philadelphia and did some recording and that eventually came out in 1975 as 'Young Americans'.
The album was a success both sides of the pond and it spawned two singles: 'Young Americans', and 'Fame' - which would become his first #1 single in the USA (it only reached #17 in the UK).
1976 would see yet another persona change and the world would be introduced to 'The Thin White Duke'. He had moved to Switzerland at the time of recording.
'Station to Station' was released in January '76 and three singles were taken from the album (only 'Stay' did not chart): 'Golden Years' (#8 UK) and 'TVC15' (#33 UK).
Next up in 1977 for Bowie came what would be known as the first of the 'Berlin Trilogy' albums, 'Low'. This new sound (influenced by 'Krautrock') he had already begun to develop on 'Station to Station'. Brian Eno is often mistakenly quoted as a producer of this album but he is not and dealt more with the musical direction of the tunes that Bowie was writing and of course he played on the album. Iggy Pop does backing vocals on 'What in the World'. 'Sound and Vision' was the hit single from the album, reaching #3 in the UK, the follow-up 'Be My Wife' did not chart.
October 1977 saw the release of Bowie's twelfth studio album and his second working with Eno (again Eno did not produce it, that duty fell once again to Tony Visconti and Bowie) - 'Heroes'. I'm actually still amazed that the title track when released as a single didn't climb any higher than #24! 'Beauty and the Beast' didn't fare any better reaching only #39.
"Heroes" was marketed by RCA with the catchphrase, "There's Old Wave. There's New Wave. And there's David Bowie..."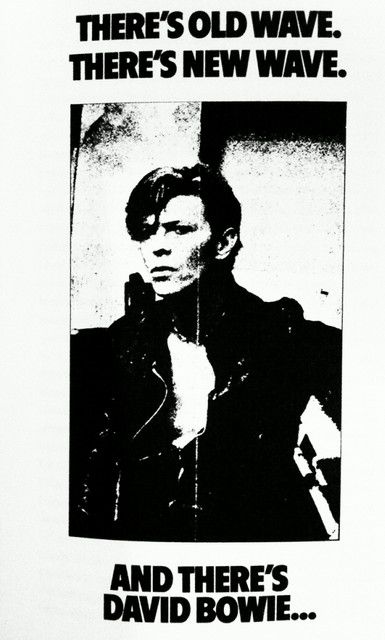 'Heroes' album reached #3 in the UK but didn't do so well in the USA only reaching #35. Another live album ('Stage' - this link is for the 2005 remaster) followed in 1978. For a little flavour of the tour here's the final night in Tokyo 12th December 1978.
1979 the third of the 'Berlin Trilogy' was released - 'Lodger'. It was Bowie's thirteenth studio outing. The album would reach #4 in the UK and #20 in the USA and four singles were released from it with only two charting - 'Boys Keep Swinging' (#7) and 'DJ' (#29). The album was not well received by the critics, Rolling Stone called it, "one of his weakest". Smash Hits (that paragon of musical virtue!) said it was "a ragbag of rejects from previous styles" with "only occasional flashes of genius".
Next up 'Scary Monsters and Super Creeps' and Mega-Stardom!