Hailing from Chicago The Damn Bats are one of those bands that take you back in time. For me that time is 1977 and all over their music there are reminders of some of the classic Punk Bands of that era. Now, for some that might be a problem because the times have changed and Punk didn't really make the impact that it often confesses it did (or so they say).
The one major thing it did do and continues to do to this day is inspire kids to pick up guitars, bang away on drum kits and write songs that reflect a little of what is going on in their every day existence. Pick up any music magazine or paper and you can read about bands who claim their influences are bands like The Ramones, The Pistols, The Clash, The Damned and a host of other bands that were part of the soundtrack to my own teenage years. So, I for one, have no problems with a band like The Damn Bats coming along and declaring their fond affection for all things '77 punk.
Their EP, 'Dracula Crest' is an epic journey into the the heart of 1977 that gives great kudos to the guitar sound of Brian James of The Damned and even has wee touches of Nicky Garrett of the UK Subs scattered around. In my book that's a great combination.
Vocally 'Doomed' is almost like a lost gem of The Damned that they had forgotten they had written and the legend that is Rat Scabies actually plays drums on it! Major Mistakes vocals are quite Vanian like in places. 'Kill or Cure' actually reminded me of The Stooges, who of course were doing punk when most of us were either just starting infants school or were still a twinkle in the eyes of our parents! 'The Raven' actually is the one song I think that The Damn Bats find their own voice and don't rely on the past to speak for them. For me that's important, I always felt that what made Punk great was there were few bands that actually sounded like each other. They each had their own distinctive voice and The Damn Bats on this track sealed the deal and found their voice.
Lead vocalist, Major Mistake, took some time out today to answer a few questions for Soundtrack4Life. So it gives me great pleasure to present this exclusive interview with the singer of The Damn Bats
Major Mistake
S4L: What inspired you to start The Damn Bats?
MM: A sense of unfinished business. The band I attempted to re-start ended badly but not before a had a really good demo for the song 'DOOMED'. The initial idea behind TDB was to bring that song to it's logical conclusion and give it a proper recording before quitting the music business. It actually turned out to be the catalyst for The Damn Bats.
S4L: How long have the Damn Bats been playing together?
MM: Technically Pizza and I have been writing and recording together since 2007. D'licious joined us in 2011. We've been more of a recording band than a live band because of the fact that this is a side project for both of them.
S4L: It's very clear from listening to the band that your influences are rooted in 1977 punk rock, what bands would you say have been the biggest influence on you?
MM: For me it's always been more of the British punk bands...The Sex Pistols, The Clash, The Damned. Pizza is more influenced by American punk ie. Black Flag, Bad Brains..Dead Kennedys. For Zac it's a bit of both. but all of us love The Ramones and The Misfits.
S4L: You have even had Rat Scabies of The Damned play on one your tracks, how did that come about?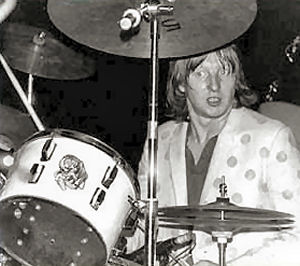 MM: Rat is on 'DOOMED'. Like I said...the original idea was to put a proper ending to that song and I figured that if I was gonna go out I'd do it in a

HUGE

way. How do you go out in a huge way? Why, you get one of the most legendary all-time bad ass punks to play on your record. I mailed Rat on Facebook cos we'd been fb buddies for a while and I simply asked him. I sent him the demo and after a couple more emails he agreed and it was on. He told me who to contact in London for studio time and then I booked a session for him. The studio sent me Rat's drum tracks and then we did our thing over here.
S4L:
Is there anyone else you'd love to record with one day?
MM: I actually had been talking with Jim Reilly of Stiff Little Fingers about doing 'THE RAVEN'. He liked what we'd done with Scabies and was interested in working with us but he started getting busy with his own projects and wasn't able to do it. I'd actually be interested in working with Dave Vanian (lead vocalist of The Damned) or Steve Jones (legendary guitarist for The Sex Pistols) or Paul Simonon (pretty boy bassist of The Clash). I think doing something with one or all of them could be pretty cool. It remains to be seen if anything ever materialises.
S4L:
Have you released much material since you've been together?
MM: As of now it's just been 'THE DRACULA CREST EP' cd and the mp3 singles from it.
Front and back Cover Art for
S4L: There's a lot of "punk" bands floating around today, what makes The Damn Bats different to the likes of Green Day etc?
MM: Well, Green Day really isn't a punk band, they're alterna-pop. Real punk is still a little too unfriendly for the corporate music industry (here in America). I think the music business saw them as something they thought was acceptable and profitable so they jumped on it. There's alot of money to be made from teen angst. I think if you listen to both us and them the differences will be crystal clear.
S4L: How hard is it for you guys to gain a following? Do you do a lot of live shows? Do you make use of the internet and the various sites where you are able to promote your music?
MM: Because of the nature of this band it's very hard to gain a broad following. I've been told that we sound like a British punk band and it appears to be true. Infact we're kinda known as "the best British punk band in Chicago". Most of our fans are older Union Jackers who were teens in the late 70's and 80's and they recognise the sound and attitude. Truth be told I was never really interested in broad mainstream appeal..that's just not what we're about. Unfortunately the live shows have been very limited so far so yes, the internet has been an invalueable tool to reach the people we wanna reach, especially those on the other side of the Atlantic.
S4L: Is there a Punk scene in Chicago and are you actively involved in it at all?
MM: There absolutely is a thriving punk scene here (inspite of what the Chicago music business would have you believe). I'm involved in it as much as I can be but if it's not possible to see The Bats play there are a number of other great Chicago punk bands worth checking out ie. D'licious' regular band Bill Ura Dik, Voice of Addiction, The Jetbirds, Felony 4, Still Alive, etc. The Mutiny on the northwest side is kinda like the home of punk here...in a way it's like Chicago's answer to CBGB's and The 100 Club.
S4L:
What's currently on your Soundtrack4Life - what bands, albums, tracks are exciting you?
MM: I've been playing the hell outta The Cult's new one 'Choice of Weapon'. I'm also getting alot of mileage from the new Adicts album 'All the Young Droogs' as well as The Stranglers latest 'Giants' and 'Work In Progress' by the UK Subs.
S4L: Can you share with us your favourite three albums and your favourite 5 punk songs?
MM: Only three? That's a tough one cos there are so many. If i have to choose three they'd be 'Never Mind The Bollocks' (Sex Pistols), 'Damned Damned Damned' (The Damned of course!) and The Clash debut album 'The Clash'.
The 5 songs would be 'Pretty Vacant' (Sex Pistols), 'New Rose' (The Damned), 'Complete Control' (The Clash), 'Suspect Device' (Stiff Little Fingers) and 'Teenage Lobotomy' (The Ramones).
S4L:
What does the future hold for The Damn Bats?
MM: That's a good question. I wish I could give you a definite answer. We're officially on break right now and the other members are doing other projects. Zac has a new ep coming out with Bill Ura Dik and Pizza is working with his other project Thrudge. We've always operated with the policy that we'll continue to do it as long as everyone still wants to do it and if they have time for it. We play it by ear and I think that works best for us so we'll see where we go from here. Anything is possible.