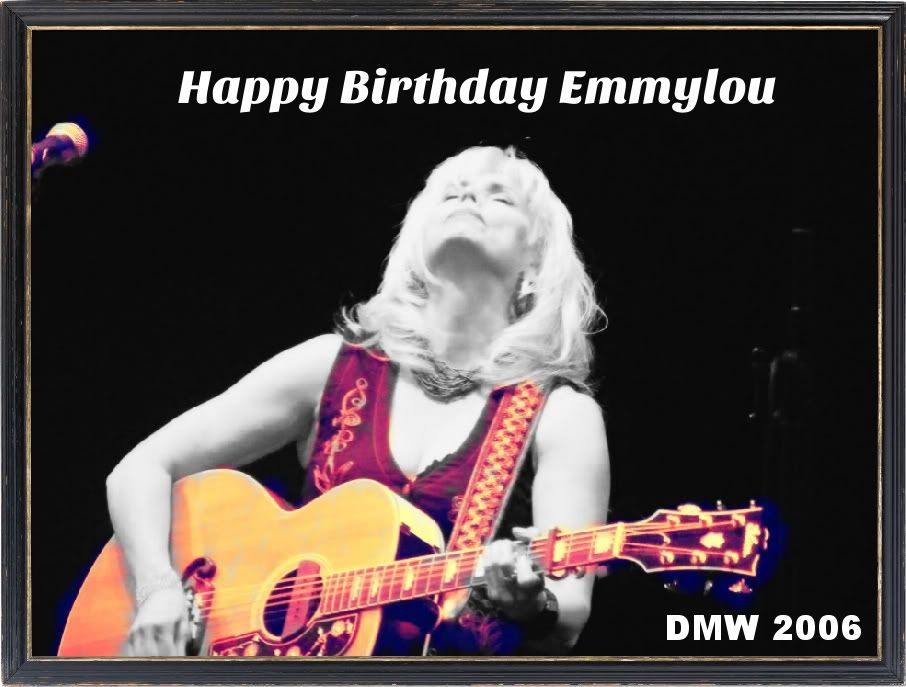 (Photo taken at The Royal Concert Hall, Glasgow 04/08/06)
Born in 1947 in Birmingham, Alabama. Her musical career began in 1969 when she moved to Greenwich Village, worked as a waitress and performed folk music in coffee houses. Her first album release that same year ('Gilding Bird') didn't really achieve much as the label folded shortly after it's release. Harris has pretty much disowned the album and it has been said that she favours her 1975 release, 'Pieces of the Sky' as her debut!
There was good reason for the passing of time with regard to her album releases as in 1971 she had just returned to performing after a divorce and a resettling at her parents home in Washington DC. Former Byrds guitarist and member of The Flying Burrito Brothers, Chris Hillman, spotted Emmylou one night performing as part of a trio and considered asking her to join the band but instead he recommended her to Gram Parsons who was looking for a female vocalist to work on his first solo outing ('GP'). Alongside the recording she toured with Parsons' Fallen Angels Band and worked on 'Grievous Angel' - Parsons second album that ended up being released in 1974 after his death (19th September 1973).
Her output since 1975 is pretty impressive, a further 25 Studio albums, 3 Live albums, 70 singles, and a host of collaboration releases including with Mark Knopfler ('All the Road Running'), Dolly Parton and Linda Ronstadt ('Trio' and 'Trio II') and Rodney Crowell (her latest album 'Old Yellow Moon').
She has continued to play music that breaks down the barriers of genres and for a lady of her age you'd think that she would be ready to hang up her guitar but she's plodding on releasing great music. I cannot recommend enough her albums 'Cowgirl's Prayer' (1993), 'Wrecking Ball' (1995), 'Red Dirt Girl' (2000), 'Stumble Into Grace' (2003), 'All I Intended To Be' (2008) and the brilliant 'Hard Bargin' (2011).
The latest work (as I mentioned above) with Rodney Crowell sees her teaming back up with Crowell who was a former member of her Hot Band. The album is well worth a listen.
Read an interview that Emmylou and Rodney did for NPR at the end of March.