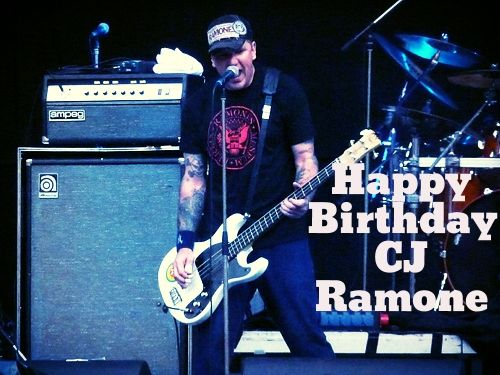 CLICK ON

THE LINKS

TO ENJOY THE MUSIC.
Born on this day in 1965 Christopher Joseph Ward (AKA CJ Ramone). CJ took over from Dee Dee in 1989 and was with the band until the end in 1996. CJ first appeared on record with The Ramones on the 1992 release 'Loco Live' (he provided lead vocals on 'Warthog' and 'Love Kills') and later the same year the first studio release he appeared on was 'Mondo Bizzaro' on which he provided Lead Vocals for 'Stength To Endure' and 'Main Man' - both written by Dee Dee. The 1994 follow up, 'Acid Eaters' saw CJ take the lead vocals on three of the 12 Cover Versions on the album: 'Journey to the Center of My Mind', 'The Shape of Things To Come' and 'My Back Pages'.
On the final studio album, '¡Adios Amigos!' CJ was again getting Lead Vocal time, mainly due to Joey's own vocal issues. He sang on five tracks: 'Makin Monsters For My Friends', 'The Crusher', 'Cretin Family', 'Scattergun' and bonus track 'R.A.M.O.N.E.S.'.
In 2007 he released an album with his new band Bad Chopper.
Now he plays under the banner of CJ Ramone with his own band. He released an album in 2012 - 'Reconquista'.
The Ramones: Marky, CJ, Joey and Johnny

.
Born on this day in 1948 John William Cummings (AKA Johnny Ramone).
"Five years ago, Johnny Ramone picked me to sing 'Here Today, Gone Tomorrow'. He wanted me to sing it on a Ramones tribute record where many of his friends and other artists were covering his songs. Johnny was one of my best friends, and I promised him before he passed away that I would include that song on my record. He was very sick but wanted to play guitar on it as long as he was sitting down. Unfortunately, while we were recording the basic track, he died." (from the liner notes to the album 'Now What' by Lisa Marie Presley).
Written in honor of Johnny Ramone whilst driving home from his funeral. It also led Pearl Jam to record their first video for 8 years to promote the song and the up and coming self-titled album in 2006.
Last month I did a post about Johnny and here's the link to that: 'Remembering Johnny'.