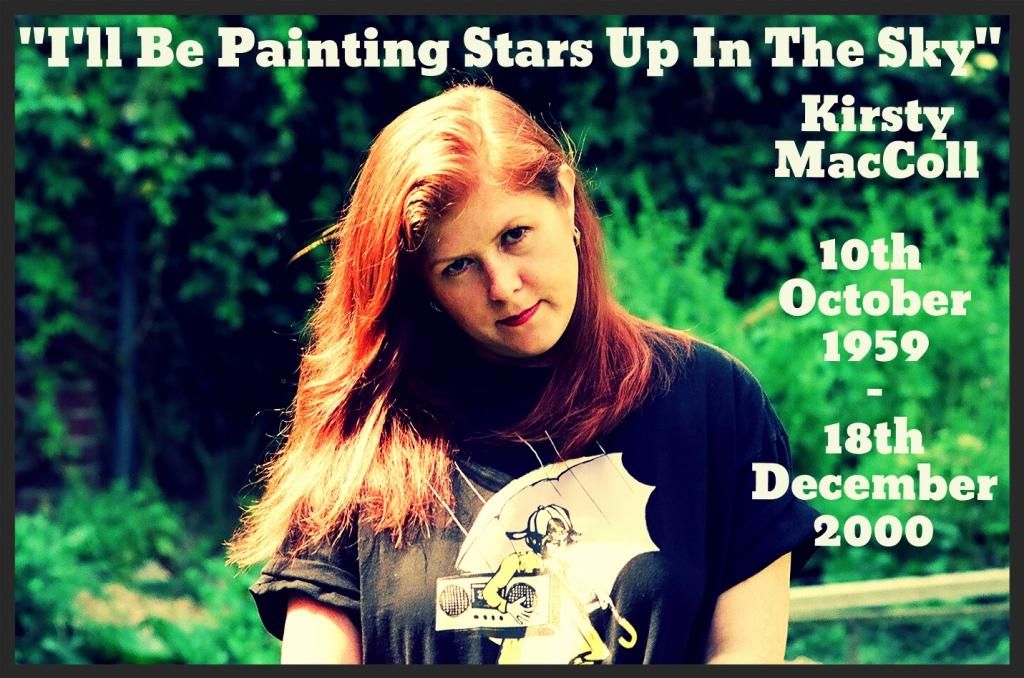 Some people ask. "Why do you always do blog posts remembering certain people?" My answer is perfectly simple. there are some people who were just so good that you don't want to forget them. Kirsty MacColl is one of those people.
There are loads of links to the music of Kirsty MacColl on this post so please do click on them to enjoy the music and remember such a great talent.
She first came to light in 1978 when she was a member of The Drug Addix, appearing under the name Mandy Doubt. Chiswick Records released their Four Track EP 'The Drug Addix Make A Record'.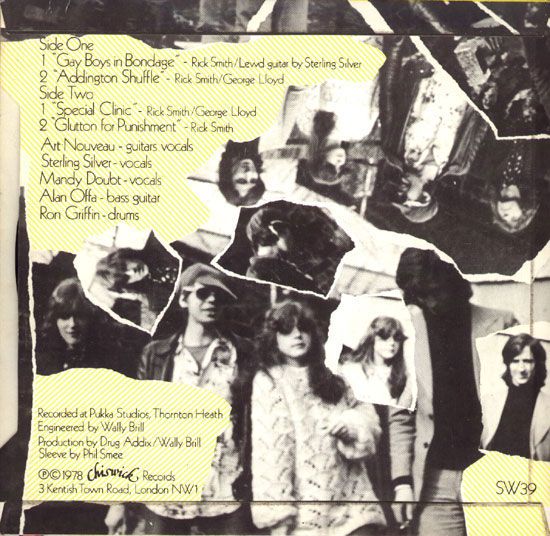 Stiff Records were unimpressed by The Drug Addix as a band but were drawn to Kirsty and signed her to a solo deal, and in 1979 she released her debut solo single, "They Don't Know". It wasn't a hit for her due to a distributors strike (but it would be a #2 hit for Tracy Ullman in 1983). What was due to be the follow-up single, 'You Caught Me Out' never saw the light of day as Kirsty thought that Stiff Records were not fully behind her.
She departed Stiff Records and was soon off to Polydor. In February 1981 she released her first single for the new label - 'Keep Your Hands Off My Baby' but once again it failed to chart.
In May 1981, she finally had a breakthrough reaching #14 in the UK chart with 'There's A Guy Works Down The Chip Shop Swears He's Elvis', a song that Kirsty said was "About 'Elvis' being a state of mind. I still see a bit of Elvis in self-deluding men the world over".

In June 1981 her debut album, 'Desperate Character', was released on Polydor, featuring a collection of snappy Kirsty songs along with a few '60s covers. It didn't trouble the chart and remained largely unknown to all but her most long serving and devoted fans. (In 2012 the album was released for the first time ever on CD as part of a reissue programme spotlighting Kirsty's music).
'See That Girl', 'You Still Believe In Me' (Cover version of Beach Boys song from Pet Sounds), a collaboration with Matchbox on

'I Want Out'

, and

'Berlin'

all released as singles and all failed to make the charts between 1981-83.
Her first single back at Stiff in October 1983 was the brilliant 'Terry', whilst only reaching #82 it had done a whole lot better than previous singles!
In December 1984 she released her version of Billy Bragg's 'A New England'. It peaked at #7 on the UK Singles Chart. Her knack for spotting a killer song and her persuasiveness in having Billy Bragg write an extra verse just for her paid off with what would be the biggest solo chart success of her career.
The next single, 'He's On The Beach', I can hardly believe this wasn't a hit, it is still one of my favourite songs of hers and so her second spell with Stiff came to an end.

In November 1987, Kirsty reached #2 in the chart performing with The Pogues on what is now officially "Britain's favourite Christmas song," 'Fairytale Of New York', but having met husband Steve Lillywhite at a Simple Minds session in 1983 she largely spent the second half of the Eighties raising her two sons, with periodic appearances as a backing singer for a wide range of top acts.

Kirsty returned to the studio as a solo artist with Virgin for the 1989 release of what many still consider to be her best album, 'Kite'. Preceded by the minor hit 'Free World', the album came out in April and reached #34 in the album chart. A second hit, the Ray Davies song 'Days' followed, reaching #12. Two other singles from the album didn't even make the Top 50 - 'Innocence' and 'Don't Come The Cowboy With Me Sonny Jim!'.
In his liner notes to the 2012 Reissue of 'Kite', Alan Officer mentions, in talking about 'Free World', "Having taken her time to get to Kite, her values were changing and her awareness of what was going on in the world around her had grown. Kirsty was very proud of this song and glad it was the first single. She had to forcibly overrule the record company, who had wanted to run with 'Days' instead - the only song on the album she had not written. Kirsty described 'Free World' as direct, simple and about greed, the divide between North and South, and the culpability of Mrs Thatcher's Government of the day: "You Know, grab whatever you can and sod the little guy. That's a fashionable way of looking at things, and I don't agree with it", she added."
Kirsty's second album for Virgin had all the ingredients for being huge.
Kirsty teamed up with Smiths guitarist and songwriter Johnny Marr (he had actually played on 'Kite' as well and had co-written the last two songs on the album - 'End of a Perfect Day' and 'You and Me Baby') to pen songs for her follow-up LP, 'Electric Landlady'.
This was heralded by the rap infused dance #23 hit 'Walking Down Madison'.
The album also featured Kirsty's first fully formed attempt at Latin music (kindled by her work in New York on a David Byrne album years earlier) with 'My Affair', the single only reached #56 and the third single 'All I Ever Wanted' never even made it to the charts.
The album was less successful than 'Kite' and Kirsty was dropped by Virgin and hit something of a slump, which sadly included the break-up of her marriage to Steve Lillywhite.

Not being one to give up, however, Kirsty bounced back in 1994 with what she termed her "sad divorce album", 'Titanic Days'. The single announcing the album's imminent arrival was another one that fell by the wayside: 'Angel (Floating 'Round This House)'.
Also featured was a song which was to become virtually her signature work and the inspiration for her fans memorial gesture years later in 'Soho Square' - 'Soho Square/Angel' (1992 Performance on Later with Jools Holland). It's a bit of a mystery why this album didn't do better as it has some of Kirsty's best work: 'Can't Stop Killing You' (Live Version from Conan O'Brian Show), and even the title track is fantastic - 'Titanic Days'.

'Titanic Days' wasn't a great success in terms of sales but in 1995 her 'Galore The Best of Kirsty MacColl', reached #6 and stayed on the UK album chart for 27 weeks, after which everything went quiet for a few years as far as the record buying public was concerned. During this spell, Kirsty began to find her feet again and having toyed with the idea of giving up the music business completely, she decided to get busy and toured South America and Cuba extensively.

In early 1999 Kirsty fell in love again and started to work on a bunch of new material which she'd started in Brazil and in Cuba, meshing Latin rhythms to her familiar lyrical dexterity and wit. She proclaimed herself "a Latin soul trapped in an English body" and went to work in Pete Glenister and Dave Ruffy's studio in Bermondsey. The resulting tracks, featuring samples from Kirsty's by now extensive collection of Cuban records brought back from her numerous trips, were to become released to much acclaim as the album 'Tropical Brainstorm' (V2, 2000).

Kirsty had already started work on her next album and was working on various side projects when she decided to take a well earned break after a year of touring and promotional work. She flew to Mexico with her partner James and two sons, Louis and Jamie. On December 18th 2000 her love of diving cost Kirsty her life when a powerful speedboat hit her off the coast of Cozumel island.

The following day her photo was prominent on the front pages of almost all the British newspapers as it became apparent just how popular she was, though she had only latterly begun to appreciate it herself. At her public memorial service, major rock stars and television actors mingled freely with the public, everyone united in their grief.

Her mother Jean subsequently embarked on a quest to uncover the truth about the incident. After a tirelessly fought nine year campaign, she finally exhausted all legal avenues to bring to justice the man she believes is responsible for Kirsty's death, Guillermo González Nova (one of Mexico's wealthiest businessmen), and Jean abandoned the Justice for Kirsty campaign, which sustained her through her intense grief, on the anniversary of Kirsty's death on 18th December 2009. Her determination to find the truth remains undiminished and she continues to champion Kirsty's cause through a World Health Organisation campaign to raise international awareness of health and safety.

The Music Fund for Cuba, of which Jean is a patron, was established in 2001 in memory of Kirsty, who was inspired by Cuban music and loved the island, its culture and its people. The fund provides much needed support and equipment for children and young Cuban musicians, dancer and artists throughout the island. Working with its partner organisation in Cuba, the National Centre for Music and Arts Schools (CNEArt), it has already provided thousands of pounds worth of equipment including reeds, instruments, ballet shoes and teaching manuals for Cuban schools and performing artists.

A permanent memorial to Kirsty is planned to be established in the renovated Miramar Theatre in Havana. Meanwhile, her music lives on as testimony to her skills as a writer and arranger of excellent songs, while her many qualities as a person live on in the memories of her family and friends.
(Kirsty MacColl and Mark Nevin)
Your name froze on the winter air
An empty bench in Soho Square
Forgotten now I turn away
Just save me for a rainy day
But don't be sorry, I don't want to hear it baby
My feet froze in the winter chill
I knew I'd probably get ill
But I was praying we could fill an empty bench and still
You're so sorry but I don't want your pity baby
It's all yours now please don't tease
The pigeons shiver in the naked trees
And I'll do anything but please don't hurt me
Just kiss me quick 'cos it's my birthday
And I feel so small I don't know why but no I'm not too old to cry
An empty bench in Soho Square.
If you'd have come you'd have found me there
But you never did 'cos you don't care and I'm so sorry baby
I don't mind loneliness too much but when I met you I was touched
And that was good enough for me but do we always have to be sorry
Why can't we just be happy baby?
One day you'll be waiting there, no empty bench in Soho Square
And we'll dance around like we don't care
And I'll be much too old to cry
And you'll kiss me quick in case I die before my birthday
One day you'll be waiting there, no empty bench in Soho Square
No I don't know the reason why I'll love you till the day I die
But one day you'll be waiting there
Come summertime in Soho Square
And I'll be painting stars up in the sky
Before I get too old to cry before my birthday
I hope I see those pigeons fly before my birthday
In Soho Square on my birthday
Watch The Life and Songs of Kirsty MacColl Documentary Here

.
The Tribute Concert 10/10/2010 @ The Shepherds Bush Empire.
(Apologies for the sound and quality of some of these videos, there seems to be no official recording of the show apart from in audio)
1. Ellie Goulding - Soho Square.
2. Alison Moyett - Walking Down Madison.
3. Amy MacDonald - Tread Lightly.
4. Catherine Tate - In These Shoes.
5. Andrea Corr - They Don't Know.
6. Billy Bragg - New England.
7. Eddi Reader - Dear John.
8. Alison Moyett - Head.
9. Brian Kennedy - Angel
11. Dave Ruffy and Amy MacDonald - Fairytale in New York.
12. Phil Jupitus - There's A Guy Works Down The Chip Shop Who Swears He's Elvis.
Not on the CD
Billy Bragg - Freeworld.
Kim Wilde - They Don't Know.
Brooke Supple - England 2 Columbia 0.
Brian Kennedy - Don't Play The Cowboy With Me Sonny Jim.
Phil Jupitus - Fifteen Minutes.
Mary Coughlan - Bad.
James Walsh - All I Ever Wanted.
Four Part 1995 Interview with Kirsty.
Part One.
Part Two.
Part Three.
Part Four.
Other Kirsty Related Music.
Fairytale in New York - The Pogues with Kirsty MacColl (Live St Particks Day 1988).
Kirsty MacColl on French and Saunders.
New England - Billy Bragg and Kirsty MacColl (from The Nicky Campbell Show 26th June 1991).
Miss Otis Regrets - Kirsty MacColl (Later with Jools Holland 1995).
Harvest For The World - Kirsty MacColl (Isley Brothers Cover).
Shutting the Doors - Jools Holland and Kirsty MacColl.
Einstein's Shoes - Landscape V Kirsty MacColl Mash Up.
If you have never got around to read the book by Kirsty's Mum then can I encourage you to do so?
You Might Have Trouble Finding A Copy But There Are Some 2nd Hand Copies On Amazon.
A Personal Word.
"Having spent the better part of the last four days listening to the music, watching videos and writing this piece for my Soundtrack4Life blog, I am even more convinced that Kirsty MacColl is someone worth remembering. I am even more amazed at how little success she actually had with her music when she was alive. She once said in an interview in 1989, "I love Pop Records. That's what I'm trying to do. I'm trying to get down to writing the perfect pop single." Listening to her albums, singles, b-sides and rare recordings these past four days I think she did that over and over again.
I hope that if by reading this that you are discovering the music of Kirsty MacColl for the first time that you will give the girl from Croydon a chance to impress. She also said that "making records is just trying to put on to vinyl what I've got in my head", and I trust that what you find will give you a good picture of what was going on in her head and heart.
If you have heard her music before then I do hope that this leads you to dig out her albums, singles, CD's etc from your collection to give her a fresh hearing."
- Doug (Soundtrack4Life)