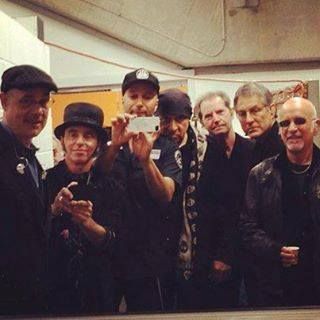 E Street Band Selfie courtesy of Tom Morello
Tom Morello @tmorello

Thanks South Africa, Australia, New Zealand, Bruce, the E Street band and crew for an amazing 6 weeks! An incredible experience. More to come!
Only one tour premiere this evening in Auckland - 'My City of Ruins'. A 3hr and 11min show.
That's the final show of this leg sorted, it's back home to the U.S.A. next where it all kicks off again on 8th April in Cincinnati at the US Bank Arena.
I will add links when they become available.
Setlist
01 Royals (Lorde cover)
02 We Take Care of Our Own
03 No Surrender
04 Two Hearts
05 Hungry Heart
06 The Promised Land
07 Seeds
08 Death to My Hometown
09 High Hopes
10 Just Like Fire Would
11 Darkness on the Edge of Town
12 MY CITY OF RUINS

Born to Run, full album
13 Thunder Road
14 Tenth Avenue Freeze-Out
15 Night
16 Backstreets (w/ Sad Eyes interlude)
17 Born to Run
18 She's the One
19 Meeting Across the River
20 Jungleland

21 The Rising
22 The Ghost of Tom Joad
23 Badlands

Encore
24 Waitin' on a Sunny Day
25 Glory Days
26 Seven Nights to Rock
27 Bobby Jean
28 Dancing in the Dark
29 Twist and Shout
30 This Hard Land (solo ac)