On this day back in 1963. Patsy Cline, Cowboy Copas and Hawkshaw Hawkins were killed in a plane crash that was bound for Nashville. They had been returning from a benefit concert in Kansas City for the widow of KC DJ 'Cactus' Jack Call. Call had died in a car crash about a month before on January 25th, he was 39 years old.
The plane had hit a period of bad weather and crashed around 90 miles short of it's destination. Forensic examinations stated that the passengers probably all died on impact. Patsy Cline was aged 30 when she died.
It's all a bit sad thinking about that so let's back up a little and map out a little bit of the life of Patsy Cline and her influence upon the music scene at the time.
Born Virginia Patterson Hensley on 8th September 1932 in Winchester, Virginia. In 1955 she got a records contract with Four Star Records which was a subsidiary of Decca Records. Her first single in 1955, "A Church, A Courtroom and Then Goodbye" attracted little attention but it did lead to appearances at The Grand Old Opry. The follow up, "Hidin' Out" didn't fair much better. Two further singles in 1956 failed to make an impact but it was the following year when she looked destined to break out with the release of the single "Walkin' After Midnight" (the video link is for a TV performance from 1957). The song would reach #2 in the Country Chart but would also be a Crossover Hit hitting the #12 spot on the Billboard Pop Chart.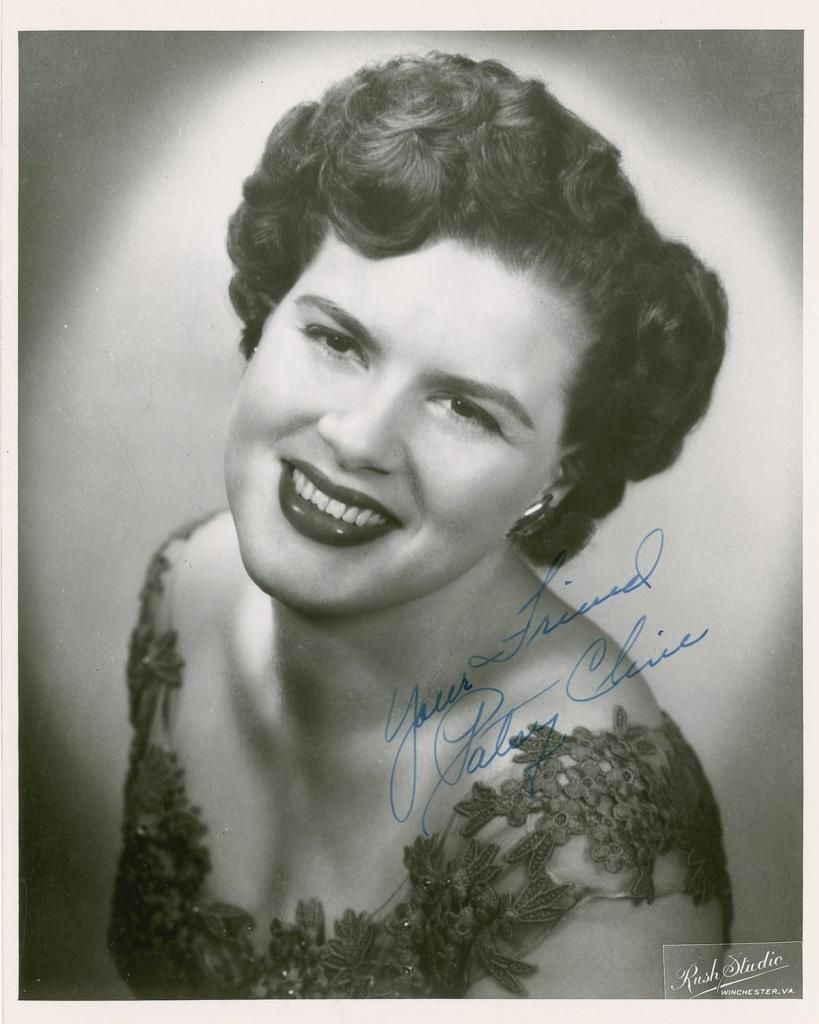 Things looked bright but Patsy Cline released another 12 singles between 1957-1960 without scoring a hit! She wouldn't have another hit until 1961when she hit the top spot on the Country Chart with "I Fall To Pieces". The song was another Crossover Hit reaching #12 on the pop chart. "Crazy" (penned by Willie Nelson) followed and gave her the biggest hit on the Pop Chart by peaking at #9 (it was a #2 on the Country Chart). "She's Got You" followed in 1962 peaking at #1 on the Country Chart and #14 on the Pop Chart. The success in the Pop Chart though would not blossom any further as her remaining singles failed to even reach the Top 50.
Patsy Cline only ever recorded three albums: "Patsy Cline" (1957), "Patsy Cline Showcase" (1961) and "Sentimentally Yours" (1962).
Her influence on Country Music is wide and she is cited by many female artists as being an inspiration. In 1973 she became the first woman to be inducted into the Country Music Hall of Fame. Her music lives on as since her death many albums (mainly complitations) have been released.
LeAnn Rimes began her recording career being hailed as "the new Patsy Cline" and it's easy to see from her debut release, "Blue", a song that was actually destined to be recorded by Cline but she died before getting to record it.
Books, stage plays and a film have been issued on the life of Patsy Cline. "Sweet Dreams" starring Jessica Lange, whilst factually inaccurate in some places, was a huge success and was even nominated for an Oscar.
Some TV Performances of Patsy Cline.