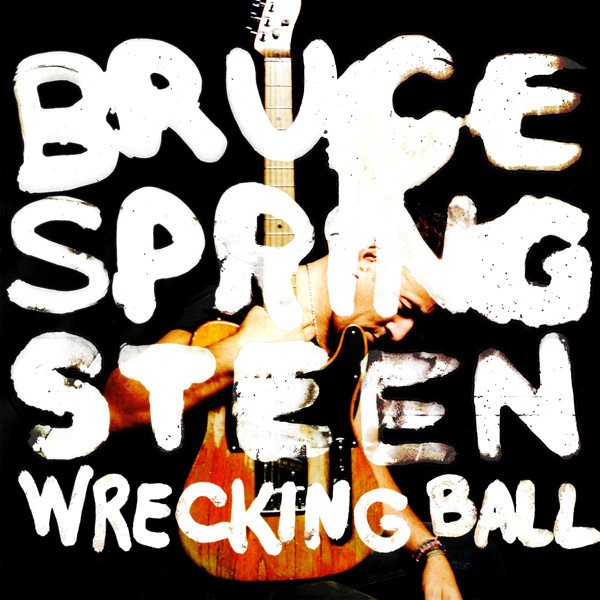 So, Mr Springsteen has graced us with his 17th Studio Recording and it is clearly one of his angriest and bitterest yet!
The reviews from the music press have been pretty upbeat about the album and Springsteen himself has been having a blast in preparation for release day (today in the UK and tomorrow in the USA). Last week on The Late Night with Jimmy Fallon Show he appeared at the start of the week and performed the single (and opening track) 'We Take Care of Our Own' and ended the week with two songs from the album ('Death to My Hometown' and 'Jack of All Trades') along with a storming version of 'The E Street Shuffle' with the E Street Band and Fallon's house band The Roots.
To see Fallon performances go to this link and you can follow the other links to see what went on at 'Bruce Springsteen Week' on
Click Here for The Late Night with Jimmy Fallon videos
Track by Track
01. We Take Care of Our Own
This could quite easily be one of Bruce's most misunderstood songs since
'Born in the USA'
.
Andy Gill from Uncut Magazine
put it in words better than I ever could: it
"sounds like a typical Springsteen anthem of uplift, a celebration of fellowship and community that one can see being hijacked by politicians the next time Navy Seals pluck an American citizen from the clutches of Somalian pirates, or take out some high-level jihadist. 'Wherever this flag flies,' he sings, 'we take care of our own.' But then you start hearing what he's actually saying, and it's another 'Born in the USA' moment, as he pours out condemnatory question after question: 'Where's the promise from sea to shining sea?/Where's the work that will set my hands and my soul free?' And the song's most potent image, 'from the shotgun shack to the Superdome', transforms from a superficially bullish expression of inter-class community to something with a sting in its tail, the mention of the Superdome inevitably drawing one's mind back to Hurricane Katrina, when America signally failed to take care of its own. That disregard, he suggests, has spread across the entire country."
02. Easy Money. 03 Shackled and Drawn. 04. Jack of All Trades
This lack of care that seems to have pervaded society appears to be a running theme through the next number of songs. Springsteen has his sights set on the culprits,
"them fat cats" and "bankers"
. He doesn't go easy on them. In
'Easy Money'
he says that they'll
"just think it's funny"
as they observe those out to make a buck just to survive, making the easy money by a life of crime!. In
'Shackled and Drawn'
he goes a little further with a stinging indictment of the current situation facing the working classes:
"Gambling man rolls the dice, workingman pays the bill/It's still fat and easy up on banker's hill/Up on banker's hill, the party's going strong/Down here below we're shackled and drawn."
On
'Jack of all Trades'
he lays the picture out perfectly in all it's grizzly reality:
"The banker man grows fat/working man grows thin/it's all happened before and it'll happen again"
, how to deal with it? Springsteen's view of the down-trodden man sees only one option:
"If I had me a gun/I'd find the bastards and shoot 'em on sight!"
05. Death To My Hometown
Big business, Government and Bankers seem to be the ones again who are responsible for this little truth. They seem to happily leave the poorest to the
"vultures"
who
"picked our bones"
, and the death of the hometown has come not as a result of a war, a riot but as the character in the songs says,
" I awoke on a quiet night/I never heard a sound/The Marauders raided in the dark,"
and it seems they are not done as
"they'll be returning/sure as the rising sun"
. So we need to be on watch because it might be our hometown next!
06. This Depression
With the world so bleak it's no wonder that
'depression'
, not only economic depression but emotional depression, is a result! Love is the only way to get over it:
"I need your heart"
. How many of us can testify along with Bruce that,
"Baby, I've been down, but never this down...Baby, I've been low, but never this low/I've had my faith shaken but never hopeless"
? And in a way the hope that seemed apparant on
'Working on a Dream'
, inspired no doubt with the rise of Obama, is quite absent on this album apart from a few glimpses now and again.
07. Wrecking Ball
Even the title track is a like a picture of a failing society. The song of course was written for Giants Stadium during the
Working on a Dream Tour
and was a 'celebration' of it's coming down, but lyrically the song could easily be about the collapse of the world around us with the economic decline and the bankers plunging folks lives into chaos. Springsteen somehow wants us to keep ourselves in check:
"Yeah, we know that come tomorrow none of this will be here/So hold on tight to your anger, hold tight to your anger, hold tight to your anger/and don't fall to your fears"
, which is easier said than done! The over-riding theme of the song as I see it is that no matter what is happening, I shall be defient and live the life I have:
"C'mon and take your best shot/Let me see what you got/Bring on your wrecking ball."
08. You've Got It
Springsteen manages to capture in one of the most simplest of songs something we call
"IT"
and it seems this
"It"
is something so special that
"No one can break it/Ain't no one can steal it/Ain't no one can fake it"
- he stated many years ago in a song,
"I wanna know if love is real!"
and here finally he has the answer!
09. Rocky Ground
So all this travelling through a bleak world on
"Rocky Ground"
, with a loss of faith and hope can so easily take it's toll but hold on, there's
"A new day coming!"
A spark of light as we near the end of the album.
10. Land of Hope and Dreams
It seems like an old standard now but given it's first studio outing and contains Clarence's Sax solo (a reminder of brighter days in the E Street camp), and more than any other track on the album the light of hope seems to shine just a little brighter. It's a song for all of us
"saints and sinners...losers and winners...whores and gamblers."
It's a song that urges us to get on board
"this train"
and to know that we are not alone:
"Well, I will provide for you/And I'll stand by your side/You'll need a good companion now/For this part of the ride/Leave behind your sorrows/Let this day be the last/Tomorrow there'll be sunshine/And all this darkness past"
.
11. We Are Alive
As if we needed reminding that no matter what the state of the world is, no matter how bleak the economic crisis or the loss of faith and hope, we are still alive! We are in this together:
"To fight shoulder to shoulder and heart to heart/To stand shoulder to shoulder and heart to heart/We are alive"
.
It sounds like it's bleak themes might be off putting to listen to but Springsteen as ever has the ability to add pretty upbeat music to even the most distressing of songs.
For me,
'Wrecking Ball
' is a much better album than
'Working on a Dream'
. My confession is that past an initial period of listening to the album for a few days that was it. With
'Wrecking Ball'
there seems a bit more to chew on and savour and therefore I've not stopped playing it for the past few weeks.