A while back I posted an interview with
Honest John Plain
, guitarist, songwriter and vocalist of The Boys, and now I'm really pleased to get the opportunity to chat with the "Quietest" Frontman of The Boys

-

Matt Dangerfield - Gu

itar, Vocalist, Songwriter and Producer.
S4L

:

The Boys have a good legacy, having formed around the time of the growing Punk movement in the late 1970's and born out of The

Hollywood Brats and London SS, was that a really good time to be starting a band, especially as there were so many bands that were

exploding onto the scene around the same time?
Ma

tt

:
It was certainly a brilliant time to be starting a punk band if not a great time to be starting any other kind of band because almost overnight everything else became unfashionable. After the Bill Grundy show it was like a cultural atom bomb had been dropped on the UK and also a rare occasion when the music business was turned on its head. The early punk bands had the upper hand because although they didn't understand what was going on, every record company was suddenly desperate to sign a punk band and there weren't that many of us to begin with. And it wasn't just the bands who benefited because the media from all over the world was beating a path to London – I remember punk friends charging foreign photographers fifty pounds a go to photograph them on the Kings Road and at the Roxy.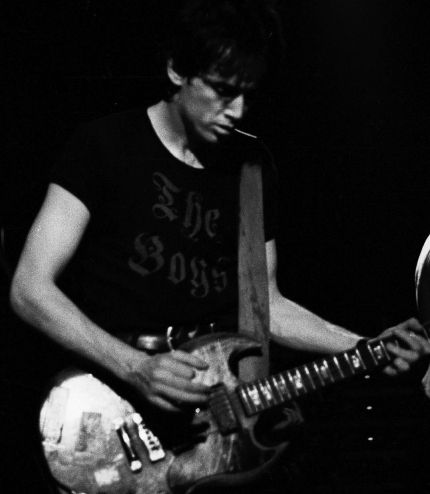 S4L

:

The Boys live debut was in 1976 at the famous Hope and Anchor in Islington, do you have any memories of that night and what you were thinking and feeling prior to hitting the stage? Since then of course you have played loads of shows and even today are still performing concerts. Does it give you a sense of satisfaction that all these years down the road that the music that you put out 35 years ago is still loved?
Ma

tt

:
I remember it well. I don't remember being particularly nervous, just relieved that we were finally getting to play our first gig after months of songwriting and rehearsing. From that point on we were constantly honing our set and continually adding the new songs that Cas and myself were writing on an almost daily basis. Within a few months we'd gone from being told by venues that we were the worst band that they had ever booked, to having the same venues desperate to have us back.
It does please me a lot that the music we made still resounds with those who heard it the first time around but even more so when it's younger fans who weren't even born at the time that are picking up on it. The fact is that worldwide there are infinitely more punk fans and bands today and a much bigger market for the music than there was in the seventies and that pleases me too.
S4L

:

Mentioning the the first album and it's age, you've just recently reissued that and Alternative Chartbusters. Are you excitited to seem them available again, especially with some of the great bonus material on each set? There's so many great songs on each of the albums, were you frustrated that because of your label NEMS that you didn't get the chance to get your music more widely heard?
Ma

tt

:
I'm mostly pleased that both albums have now been properly remastered and sound as good, if not better, than the original vinyl releases. They have been released on CD in the past but I personally can't listen to those because they usually sound so awful – so over compressed they've had all the dynamics sucked out of them. We were cheesed off with NEMS at the time, but to their credit they did eventually let us go, which they didn't have to if they'd really wanted to be difficult. Looking back I think they meant well but were just unprepared and incompetent and they lost out as much as we did.
S4L
:
Besides the albums you actually released a cracking bunch of singles as well. What ones stand out for you? I personally love 'Brickfield Nights', it was a record that seemed to sum up the life that me and my friends were having at the time and I love the fact that when I hear that opening drumbeat that I am transported back almost to my teens. Do you think a lot of modern music has lost that ability to connect with its listeners in that kind of way and therefore is actually quite disposable? When you were writing them did you have a sense that they would breed such a connection or were they written primarily as an extension of what was going on in your own lives at the time?
Ma

tt

: I'm sure modern music connects with it's target audience. It just disappoints me that kids today are generally so un-rebellious and willingly buy into whatever big business tells them is 'cool'. In the seventies young people just laughed at any advertising that tried to engage them, now they swallow it whole. Speaking for myself, I think most of the songs I've written and still write are based on my own experiences and what appeals to or concerns me at the moment. If it resonates with other people, that's a bonus.
S4L

:

On June 22nd you've got a big reissues launch show at The Borderline in London, do you have a lot of preparation for a show like that? Do you as a band collectively come up with the set you play that night? Will it be a combination of both albums?
Ma

tt

: We are geographically all over the place these days so there's little possibility for preparation. We generally only have an acoustic run through before the gig to remind us of the arrangements etc. and that will be the same for the Borderline show. We are currently discussing the idea of doing a special set for that gig that includes only songs from the first two albums, which I think will probably happen. There will no doubt be a few cock-ups doing stuff we haven't played for years but it will be fun.
S4L

:

All of you have been involved in projects other than The Boys down through the years, whether it be solo or side bands, do you think that has helped keep The Boys sharp and helped you create new music - I believe there is a new album on the way at some point?
Matt: Yes a brand new Boys album is close to completion. We've been recording it in France a few songs at a time over the last year, as we needed to fit it in between our individual commitments but it's coming along very nicely. We've all moved in slightly different musical directions over the years but when we got together on this project it immediately started sounding exactly like The Boys of old, which we're pleased about. We'll be finishing it over the summer and hope to release it later this year.
S4L

:

Who inspired you, Matt Dangerfield to get into music in the first place? Could you ever have imagined that you'd still be playing and singing all these years down the road with great musicians and songwriters like Casino and Honest John? Any wisdom you can impart to any youngsters who are starting up bands today that you picked up on your own musical journey?
Ma

tt

: I grew up in the sixties, when there was such a fantastic explosion of new music constantly going in new directions, and just about all those bands were a huge influence. From about the age of 13 my ambition was to be in a band and make music so I'm enormously grateful that I was given the privilege to do that. My only advice to would-be musicians is stick to your guns, stay true to what inspired you in the first place and try to find your own direction rather than follow someone else's.
S4L

:

One of the things it's nice to discover is what music has been a part of your own musical journey and still today forms part of your soundtrack4life, so could you name half a dozen albums, singles or songs that you feel have somehow shaped you into the musician and person you are today?
Ma

tt

: Half a dozen is not nearly enough but the albums I will never tire of listening to:
"Highway 61 Revisited" - Bob Dylan
"Otis Blue" - Otis Redding
"Velvet Underground & Nico"

-

Velvet Underground
"SF Sorrow" - The Pretty Things
"Hunky Dory" - David Bowie
S4L: Many thanks for your time Matt, it's much appreciated. Wish you well for future days and very excited at the prospect of a new Boys album. Take care.
Ma

tt

: Thanks Doug, the pleasure is all mine.
FOR MORE INFORMATION ON THE BOYS CHECK

OUT

THEIR WEBSITE

AND THEIR

FACEBOOK PAGE

.
To celebrate the definitive re-releases of The Boys' first two albums – "The Boys" and "Alternative Chartbusters", featuring previously unreleased bonus recordings, track notes by singer/guitarist Matt Dangerfield and sleeve notes by Mojo's Dave Henderson – THE BOYS will play a one-off gig at The Borderline in London on Saturday 22 June 2013.