It's the birthday today of the Queen of Country - Emmylou Harris. She's 67 today!
Emmylou Harris' 1995 album 'Wrecking Ball' is up for the Remastering and Deluxe Reissue treatment on April 8th 2014. Click on the links to enjoy the music and read more about the album.
"And maybe most important to note about Wrecking Ball beyond its influence is that after eighteen albums and at the age of 48, one can argue that this was the album that Emmylou's voice truly came into full bloom. The way her tone strains and breaks so eloquently, the intelligent way the chords are picked to compliment this phenomenon and put Emmylou uncomfortably between her regular tone and falsetto to squeeze the greatest degree of pain out of each composition is award winning in itself, and along with all of the album's other notable achievements, is one of the reasons it won the Grammy for Best Contemporary Folk Recording in 1996.
Wrecking Ball was the result of Emmylou Harris following her heart, searching for a voice she never knew she had, and a vein of country music nobody knew existed before. And even here nearly 20 years after its release, its influence, its beauty, and its place as one of the most important markers on the country music timeline, remains untarnished."
The original album will be remastered and a new disc of demos and outtakes is included as well as a DVD highlighting the making of the album.
Making of 'Wrecking Ball'
Harris explains how it came about: "I was kind of at a crossroads. I'd done what I thought was a really good record that could be played on country radio; my record company was excited about getting me on country radio and nothing happened.
"They said 'We've done everything. We know it's not you; we're behind you. Who would you like to work with next?' At that point, Daniel Lanois' solo album and the record he produced with Dylan were my two favorite records," Harris says. "So I said, 'I love what Daniel Lanois does.' Someone made a call and he wasn't doing anything."
The album they came up with had Harris singing an eclectic group of songs by Neil Young (the title song), Bob Dylan, Steve Earle, Lucinda Williams, Anna McGarrigle and even Jimi Hendrix ("May This Be Love"). It drew rapturous reviews and is considered a career highlight, although Harris remembers it wasn't immediately embraced.
"Oddly enough, if you want to just look at charts and stuff, it really took a while for it to find its audience," she says.
"The record company didn't know what to do with it. It didn't seem to find a particular category, but the album just sort of got legs on its own. It was an album that touched people. One person after another would turn another person onto it, one fan to another fan."
Her favorite song from the set? The bleak, beautiful "Orphan Girl" by Gillian Welch.
"It just gets my juices going," Harris says. "I love the whole album as a piece. There wasn't a lot of extra stuff, but I'm excited for people to see the DVD that was done simultaneously. Daniel brought his brother Bob down, and he was rolling this little camera."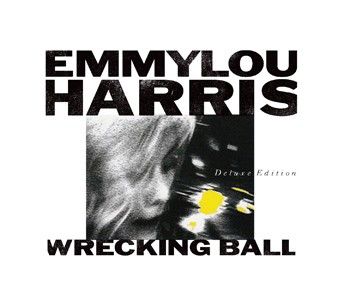 *Links are not for the remastered audio but are live performances of the songs.
Disc 2 – Deeper Well: The Wrecking Ball Outtakes
1. Still Water 3:55
2. Where Will I Be (alternate version) 4:14
3. All My Tears 3:21
4. How Will I Ever Be Simple Again 3:36
5. Deeper Well 2:18
6. The Stranger Song 5:21
7. Sweet Old World (alternate version) 5:56
8. Gold 3:16
9. Blackhawk (alternate version) 4:40
10. May This Be Love (acoustic) 2:15
11. Goin' Back to Harlan 2:35
12. Where Will I Be (alternate version) 2:13
13. Deeper Well 3:06
Emmylou Harris Wrecking Ball Tour Dates:
April 3 Los Angeles, CA The Wiltern
April 5 San Francisco, CA The Warfield
April 7 Royal Oak, MI The Royal Oak
April 8 Chicago, IL The Vic
April 11 Washington, DC The Lincoln Theatre
April 12 Brooklyn, NY TBA
April 13 Boston, MA The House of Blues
(additional tour dates to be announced)
(photo by Doug - 04/08/06 Royal Concert Hall Glasgow)
The reissue follows a very successful year for Harris, whose new collaborative album with longtime friend and colleague Rodney Crowell, Old Yellow Moon, recently won the Grammy Award for Best Americana Album. Harris and Crowell were also honored with two awards at the 2013 Americana Music Association Honors and Awards Show: Album of the Year and Duo/Group of the Year. A 13-time Grammy winner and Billboard Century Award recipient, Harris's career as a singer and songwriter spans 40 years. She has recorded more than 25 albums and has lent her talents to countless fellow artists' recordings. In recognition of her remarkable career, Harris was inducted into the Country Music Hall of Fame in 2008.

Bonus Links