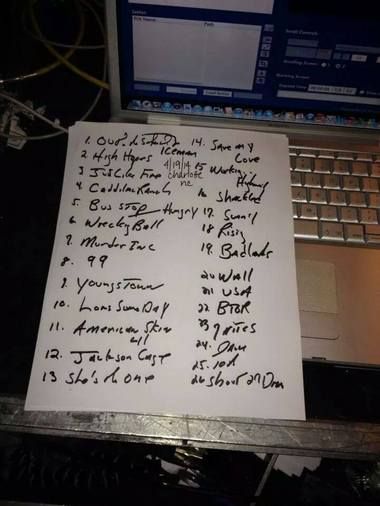 (The Handwritten Proposed Setlist for Charlotte!)
So, as you will see from the proposed setlist above and the actual setlist below things don't always happen the way they are planned! I guess that's one way to keep the band on their toes and earning their crust during a blistering three hour and 13 minute performance! Remember to click on the links to enjoy the music.
A 30 song set that included 7 Cover versions, three of which were Tour Premieres! 9 songs in the set were sign requests (I think that must almost be a record in itself...will have to check into that!) and the show opener was a first time performance ever for the E Street Band and only the second time Bruce has ever played it live (the last being in Philly back on the Devil's and Dust Tour on 17th May 2005).