One of the delights of 2014 surely has to be the return to the album market of The Boys. Last appearing on record in 1981 with 'Boys Only', the band comprising of original members Matt Dangerfield, Honest John Plain and Casino Steel literally blew us away with a brand new album containing what they call "13 New Classics!!" And they are not far wrong in that assessment either!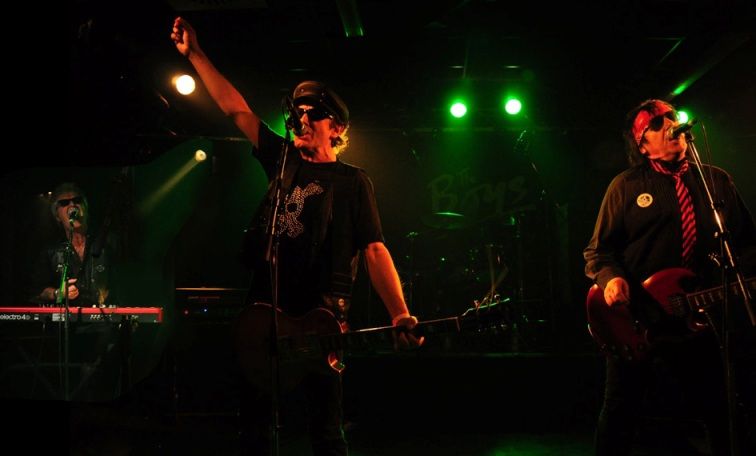 There's a lot of links in this piece so click on them to enjoy the wide range of music from The Boys, Solo Projects, Band Projects and favourites from the chaps.
I am proud to announce that
The S4L Comeback Album of the Year 2014
Punk Rock Menopause - The Boys
.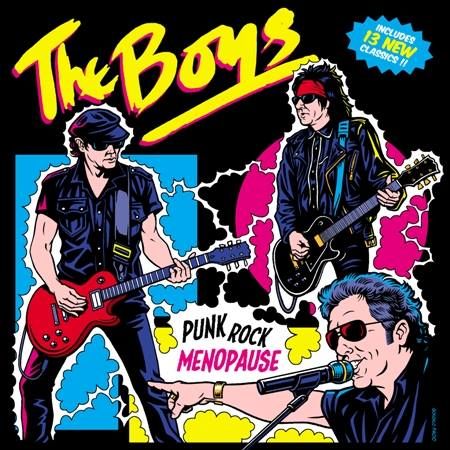 Over the past couple of years I've been really pleased to have done interviews with

Honest John Plain

and

Matt Dangerfield

and so it's a joy to welcome them back alongside the man who tinkles the ivories

Casino Steel for a special interview with Soundtrack4Life.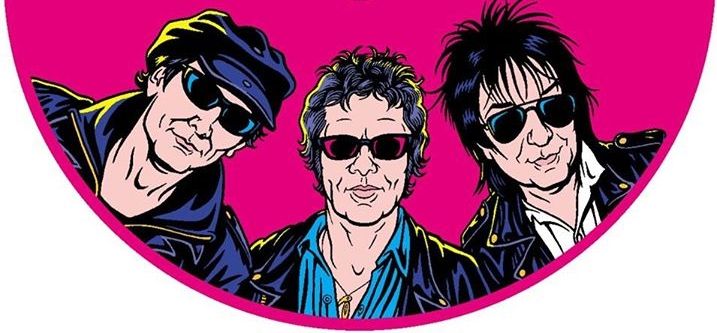 S4L:
The new album was a long time in works, did you enjoy getting back into the studio and creating together after such a long time?

MATT: I was originally reluctant to try make a new album unless I thought it could be as good as, if not better than, the old albums. After a few days in the studio however, everything slipped back into place and I realised that we could achieve that. And I think we did. The new album definitely feels and sounds like The Boys without repeating ourselves. It's taken us a step further and certainly stands up alongside the original LPs.
JOHN:
Yes it was great to be back in the studio with two of my oldest and closest mates and to find the creative juices were flowing just like back in the day.
CASINO: I´m very impatient, so I hate being in the studio. I think it´s hard work, so I´m very happy when the recording is over. I enjoyed the creating part, and I´m very happy with the result.
S4L:
Punk Rock Menopause has a typically old school Boys sound and yet is incredibly an album that is grounded in today. Were you very conscious when recording that inspite of the distance of time since your last album you wanted the listener to know you were consistent, unwavering when it comes to maintaining that sound that gave birth to many great songs way back in time?
MATT: Ouch, I remember when we were new school! Yes it's grounded in today because we're living in today not the seventies, but if that basic guitar/drum sound still resonates today – and it does – why would we want to change that?
JOHN: Well the three main songwriters were all there so it was always going to sound like The Boys. As soon as we started writing together again I knew it would turn out well.
CASINO: The Boys-sound came naturally after all these years, and I was quite surprised to find we still had our identity intact. It was as if we had never been away

.
S4L:

You've not exactly been in a wasteland since 1981, as you have all continued in one form or another to be involved in music, did that experience of playing solo, playing with other bands etc. enable you, when you finally got back in the studio together and back playing live,

to be better songwriters and musicians?
MATT: I think the main thing is that we always were, have been and will always be songwriters. We've all done other, sometimes quite different things, but when we got back together as The Boys we automatically forget all the other individual stuff we've done and get back instantly into 'Boys' mode, which means keeping within certain musical boundaries but also continually pushing those musical and songwriting boundaries as we always did.
JOHN: Yeah I've been recording and touring constantly since The Boys split in 1981 and I hope it has improved me as a singer, musician and songwriter.
CASINO: I have been playing and recording all the time, but The Boys-sessions made me feel like I was coming home again.
S4L:

Just for our readers sake could you give us an idea of a few of the things you have done in the intervening years that you have been most proud of?
MATT: During a time when I was disillusioned with the music business I launched a free weekly London lifestyle magazine called Footloose which was very successful until I sold it. I also helped to launch a worldwide music competition called

GBOB

for bands playing their own original music live and that's still going.
JOHN:

The Crybabys

,

The Last Rock 'n' Roll Band

and numerous solo projects over the years (

Check out

'Never Listen To Rumours'

by HJP

). I'm particularly proud of an album I recorded a couple of years ago in Rockfield with the likes of Michael Monroe, Sami Yaffa, Glen Matlock, Martin Chambers, Verden Allen, Casino Steel, Darrell Bath, Robbie Rushton and a host of others. It's one of my best albums and I really do hope it'll be out sometime soon.
MATT: I'm extremely happy with the response to "PRM", both from the media and from long-time Boys fans. The response to the new songs live has also been fantastic. Without a doubt, a great feedback from a live audience when they are hearing a song for the first time is the biggest buzz you can get.
JOHN: It's been overwhelming. It's been the best reaction we've had for the release of any of The Boys albums and personally I think it's our best and can sit proudly up there with the other four albums. It's been great to play the new songs live and it was incredible at The Jazz Cafe to see everyone singing along despite the album only having been out for a few weeks.
CASINO: The response from the critics and fans alike has been fantastic, I'm so pleased everyone seems to like the album so much. And the fact that sales have been very good is a bonus, the LPs have just sold out and the CDs sold out in August. Wolverine are also considering a Special Edition Picture Disc release for "Punk Rock Menopause" in the New Year so watch out for that one.
S4L:

Has the whole experience of recording this album and taking it out on the road given you a bit of a desire to make sure that we don't have too many more years for a follow up?
MATT: Yes indeed! We've already booked the same recording studio for three weeks in 2045 so we can do a follow up! In the meantime, we're busy promoting this album but I think we'll probably record new tracks from time to time as circumstances permit.
JOHN: I can see a new Boys album starting within the next six months! Only kidding, it took us 30 years to persuade Matt to record another Boys album, although I think even Matt has been blown away by the reaction to, so maybe we will do some more Boys recordings sooner rather than later.
CASINO: It was such great fun to be back in the studio again with Matt and John, we all enjoyed ourselves more than ever. However I suspect there'd be even more expectation and pressure on us to live up to "Punk Rock Menopause" as well as the four original Boys albums so we'll just have to wait and see.
S4L:

Do you still have some reissues planned following on from the great packages of the Debut Album and Alternative Chartbusters?
MATT: We are certainly hoping to do that for "To Hell With The Boys" and "Boys Only". There are a few discussions with interested parties going on, so hopefully soon we'll have some news.
JOHN: I'd love "To Hell With The Boys" and "Boys Only" to be given the same deluxe treatment as I started to have more of an input by then, with the early NEMS albums it was primarily Matt and Cas. In fact across those two Safari albums there's only Matt who sung more lead vocals than I did!
CASINO: Fire Records did such a fantastic job with their deluxe reissues of the two NEMS albums so I'd really like to see a similar job done with our two Safari albums. Fingers crossed.
S4L:
Here at Soundtrack4Life in recent days we have been looking at favourite Cover versions and favourite B-Sides. I wonder if you could let us know what yours are?
JOHN: My favourite cover is The Beatles with

"You Really Got A Hold On Me"

and my favourite B-Side is again The Beatles with

"This Boy"

. One of my favourite cover versions of one of my songs is The Connection's recent cover of

"First Time"

, which I wrote almost 40 years ago. I believe Steve Van Zandt recently chose it as a "coolest song".
CASINO: I was really pleased with The Last Rock 'n' Roll Band's version of
"Folsom Prison Blues"
, I think we did a fairly good job. My favourite b-side is The Beatles

"I'm Down"

.
'Kamikaze' - Live at Jazz Cafe 13th September 2014

.
Brickfield Nights

.
Living in the City - Live January 1980

.
Weekend

.
John Peel Session 1978

.
For More Information on The Boys
Official Website

.
Facebook

.
Buy 'Punk Rock Menopause' Here

.
A Word of Thanks.
A huge shout out to Steve Metcalfe for arranging this interview, it's always good to remember the supporting cast who work behind the scenes on behalf of the bands.
And of course huge thanks to The Boys: Matt Dangerfield, Honest John Plain and Casino Steel for giving their time for this.
A Round of applause for the lot of you.