Queens of Noise - The Runaways
Produced by Kim Fowley and Earle Mankey
Swedish Charts #28
Songwriting Credits
A1 Queens Of Noise (Billy Bizeau)
A2 Take It Or Leave It (Joan Jett)
A3 Midnight Music (Cherie Currie, Kim Fowley, and Steven Tetsch)
A4 Born To Be Bad (Kim Fowley, Michael Steele, and Sandy West)
A5 Neon Angels On The Road To Ruin (Jackie Fox, Kim Fowley and Lita Ford)
B1 I Love Playin' With Fire (Joan Jett)
B2 California Paradise (Joan Jett, Kari Krome, Kim Fowley and Sandy West)
B3 Hollywood (Jackie Fox, Joan Jett and Kim Fowley)
B4 Heartbeat (Cherie Currie, Earl Mankey, Jackie Fox, Kim Fowley and Lita Ford)
B5 Johnny Guitar (Kim Fowley and Lita Ford)
Singles taken from Queens of Noise
Queens of Noise / Born To Be Bad
Midnight Music / Neon Angels On The Road To Ruin
Heartbeat /
Neon Angels On The Road To Ruin
US and Australian Release
US Chart #110
I Love Playin' With Fire /
Neon Angels On The Road To Ruin
Neon Angels On The Road To Ruin / Queens of Noise
Japanese Release
An Austrian version of the single Neon Angels On The Road To Ruin had Take It Or Leave It on the B-Side.
*************************
For as long as I can remember the debate has raged as to the legitimacy of calling The Runaways a Punk/New Wave band or a straight up Hard Rock band. For myself I have no real issue where they fit and I'm sure for the likes of Joan Jett she would be happy to have her band spoken of in the same breath as other excellent American bands that were part of the early Punk and New Wave Scene.
In early 1977 with the release of their second album the band had been lumped in with the Punk scene and had already formed alliances with the likes of the Dead Boys and Ramones and in the UK were often hanging out with the Sex Pistols, Generation X and The Damned.
Like a number of the American based bands The Runaways found success hard to come by at home and it was Japan of all places that they had some major recognition. They were the fourth most imported artist in Japan alongside Led Zeppelin, ABBA and Kiss.
The summer tour in Japan though merely brought a lot of tension to the band with Jackie Fox departing shortly before a slot at the Tokyo Music Festival and later in the year Cherie Currie would also leave the band to record a solo album - Beauty's Only Skin Deep (1978). Joan Jett, who had shared vocal duties on Queens of Noise with Currie then took over as lead vocalist.
Queens of Noise was a little different to the Debut album released 7 months earlier. Firstly because they brought in another producer due to relations with manager Kim Fowley falling apart. Earle Mankey was man brought in to produce and engineer the album, he was most known for his work with The Beach Boys!
Secondly, Jackie Fox actually played on the album whereas on the debut she is credited with being in the band but apparently Kim Fowley did not want her playing on the album! Nigel Harrison (Blondie) plays bass on the album instead of Fox!

Thirdly the inclusion of two "Power Ballads" (Midnight Music and Heartbeat) that would probably set the benchmark for 1980s Hair Metal bands the world over!
The title track was the only song on the album that was not written by members of the band, rather it was penned by keyboardist Billy Bizeau of The Quick, another band managed by Kim Fowley. The lead vocal on the track is by Joan Jett and this caused a bit of bother as Currie had expected to sing it but after returning to the studio after a medical procedure she was infuriated to discover that the vocal had already been recorded. In concert a compromise was made that would see Currie sing the opening verse before turning the microphone over to Jett! The tension regarding lead vocals saw a pretty equal sharing of them between Jett and Currie.
Two other tracks were recorded for the album - Hollywood Dream and C'Mon - but were left off with Hollywood Dream causing a problem as Currie wanted it on the album but Fox and Ford instigated a band rebellion against it and got Jett and West on their side. Both songs would eventually appear on the Flaming Schoolgirls album that was released after the band had broken up. There was also an alternate version of Hollywood entitled Hollywood Cruisin'.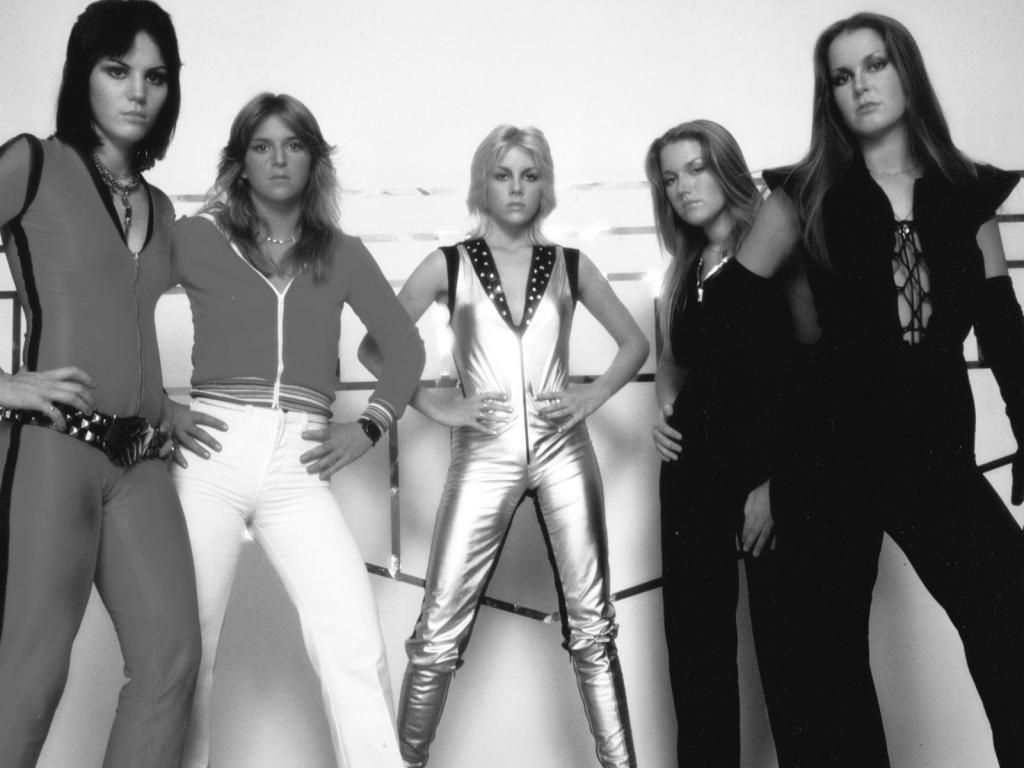 The Runaways and Kim Fowley's thoughts on Queens of Noise Tracks:
The Album as a whole:
Joan Jett: "I'm really proud of this album. It really is a lot more listenable than the first. It still has the ballsy rock and roll thing of the first LP, but it's got some slow songs too".
Jackie Fox felt that it is "not a very good album" overall.
Kim Fowley: "The girls have shown that all the work on the summer U.S. and fall European tours was not in vain. They're showing more interaction as a band, with more guitar soloing and guitar battles. Everybody forgets that this is the youngest rock and roll band in the world. They're hanging in there competing with people twice their age in every area. I admire them for it. These girls want to make it. They won't be satisfied until they're the number one group in the world. 'Cause time is on their side, oh yes it is".
Queens of Noise:
Kim Fowley:
"It's what it's like to be a girl touring and how they act with wild boys screaming in the first three rows. A great opening song and statement."
Take It or Leave It:
Jackie Fox:"one of my least favorite Runaways songs".
Kim Fowley: "Pure Runaways".
Midnight Music:
Jackie Fox: noted that the song was initially unpopular with the other four members of the band, but in 2000 remarked that upon further listening it was "actually one of the better songs on the album".
Cherie Currie: "I sang four or five part harmony on this. It turned out more fantastic than I thought it would."
Kim Fowley: "Bruce Springsteen would be very receptive lyrically to this sentiment. The guitar work here is reminiscent of Roy Wood's work with the Move".
Born To Be Bad:
Jackie Fox: "almost as embarrassing as Johnny Guitar".
Joan Jett: "This was written when we were a three-piece band by Sandy, Kim, and Micki Steele, the first bass player. A slow ballad about someone who is a born loser".
Neon Angels on the Road To Ruin:
Jackie Fox: the band's "concession to Lita's heavy metal desires".
Kim Fowley:
"Reminds me of a European approach to heavy metal with Cherie's voice having this shrieking quality like Savage Rose - like a witch. It's all about people in the audience who are really destroying themselves in a very charismatic and religious way"
.
I Love Playin' With Fire:
Jackie Fox: "always a lot of fun to play" and that she thought that Ford's solo was "one of her best".
Joan Jett: "This was written while we were in the studio. Kim was saying we needed more songs so I sat down and wrote this one".
Kim Fowley:

"Joan singing about getting ripped off and almost destroyed by superficial love".
California Paradise:
Jackie Fox: "probably the best song on the album".
Joan Jett: "It always starts out the set on the tour. It's about the state we live in and how nice it is".
Kim Fowley: "The answer to "California Girls" by the Beach Boys although musically it resembles a Gary Glitter record".
Hollywood:
Joan Jett: "It's a fun song about a girl wanting to become a star knowing that you can become one".
Heartbeat:
The song was originally written by Lita Ford and Jackie Fox as a mock love song to Joey Ramone. Fox was going to sing it with Currie but she said, "Cherie's voice and mine didn't blend well at all". Without Fox's knowledge or approval, Currie and Fowley then rewrote the lyrics to be about David Bowie and recorded the vocals without Fox.
Joan Jett: "It's about Cherie, really. A girl in a rock and roll band who sings lead and she meets another lead singer who's a star. They like each other but they can't stay together because each one has to go their own way to help their career".
Cherie Currie: "Kim and I had talked about a song like this. So he wrote something and I rearranged it and wrote the melody. I love singing songs like this".

Johnny Guitar:
Jackie Fox: "without a question the single worst song the Runaways ever did".
Joan Jett: "A song for Lita to show off her lead guitar work. It's about her guitar. A basic blues song".
Critical reaction to the album was very mixed with Sounds recommended the album, though Barry Meyers did mention that Johnny Guitar was "an unnecessary use of vinyl". The Village Voice in the USA graded it a C- with the line that that they "bimbos whose singing sounds out of tune!"
Whatever you think about the album today it is to my mind a vital cog in the wheel for the development of rock and roll from a female perspective. The Runaways, despite all their issues, set the bench mark for bands like Girlschool who followed in their path.

Poster for London Debut at The Roundhouse