Down By The Jetty - Dr. Feelgood
Personnel
Lee Brilleaux - lead vocals (tracks S1.1, S1.3-S1.5, S1.7, S2.2-S2.6), guitar, harmonica, slide guitar
Wilko Johnson - guitar, piano, backing vocals and lead vocals ( tracks S1.2, S1.6, S2.1)
John B. Sparks - bass
The Big Figure - drums
Bob Andrews - organ (S1.3), saxophone (S2.6)
Brinsley Schwarz - saxophone (S2.6)
Singles from Down By The Jetty
*************************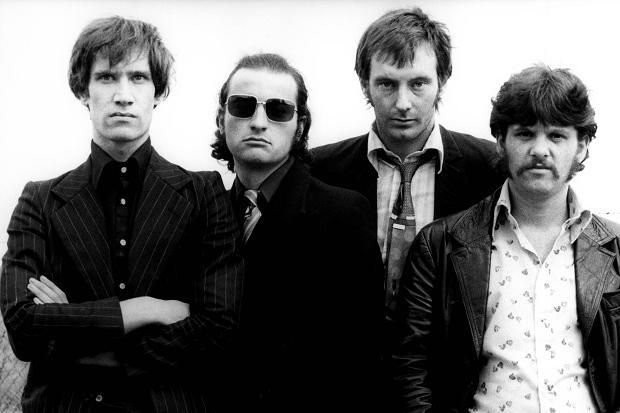 Dr. Feelgood from Left To Right
Wilko Johnson - Vocals and Guitar (January 1971 - March 1977)
John 'The Big Figure' Martin - Drums (January 1971 - April 1982)
Lee Brilleaux - Vocals and Harmonica (January 1971 - April 1994)
John B. 'Sparko' Sparks - Bass
(January 1971 - April 1982)
Down By The Jetty is the debut album from Canvey Island natives Dr. Feelgood. Released in January 1975 in Mono on United Artists it was a setting out of the stall of exactly the kind of band these Essex boys were - mean and moody, capable of doing damage to your worst enemy for a price - and that's just from looking at the album cover! Music wise they find inspiration from the Blues, R&B and streetwise Rock 'n' Roll with a hint of Canvey Island swagger.
I was only eleven when it came and didn't stumble upon it until after I had heard the Stupidity album in 1976. I've said elsewhere that the live album and also the debut from fellow Canvey Islanders Eddie and the Hot Rods had made a huge impression on me as a young teenager. Although neither would ever be considered a Punk band by any stretch of the imagination, they were very influential on the early Punk and New Wave scene and both had played shows with various Punk bands as well!
But back when the debut album came out Dr Feelgood were one of a number of bands making their mark on the Pub Rock Scene with their high energy live shows. They had been on the go since 1971 and by the summer of 1974 they had been signed to United Artists with their debut single getting a release in November the same year.
Most of the songs on the debut came from the pen of Wilko Johnson, the rest were tried and tested covers like John Lee Hooker's Boom Boom and Oyeh! was a Mick Green (from Johnny Kidd and The Pirates) song, and he would also co-write one of the Feelgood's greatest tunes - Going Back Home - for their second album Malpractice.
For an album that didn't make much of a mark when it came to the charts it delivered on influencing a vast array of future stars of the Punk and New Wave Scene like Paul Weller, Bob Geldof, Richard Hell, Ramones and Blondie. Even one of the brightest bands around at present, The Strypes, drew a lot of inspiration from Dr Feelgood.
Whilst the album is good from start to finish there are three songs on it that really towered above the rest of the remaining ten tracks: She Does It Right, Roxette, and All Through The City.