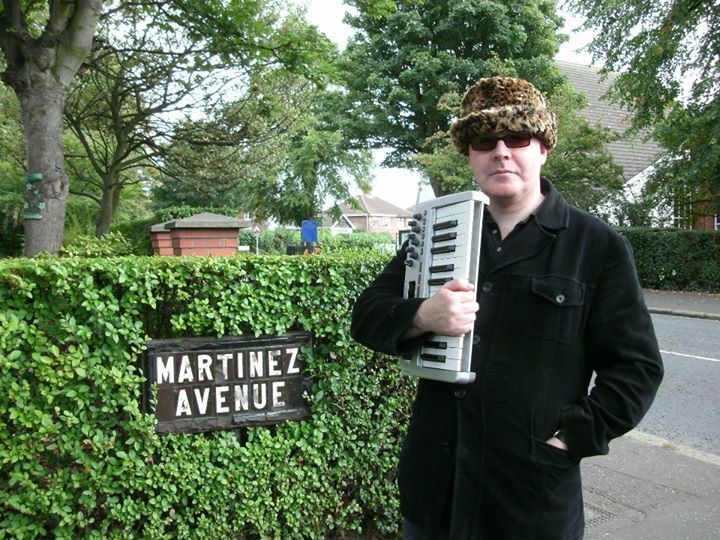 I mentioned in the previous post that I had asked my friend Ronnie Carnwath for his thoughts on (Get A) Grip (On Yourself) and that I thought his response was so good that it deserved a post of its own, well here it is.
Welcome to Ronnie, Guest Blogger on Soundtrack4Life. (and in the words of Mr Adam Ant, "And keep your feet off the upholstery Ronnie!" 😎)
There's a bunch of Links included below so click on them to enjoy further musical ditties. Signed picture sleeves are from Ronnie's own collection.
I was aware of The Stranglers' music from "No More Heroes" onwards, but I didn't get into music properly until Pink Floyd and The Pretenders both topped the chart at the end of 1979. By then I was suckered in by this music lark. Not just any old music either - it had to have attitude - if it seemed out of place on Top of the Pops, I was interested. Later in '82, they released "The Collection 1977-82" as a contract filler and I snapped it up - every single track was an absolute killer, so I picked up a copy of "Black & White" for "Nice 'n' Sleazy" and the entire album was just breathtaking - it was punk in attitude, but had a dark psychedelic heart and I savoured every note. I trawled every record shop I could find for Stranglers records until I had collected them all. Nothing passed me by - coloured vinyl, picture disc, foreign pressings, alternative sleeve - I was in! If I came across one of their records, I would check to see if there was anything different, and if there was, I grabbed it. On one occasion I entered the hallowed portals of the now defunct Good Vibrations in Belfast and came across a second copy of "Black & White" and flipped it around to look at the back and noticed the different font, then the A&M logo at the bottom - it's a US pressing, I thought. Then I looked inside and discovered it was on grey marbled vinyl! I could hardly contain my excitement at the £3.99 price tag (surprising as this was 1998!)

My first Stranglers gig was in 1989 at Mandela Hall, Belfast. Afterwards, my mates and I decided to go for a walk around the back of the building where we chanced upon the band's tour bus. A short time later they appeared and signed almost everything we had - 7"s, 12"s, LPs - even drawings I'd done of them a couple of years previously! Upon seeing a Japanese "Sleazy", Spanish "Spain" and a John Peel Session bootleg 7", Jet Black quipped: "Jesus Christ - I've never seen half this stuff before!" Some of them even managed to sign sleeves front and back - the only one who was a bit off was Burnel, who only signed one single - his 1979 "Freddie Laker (Concorde and Eurobus)" single. Maybe the tension was brewing? This was 1989 and a year later, following the release of their tenth studio album 10 (I guess they ran out of inspiration on that one?), Cornwell would quit the band, citing personality clashes with Burnel, and the feeling that the band had taken things as far as they could musically.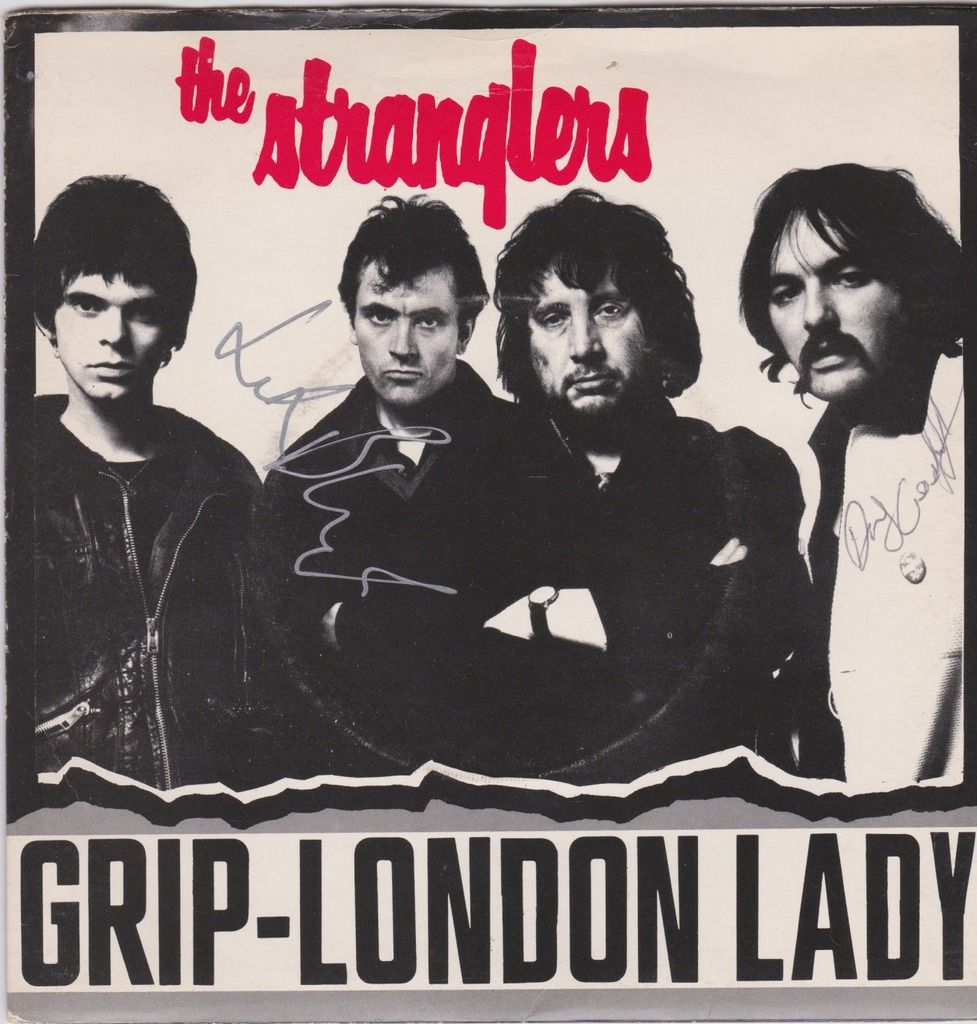 Taken separately, "Grip" was a mid-paced rocking tune with Cornwell's matter-of-fact almost rap delivery, describing a struggling musician's lot with strangely muted trebly guitars, chugging bass and Greenfield's five-note keyboard motif throughout. Welsh coal-miner Eric Clark provides the saxophone in the chorus. The following year "Hey (Rise Of The Robots)" off "Black & White" would also feature a saxophone - this time played by ex-X-Ray Spex (phew!) tooter Laura Logic. They would later feature a full brass section augmenting their live sound in the late 80s - one of whom, sax player Alex Gifford would later go on to form Propellerheads.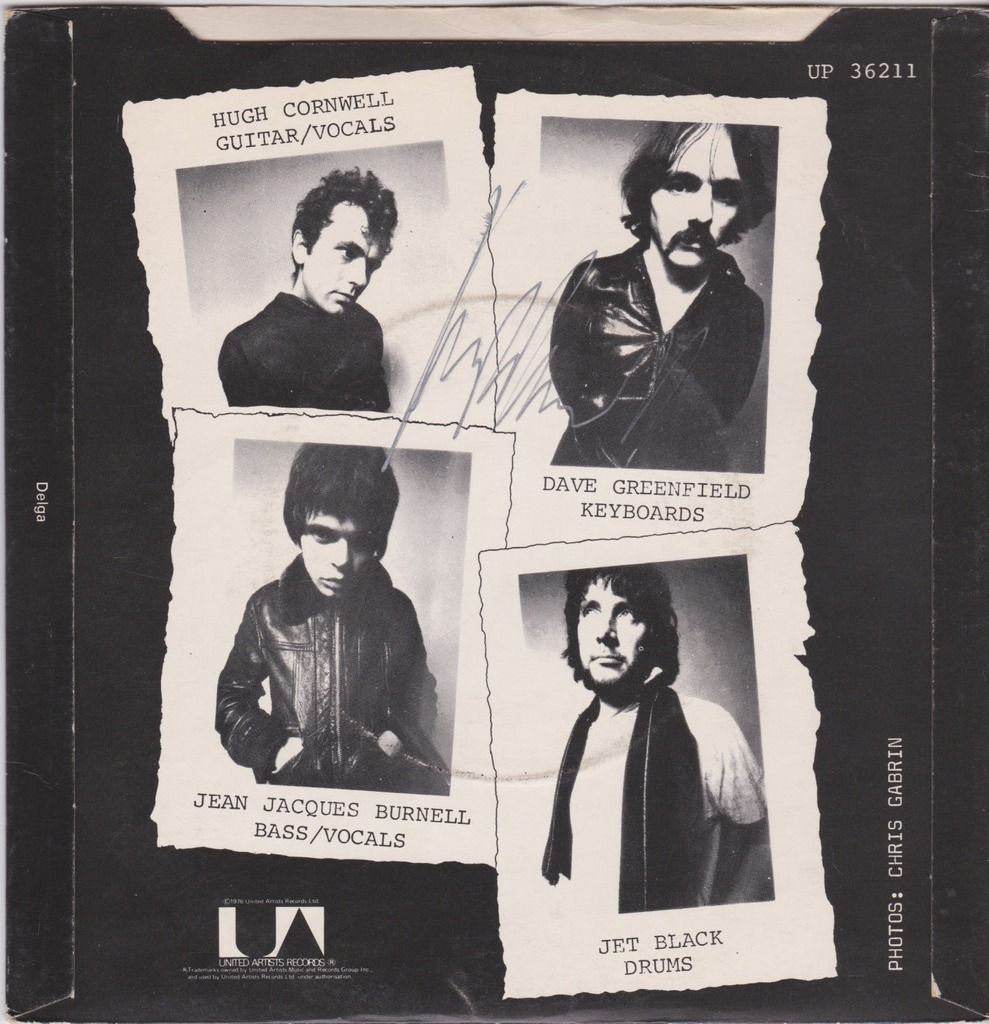 "London Lady" was a much faster track, sung by Burnel, and featuring hardly any keyboards. The lyrics appear to be about a groupie ("London Lady, why did you lay me? Your head is crowded with the names you've hounded") but although the lyrics initially seem bleak, the humour is never far away ("Making love to The Mersey Tunnel with a sausage have you ever been to Liverpool?")
After the first verse they unintentionally channel Roxy Music's "Re-make/Re-model", where the music stops and they introduce the vocals ("Aaaaaaah"), followed by the keyboards, bass and drums.

As an opening salvo, "Grip" and "London Lady" (both songs were given equal billing as Side A - the first of many singles by the band to be labelled so) had everything we would learn to expect from The Stranglers at the time - snarling punky attitude with a psychedelic keyboards. I first became aware of "Grip" from a 1982 compilation called "Burning Ambitions - A History Of Punk", and while my mate was getting a hard-on for the likes of The Exploited (bleh!) I was instantly grabbed by Dave Greenfield's Manzarekesque keyboard fills, which would add melody where Hugh Cornwell ("Grip") and Jean-Jacques Burnel ("London Lady") would thrash and shout their way through the songs - however they were all superb musicians, having honed their craft in the pubs of Guildford and London as contemporaries of Dr. Feelgood and Ducks Deluxe (the band were later keen to point out that members of The Clash and the Sex Pistols used to come and watch them play in the three years preceding the punk explosion).

Practically every one of the other bands in the so-called punk 'movement' dismissed them as not being real punks, because of their age (Cornwell and Greenfield were 27, Burnel was 24, and Black, drummer extraordinaire was a whopping 38!) and because of their technical abilities. Of course they weren't - they were far too musically adventurous and The Stranglers showed them all by outlasting nearly every one of them, with the same line-up lasting 15 years until Cornwell's departure in 1990.

The single stalled at a not-unimpressive #44 in the chart, amid allegations by the band of chart rigging, where some of the sales were allegedly attributed to a safer record by an anonymous disco act. They would later go on to much greater successes, musically and commercially, culminating in the UK #2 single "Golden Brown" (which was only held off the top spot by The Jam's "Town Called Malice" / "Precious" double-A side.).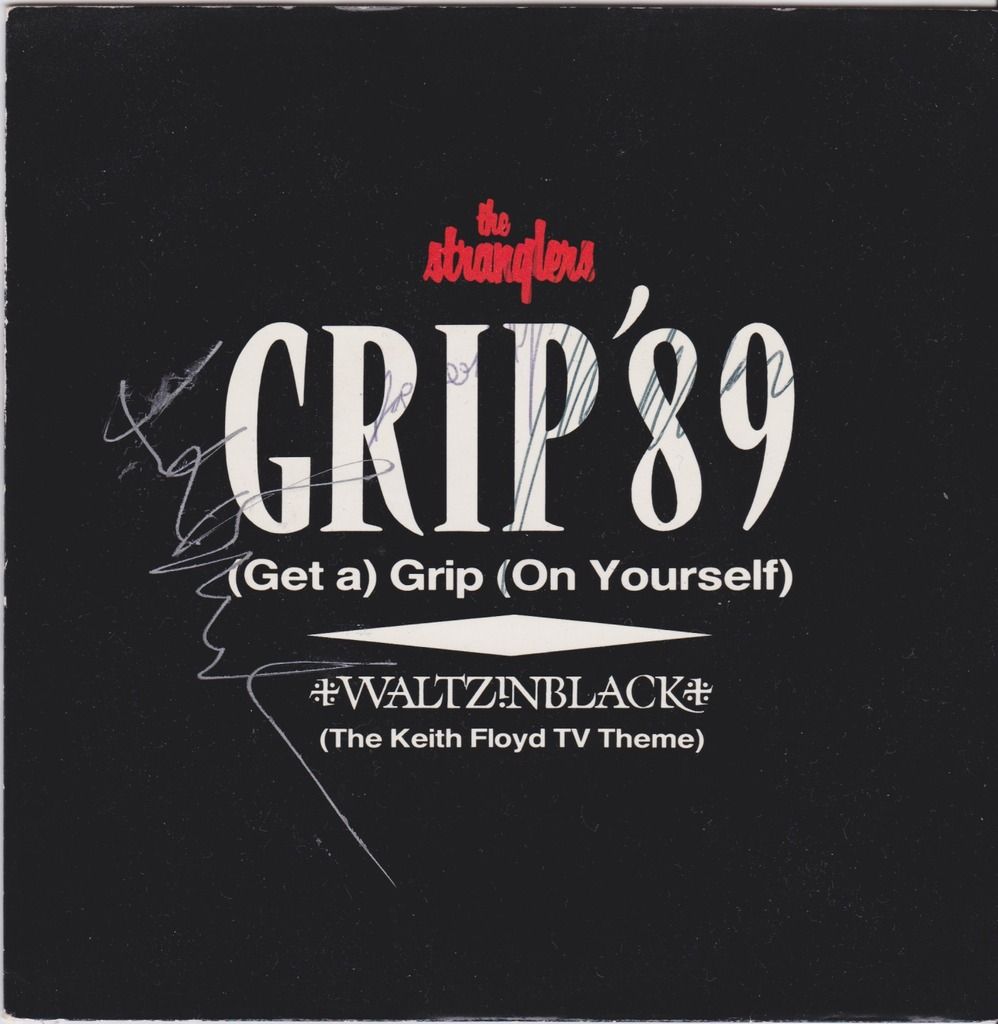 "Grip" was reissued in 1989 to promote another compilation album (entitled "Singles") in a remixed version, with more distorted guitars brought to the fore and slightly different bass. This time it peaked inside the top 40 (#33 to be precise). On the b-side was "Waltzinblack", chosen on this occasion because TV chef Keith Floyd used it as his theme tune!

The band continue to this day, with only Burnel and Greenfield still there from the original line-up, along with Northumberland-born Baz Warren (formerly of Toy Dolls and Smalltown Heroes) taking over Cornwell's vocal-guitar duties) and the band's former drum technician Jim Macauley took over over on drums, after failing health forced the now 78-year-old Jet Black to stop performing. (Check out the band playing the Black & White album in sequence on tour last year from Newcastle. Ed)



Hugh Cornwell

maintains a moderately successful solo career and recently released an album of pre-rock 'n' roll covers, "This Time, It's Personal" with the surprising vocals of punk poet John Cooper-Clarke.