When life gets interrupted and dark and troublesome days seem to befall us (and none of us are immune to that I'm certain of), and as Cast sung so graphically about that we have Troubled Thoughts and really find it hard to find the words to even begin to explain the pain, the heartache, the deep sadness we feel inside, we go in search of things that will bring a moment of solace.
Where we go looking for that solace is of course quite different for each one of us. For me it is my faith in One greater than I, but sometimes even a voice from above seems silent (or so I think) but it's amazing to me to discover the voice calling in different ways through music.
That quote by Hans Christian Anderson, written an age ago seems to be so relevant to many of us (see picture below) and when words do indeed fail music speaks in ways we could barely imagine to be true.
I wish to dedicate this post today to my own family as we have our own Troubled Times (as Green Day sing about on their latest album) at present as we deal with a terminally ill Mother. And I also wish to dedicate it to any of you who are reading this today that are also going through a dark time.
Here's three songs (and I probably could have posted a whole lot more) that offer up a voice in the darkness offering some words of encouragement, solace and hope. They are all very different indeed: quiet, loud, soulful - and yet each conveying something I need to hear today and maybe something that you need to hear today.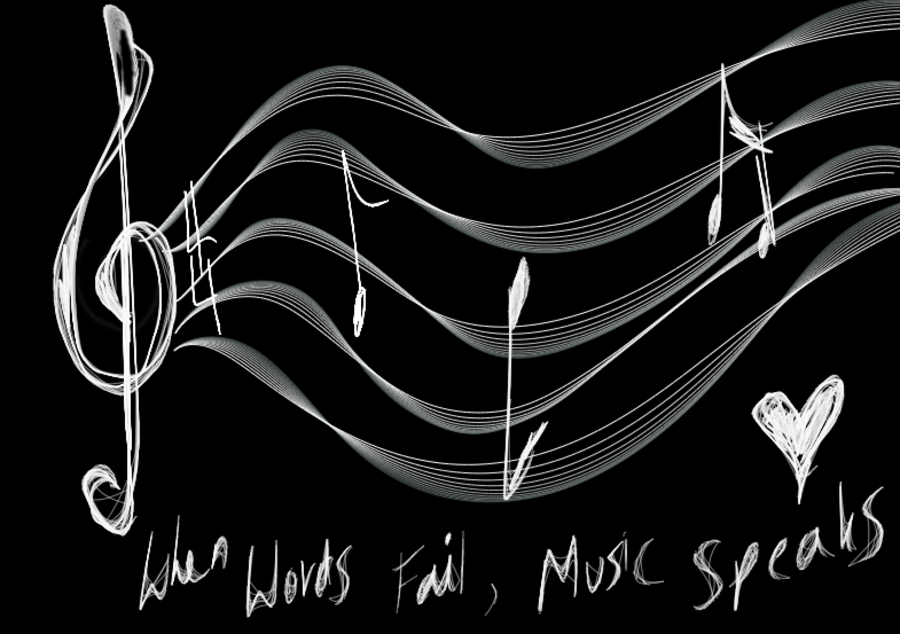 Written by Jackson Browne
And though the earth may tremble and our foundations crack
We will all assemble and we will build them back
And rush to save the lives remaining still within our reach
And try to put our world together standing in the breach

So many live in poverty while others live as kings
Though some may find peace
In the acceptance of all that living brings
I will never understand however they've prepared
How one life may be struck down and another life be spared

And though the earth may tremble and cast our works aside
And though our efforts resemble the fluctuating tide
We rise and fall with the trust and belief
That love redeems us each
And bend our backs and hearts together standing in the breach

You don't know why it's such a far cry
From the world this world could be
You don't know why but you still try
For the world you wish to see
You don't know how it will happen now
After all that's come undone
But you know the change the world needs now
Is there, in everyone

The unpaid debts of history
The open wounds of time
The laws of human nature always tugging from behind
I want to think that the earth can heal
And that people might still learn
How to meet this world's true challenges
And that the course we're on could turn

And though the earth may tremble and the oceans pitch and rise
We will all assemble and we will lift our eyes
To the tasks that we know lie before us
And the power our prayers beseech
And cast our souls into the heavens, standing in the breach

You don't know why it's such a far cry
From the world this world could be
You don't know why but you still try
For the world you wish to see
You don't know how it's going to happen now
After all that's come undone
And you know the world you're waiting for may not come
No it may not come
But you know the change the world needs now
Is there, in everyone
Years of our lives
The time we invested
Wasted away in a cold sweat dream
Come home at night
All of our light was gone
The missing pieces never fit all along

Hold on, hold on, hold on to me
Hold on, hold on, hold on to me

Lovers of mine
Friends I abandoned
It's how I replay my darkest fears
Fragments of time
Shadows and memories
They can't be saved, I watch them floating out to sea

Hold on, hold on, hold on to me
Hold on, hold on, hold on to me

Hold on to all my regret
It's all gone, I did this myself
Holding on's not as easy as it seemed
When you held me

Hold on, hold on, hold on to me
Hold on, hold on, hold on to me
I'll Be Your Shelter (In Time Of Storm) - Luther Ingram
Written By Homer Banks, Carl Hampton, Ray Jackson, Raymond Jackson
In times when you're troubled
Seems more than you can afford
And you feel you need a friend
Someone to share the load

When your sky grows cloudy
I want you to know
You got a friend that's true

[Chorus:]
Just like a shelter
In the time of storm
I'll see you through
That's what I'll do

If your dreams are scattered
Just like the wind blown sand
And you feel, you feel like
You need a friend, I'll be there
Reach out your hands

And when the rain starts to fall
I'll be there, just to hold on to

[Chorus:]
Just like a shelter
In the time of storm
I'll see you through
That's what I'll do

(I will see you through)
(I will see you through)
(I will see you through)
(I will see you through)
(I will see you through)
(I will see you through)
(I will see you through)
(I will see you through)

I'll see you through your hangups
I'll see you through your fears
I'll see you through sad times
Honey, I'll dry all your tears

And when the tempest is raging
I want you to know
You got a friend that's true
(I will see you through)
(I will see you through)