Sister Rosetta Tharpe was born (Rosetta Nubin) in 1915 in Cotton Plant, Arkansas. Her father was a singer and her mother was a singer also, played mandolin and was also a preacher/evangelist for the Church of God. I won't say too much about her life because it's treated in the Documentary below.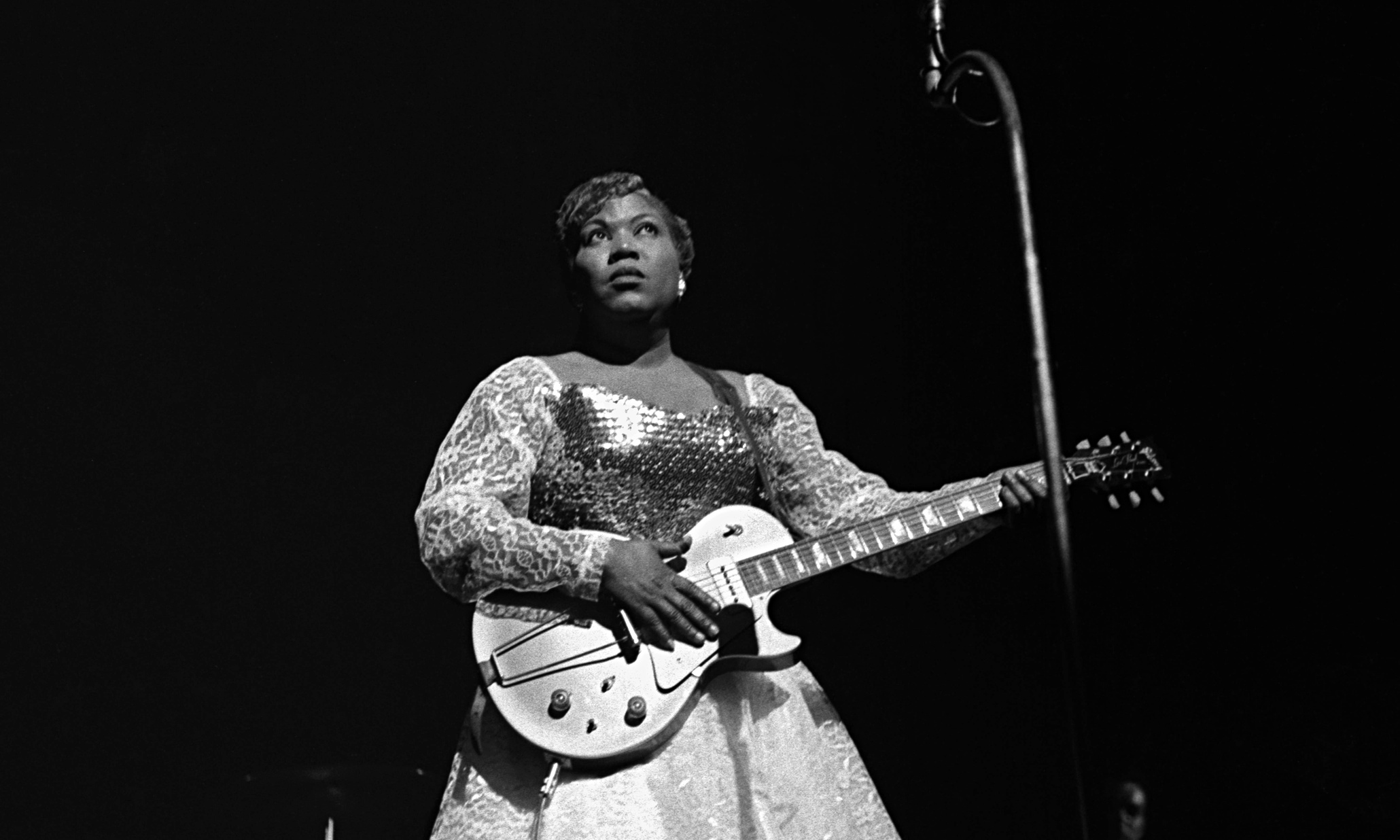 She began her recording career at the age of 23 and was keen to bring her Gospel influences alongside her love for the jazz, blues, pre-rock 'n' roll sound that she had been playing in clubs. It would become quite a normal thing years later for folks to crossover from Gospel to Soul/Pop/Rock 'n' Roll (Aretha Franklin and Sam Cooke are two of many examples I could cite here) but back then it was very rare. Some Church folk were none too pleased about this but her music was loved by those on the outside.
The other thing that was really different about Sister Rosetta was that although she lived in a segregated America she broke through barriers and regularly performed with white musicians (maybe with some of the male Blues musicians this was quite normal but for a woman it definitely wasn't). She also went out on tour alongside Marie Knight after seeing her at Mahalia Jackson concert in 1946 and they recorded a number of successful songs together including Up Above My Head and Gospel Train.
We find it quite funny these days how celebrity weddings seem to dominate newspaper headlines, or magazine covers but back in 1951 Sister Rosetta married for the third time in front of a crowd (a paying crowd!) of 25,000 at Griffith Stadium in Washington D.C. and followed the cermony with a concert performance! The Wedding Ceremony and performance were recorded and released as an LP on Decca Records!
Word is that she was a huge influence on the likes of Elvis and other early rock 'n' rollers.
There have been a few musical tributes down through the years, Alabama 3 had 'Sister Rosetta' on their debut album 'Exile on Coldharbour Lane' (they have also recorded Up Above My Head). Alison Krauss and Robert Plant recorded 'Sister Rosetta Goes Before Us' for their smash hit album 'Raising Sand' (the song written by Sam Phillips was originally released on her album Don't Do Anything. UK Indie band The Noisettes in 2007 released a tribute also, Sister Rosetta (Capture the Spirit).
Sister Rosetta Tharpe: The Godmother of Rock & Roll (Documentary by Mick Csaky)
Let The Day Begin...Let The Day Start!