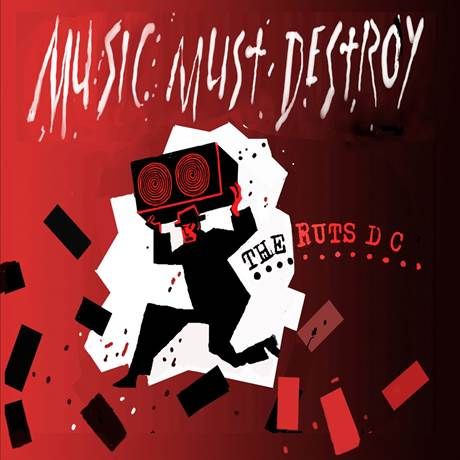 Music Must Destroy - Ruts DC
Produced by Ruffy and Segs
Released 16th September 2016
Psychic Attack
Music Must Destroy

Tracklist
(Click on the links for Live Versions)
Segs Jennings - Lead Vocals, Bass, Guitar
David Ruffy - Vocals, Drums, Percussion and Programming
Additional Personnel/Musicians on the album
Vocals: Henry Rollins, Jake Burns, Kirk Brandon, Tara Rez, and Damon Alexander
Guitars: Captain Sensible, Marco Pirroni, Boz Boorer, and Paul Laventhol
Keyboards: Seamus Beaghen, James Knight, Greg Fleming, David Ruffy, Segs
String Arrangements on Golden Boy: Pete Whitfield
Performed by: Pete Whitfield, Simon Turner and Nick Trygstad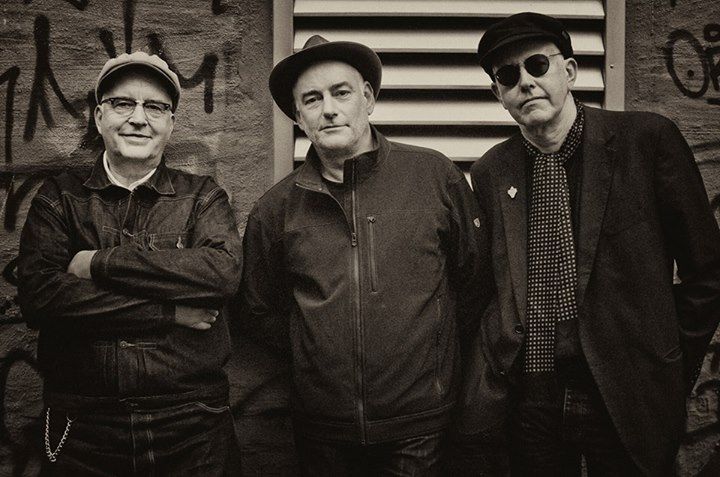 Dave Ruffy, Segs Jennings and Leigh Heggarty
(Photo by Raven)
The previous Studio Album from Ruts DC, Rhythm Collision Vol.2 was three years ago! That album played to many of the strengths of the band with their love for Reggae etc and it's no wonder it was my Album of the Year because it was absolutely fantastic and a superb return to form for one of my favourite bands.
Music Must Destroy takes things to a whole new level with the Ruts DC making their first "Rock" album since Animal Now in 1981!
One of the things I love about this brand spanking new album is to hear the wonderful guitar work from Leigh Heggarty unleashed (he's pretty impressive live as well). He's done a great job adding his own stamp on Ruts and Ruts DC classic tunes over the past few years so it's cool to hear him get the chance to make his own mark on this fresh music that he's had a hand in creating. Segs and Ruffy are masters of their craft and "old age" certainly hasn't dimmed their passion for creating great music.
I just read a review of the album by a guy called Dave Mullins for The Punk Archive and let's just say I was a bit shocked! Here's a few of his comments, you can read the full review

in the link

:
"At best, this is a bland record, but at worst it's a f******* turd (sorry Ruts fans)."
"This is a by-the-numbers rock album. The title track, Music Must Destroy is the only time the record shows any signs of life, but even then it's a twitch, not a kick."
"While there's nothing particularly interesting about the musicianship, it's not badly performed."
"...it still suffers from what is easily the biggest problem with the record…Which is John "Segs" Jennings' catastrophic vocal performance."
"Simply put, it's contrived and it's stale. Every line is forced, overdrawn and awkwardly punctuated. This could by a stylistic choice, but it's probably more of a case of Segs just not having enough critical input from the rest of the band or the producer."

"So there you have it. I'm pronouncing this record 'dead on arrival'. If you're a Ruts fan, your opinion may vary, but I'm incapable of finding any redeeming factors in the record. So, unless you're a real fan, I'd probably give it a miss."
I think Mr Mullins must have been listening to an entirely different album to me! Segs' "catastrophic vocal performance" as Mr Mullins calls it is actually not catastrophic at all! Actually, for me, I think Segs has grown in greater confidence as a Lead Vocalist and I think comparing his debut as vocalist on Animal Now to Music Must Destroy it is perfectly clear that he has grown a lot in his ability to front the band.
As for being "a bland record" well that's about as far from the truth as Lands End is from John O' Groats! It's a perfectly balanced album that sees the band rocking all out from the opening track Psychic Attack and gives a tip of the hat (they like wearing hats do the Ruts DC chaps) to The Who with Vox Teardrop - I'm sure Pete Townshend would approve) and also sees a moment of gentleness (not necessarily an old punk trait) on the closing track Golden Boy.
I don't know if Mullins was hoping for some speed laced Exploited/Discharge styled album, which you are never going to get with guys who are far more musically talented than many Punk bands around at present. If it was it's no wonder he's disappointed!
As for being an album that is "dead on arrival", he again is totally wrong. This is a very fresh sounding record and leans on the past lightly but sounds so present. I think Mullins is going to be in a league all on his own when the rest of the reviews come in for Music Must Destroy! Ruts DC have never sounded as good as this and I can't see that terrible review swaying too many people to adopt a similar viewpoint.
I am happy to say that this was one of the most eagerly awaited albums of the year and it hasn't disappointed me. I look into my crystal ball and forsee that this one will be up there at the top come year end!