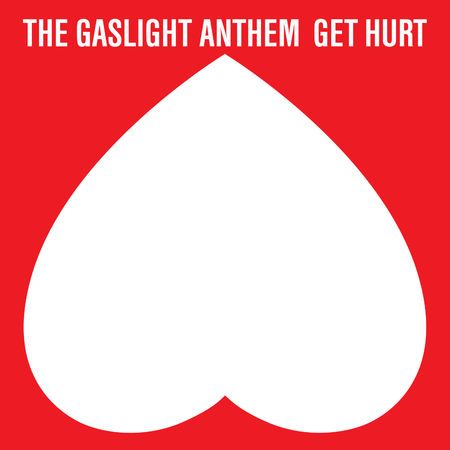 I sat down a couple of nights ago and listened to all of the albums by The Gaslight Anthem becasue I was trying to figure out how the new album 'Get Hurt' fitted as part of their musical puzzle. What I discovered was that each album is really a seperate puzzle and
comparing the albums to each other doesn't really work so well, because they are all actually very different from each other (though of course the critics would say they are very much the same).
The other thing, it's easy to go with the flow of what critics say and believe that GA, and especially Brian Fallon, have lost their way. But in doing that we tend to forget a very vital thing: It's no easy matter coming up with 10 songs (let alone the 16 that are on the Deluxe Edition of 'Get Hurt') - if we think it's that easy maybe we need to ask Bono and crew why it's been five years since the last U2 album!
One of the keys to this new album is the songwriting. Fallon seems to have gone through a whole heap of valleys and heartache and personal hurt and he's opened wide his heart and made himself vulnerable (not easy for any man to do by the way) as he has put pen to paper. The results might not be pretty in our eyes but one of the principal reasons people write particular types of songs is to firstly be able to unburden their own hearts (some say it's cathartic) and then in some small way hope that the songs, once the music has been added, are able to connect with the listener.
(Just as an aside let me give you a great example of this. Earlier this year Stiff Little Fingers released a long awaited new album entitled 'No Going Back' and on it was a song 'My Dark Places'. Here's what Jake had to say about it in an interview with Cracking Vinyl:
The title of 'My Dark Places' paints a grave enough picture, as Jake goes on to explain.
"I went through a period of deep personal depression after I'd gotten divorced and moved out, and you think you're over the worst of it. I thought I'd gotten through the whole thing pretty unscathed."
However, things soon went downhill. "I think once you're actually a wee bit distant from whole thing, the enormity of it all kinda hits you, and I did withdraw into myself and did hide away. I wasn't fun to be around."
While being therapeutic for Burns, the song in question has also reached out and helped a lot of their fans.
"It seems to have helped a lot of people because, for some with this depression business, there's this weird stigma about it. People think that you're in some way impaired because you've gone through this and don't want to talk about it in public."
That song, an experience of Jake's own life, made a connection and still continues to make a connection in the lives of listeners.)
So, with the new album I was a little fearful because after hearing a few tracks I didn't get it and wasn't convinced I was going to like it but on hearing the last song on the Deluxe Version ('Have Mercy') a connection was made. I think Fallon would say that his job has been done!
My problem though is that I feel I want to connect with all the songs (and I'm sure you feel the same way also, especially as you are laying down your heard earned cash for the album in the format of your choice) but that rarely happens and maybe that's why we struggle with Fallon and Co at times because we can't always find ourselves in his lyrics. But I'm sure if we listen and look hard enough then we will find one that jumps into our heart and soul like a lightening bolt.
Read an insightful interview with Brian Fallon Here.