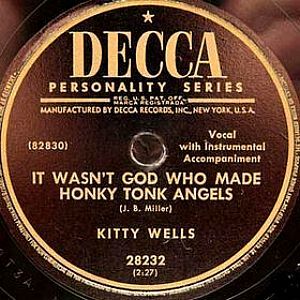 Born on this day in 1919 Ellen Muriel Deason who became known as Kitty Wells. Her June 1952 hit 'It Wasn't God Who Made Honky Tonk Angels', made her the first female country singer to top the US country charts (it spent 6 weeks at #1), and turned her into the first female country star. The song was an answer to Hank Thompson's 'Wild Side of Life', that had been released in March 1952 (and had spent 15 weeks as #1 on the Billboard Country Charts).
Both 'It Wasn't God Who Made Honky Tonk Angels' and 'Wild Side of Life' have been covered many times down through the years with artists like Dolly Parton, Loretta Lynn and Tammy Wynette,

Patsy Cline

, Skeeter Davis, Lynn Anderson, and The Knitters (a side project of seminal LA Punk band X) covering the former and Status Quo, Burl Ives, Rod Stewart and Waylon Jennings (to name but a few) the latter.
Hank Thompson's 'Wild Side of Life'