This is an update of a post I did early last year. New links etc have been added.
Click on the links to enjoy the music.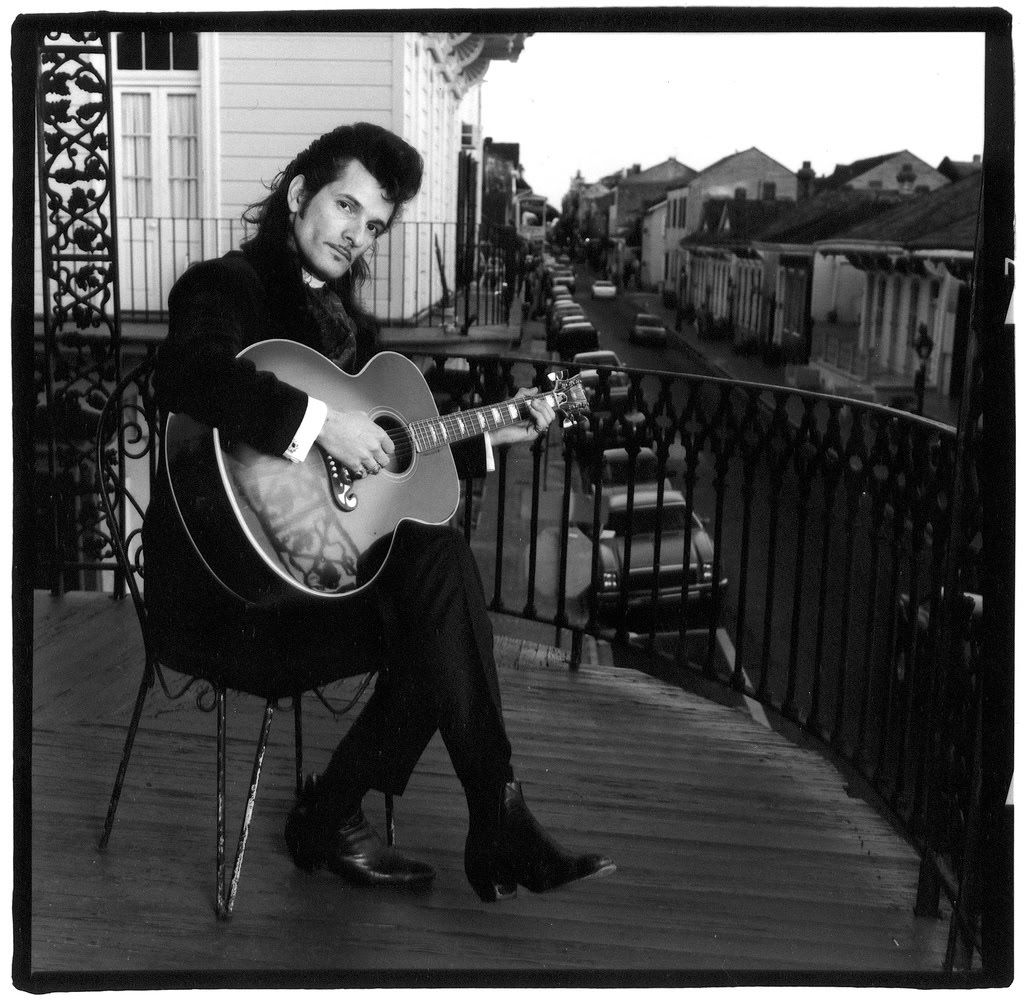 Willy DeVille passed away on 6th August 2009 of Pancreatic Cancer. He left behind a rather interesting and eclectic musical legacy.
Born on 25th August 1950 in Stamford, Connecticut, he came to love the blues and often spoke of his affection for John Hammond and how Hammond's album 'So Many Roads' was a life changer for him. He played in many bands and traveled extensively in search of like-hearted musicians but it wasn't until he returned to New York in 1974 that he could seriously begin to shape that artist he became.
Between 1975-77 Mink DeVille would be one of the house bands at CBGB's and in 1976 they had three songs on a Live Compilation entitled 'Live at CBGB's' - this led them to getting a recording contract with Capitol Records. Their debut album, 'Carbreta' was a nice mix of Soul, Rock, R'n' B and of course The Blues and brought them some critical acclaim and the surprise Top Twenty hit in the UK of 'Spanish Stroll' (1977) highlighted that good things might just be around the corner for the band. But it was not to be. Further single releases: 'Little Girl' and 'Cadillac Walk' failed to chart anywhere.
A second album release,

'Return to Magneta'

managed to get 60 places higher than the debut on the Billboard Chart reaching only 126. Even a great lead single 'Just Your Friends' couldn't bring any further success. Two years later 'Le Chat Bleu' didn't get the backing of the record company in the States and it was only released in Europe. DeVille reckons that Capitol just didn't understand what he was doing and couldn't comprehend exactly what Cajun music was.
After the debacle of the previous album he departed Capitol Records for Atlantic Records and in 1981 released

Coup de Grâce

. But again it failed to chart, and that seemed like what was going to sum up the career of

Mink DeVille

(which up to this point was actually only Willy DeVille himself backed by session musicians). 'Where Angels Fear To Tread' would be the last album for Atlantic Records in 1983 before moving to Polydor and releasing the final album under the monicker Mink DeVille ('Sportin' Life').
In 1987 he teamed up with Mark Knopfler to record 'Miracle' and aside from 'Spanish Stroll' it probably contains his most well known song, 'Storybook Love' which ended up on the soundtrack to 'The Princess Bride' movie and even got nominated for an Academy Award!
Come 1988 Willy relocated to New Orleans where he would end up recording

one

of his finest albums to date, 'Victory Mixture' ('Key to My Heart')
released in 1990

. He gathered around him some of the finest musicians New Orleans could offer in Dr John, Alen Toussaint, and Eddie Bo to name but a few. The album sold well enough in Europe to gain Willy his first ever Gold Disc! Further albums would follow between 1992-2008 and whilst he would enjoy some live success in parts of Europe he wouldn't enjoy

chart success in his homeland again (his last album to chart was in 1981!).
So, three years after his death the release of 'In New Orleans' came as a nice surprise and it's a nice collection of material from

'Victory Mixture'

and

'Big Easy Fantasy'

(1995 - Here's a wee link to Willy answering fan questions and he talks about the Fantasy album). Nice and bluesy, and a typical New Orleans sound. It included songs like 'Just Off Decatur Street', 'Every Dog Has Its Day', and 'Who Shot the La-La'.
In 2009 DeVille was diagnosed with Hep

a

titis C and in May that year they found he also had Pancreatic Cancer whilst treating him for the Hep C. Willy passed away in New York City (where he had come back home to in 2003) on August 6th 2009.
For someone who did not really get to enjoy a lot of success whilst alive he was almost prophetic when he once said

,
"I have a theory. I know that I'll sell much more records when I'm dead. It isn't very pleasant, but I have to get used to this idea."