There's an absolute feast of great Blues music on this post (Click on

the links

to enjoy the sounds) from one of The Great Legends of The Blues, The King of The Blues Himself....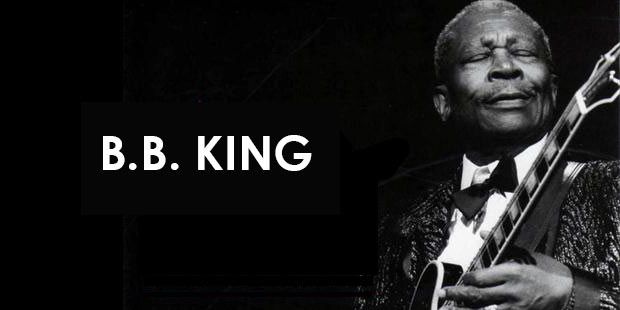 B.B. King (born Riley B. King; September 16, 1925) is an American blues musician, singer, songwriter, and guitarist.

Rolling Stone magazine ranked him at No. 6 on its 2011 list of the 100 greatest guitarists of all time (previously ranked No. 3 in the 2003 edition of the same list), and he was ranked No. 17 in Gibson's "Top 50 Guitarists of All Time". According to Edward M. Komara, King "introduced a sophisticated style of soloing based on fluid string bending and shimmering vibrato that would influence virtually every electric blues guitarist that followed." King was inducted into the Rock and Roll Hall of Fame in 1987. King was also inducted into 2014 class of the R&B Music Hall of Fame. He is considered one of the most influential blues musicians of all time, earning the nickname "The King of Blues", and one of the "Three Kings of the Blues Guitar" (along with Albert King and Freddie King). King is also known for performing tirelessly throughout his musical career, appearing at 250-300 concerts per year until his seventies. In 1956 it was noted that he appeared at 342 shows. King continues to appear at 100 shows a year.
The albums that appear below are not all the albums that B.B. King has released, there's a few live ones missing and of course compilations as well, but this list contains pretty much all of his studio recordings. If you want to explore more of the compilations then You Tube has a bucket load of them,

check them out HERE

.
The Albums (All Complete Albums apart from those marked *)