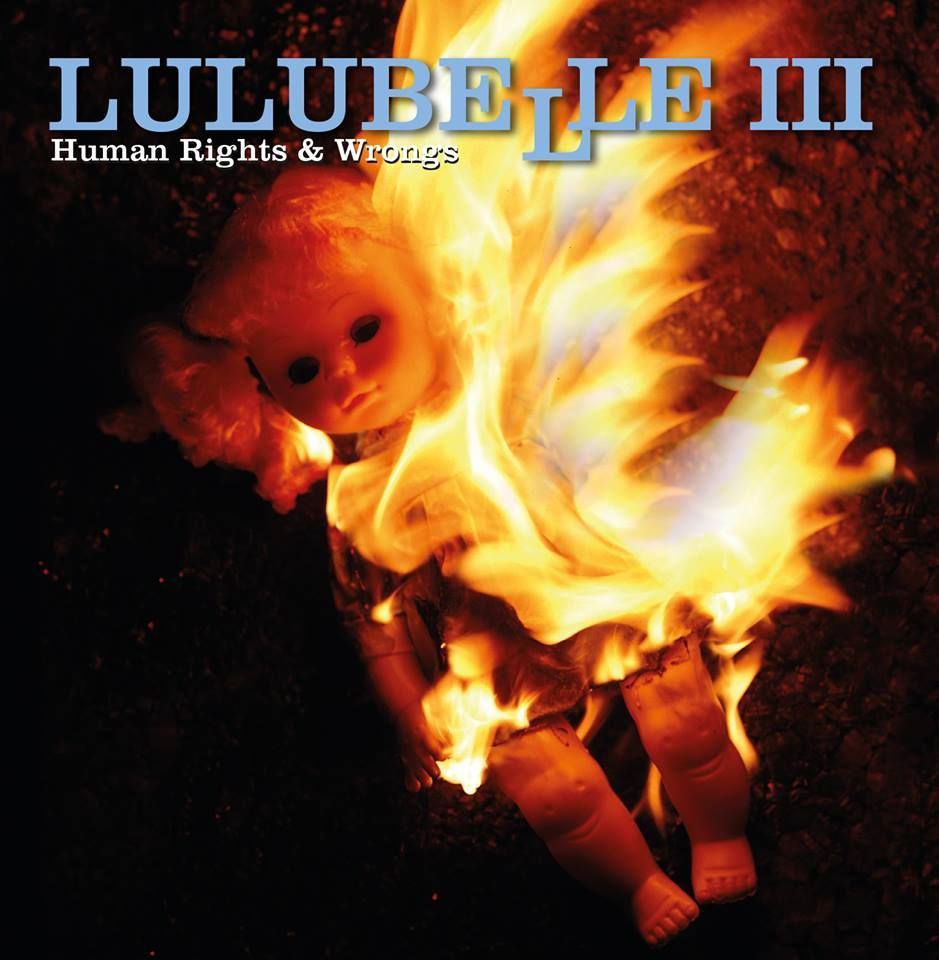 Exactly two years ago we published our first interview with Lulubelle III's Ronnie Carnwath. With the release of the third Lulubelle III album 'Human Rights and Wrongs' Ronnie is back to share some insights into the making of the album.
****************************
S4L: The new album has taken awhile to record are you happy with how it's turned out?

RC: Very much so - I feel that the music on this one is better and the production has certainly improved - when we started originally, I would be sending Christopher tracks and he would be saying: "Turn the guitars down - I can't hear the vocals!" I thought we sounded like The Jesus and Mary Chain but clearly we didn't. This one has been very rewarding as I think it's the best album we could have made at the time. We've covered a lot of ground so far, so who knows what direction we'll be heading in next...
S4L:

It sounds a little different to previous releases what inspiration have you had in making the album?
RC: We didn't consciously set out to do something different - I had done a synth-pop remix of "Frankie" last year, just for a laugh and we were so pleased with the results that we ended up making a few songs in that style. The demos of a lot of the songs and "For The Birds" and "Long Distance" especially were a million miles away from how they turned out. We both like a lot of different music and I loved the old synthpop bands in the 1980s - Depeche Mode, Ultravox, OMD, The Human League, Gary Numan, Visage… it was so sad when Steve Strange passed away recently - you can feel the march of time catching up. I suppose we wanted to try to make a 'pop' album - I've always regarded what we do as being pop music but we tried to experiment with the sound and we're very happy with the way it turned out. The last song, "Two Into One" was a real experiment - it was the only song we wrote especially for the album - the others had all been demoed over the previous couple of years because I had a bit of writer's block. Christopher came up with the lyrics and it was very wordy - a nightmare to edit as well, so I didn't bother. We were hoping for that kind of Mazzy Star feel, so when the chords came out, they just kind of had that vibe. I tried to come up with a sound which would make it stand out - it ebded up sounding like Suicide - Spiritualzed - Spacemen 3. We had this idea of building up the instruments at the end like Primal Scream's "Loaded" and I'm thinking of trying a remix, using the end part where the trumpets come in, as a starting block - I love the idea of doing a 10 minute remix and calling it "Two Into One (Part Two)" - it might turn out like Pink Floyd's "Echoes"...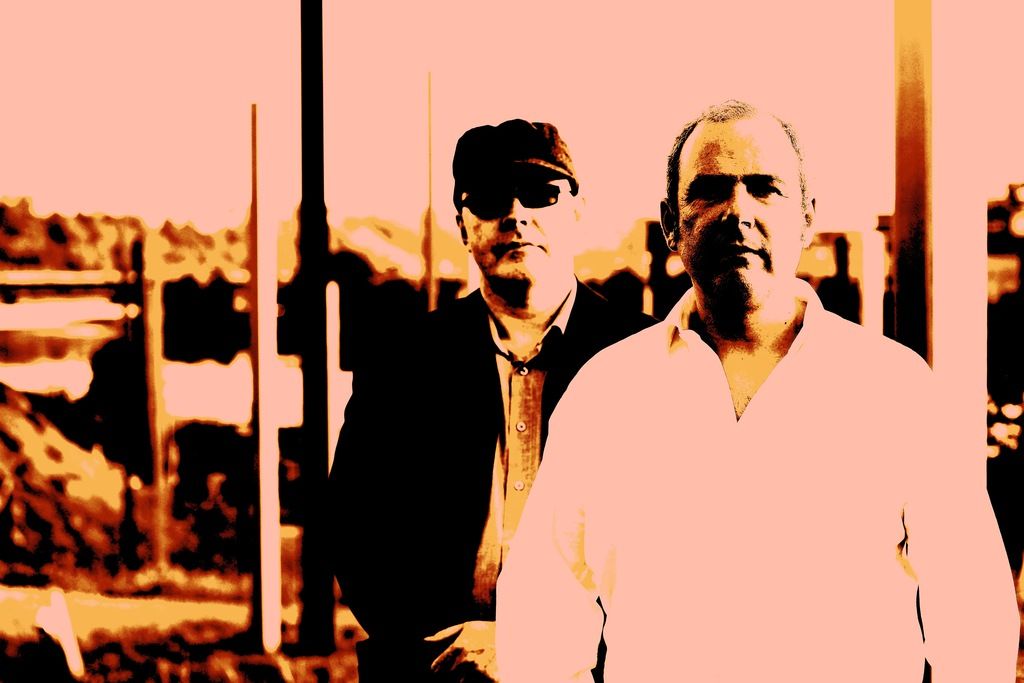 Ronnie Carnwath and Christopher Cowan (Lulubelle III)
S4L:

I find a lot of the newer music to almost sound like it should be on the soundtrack to a movie, is that the intention or did it just develop that way?
RC: It's interesting that you should say that - "Half Past Dawn" has a little instrumental passage which was originally inspired Francis Lai's theme from "Un Homme et Une Femme" but it didn't turn out that way. That's another one which changed a lot between the demo and the finished song - originally it sounded like a Pretenders song - in fact, had I known that Chrissie Hynde had been working on a solo record, I'd have pitched it to her. I would love to do work for a soundtrack - it's just another way of getting your music out there, isn't it? Same as persuading someone to cover your song - for some reason, when I wrote "For the Birds", I had Manic Street Preachers in mind - the demo was acoustic and I thought it would sound great with James Dean Bradfield singing. His voice is a lot higher than mine so it would have been hard to imagine him singing it. When it was finished, I pitched it to Mutya-Keisha-Siobhan - the original Sugababes, via their label, Polydor but I've never heard back.
S4L:

Can you enlighten us a little to the process of creating a new album, I know that you were juggling a working life at the same time as trying to put it together does that have any impact on the way the final product comes out?
RC: This one has taken a lot longer than its two predecessors, mainly due to our work schedules. Christopher and I both changed jobs in the intervening two years and we had to work around broken limbs - he broke his arm and I broke my collarbone, so the direction was dictated by that. I was off work for two months and during that time, the album was recorded. I was inspired but I couldn't play guitar as my arm was in a sling. I ended up using keyboards for most of it purely out of necessity, but then I found I liked the sound so I stuck with it. I think every track on the album has some sort of keyboard - even "So Long So Long" has a Stylophone and "Industrial Music", apart from the Killing Joke-style one-note keyboard running throughout, features a melodica - that counts as a keyboard, right?

My entire working methods have changed - I lived in Belfast and was out of work for the first two albums ("A Saucepan Full of Sequins" and "Foyle Delta Blues"), so I could sit up to 4am if need be, in order to finish a song; nowadays it's a little more awkward - where we live, we have families with young children on either side, so I only really record on my days off, when they're at school.
S4L:

Can you provide details of where the new album can be obtained from?
RC: It's available through our website, , as are the other two. Additionally it's available from a couple of shops in Derry - Abbazappa Record Shop and Cool Discs and Dragon Records in Belfast. It can be downloaded off iTunes and all the usual places as well. We aren't signed to any company, so it's a real cottage industry - in fact, Cottage Industry would have been a good name for the label. We have no distribution network, so we ended up doing it ourselves.
S4L:

With the release of the album what do you hope for with it?

RC: We just want to move people - we've had some really good feedback from a few DJs - Stephen McCauley from Radio Foyle and Johnny Normal on Radio Warwickshire both had very nice things to say about it. Obviously we want the stuff to sell, but it's getting harder to compete in such a crowded market. We both grew up with Top of the Pops and we always had this dream of appearing on it, but that's not going to happen now. We had hoped Later, but it seems every show is sewn up now - you need to have a major label promoting you or you haven't a hope of getting on! They like to make out Jools heard this band in a pub and got them on and then their album comes out and you find they've been bankrolled by Sony or whoever. It's frustrating that there isn't really anywhere for unsigned bands to get noticed. There is a show called NUsic TV, which is on one of the satellite channels, which shows two hours of unsigned music every week but you probably have to sign some Faustian pact to get on it. Maybe some aspiring young director can make a stage and do a video in the style of the old TOTP shows - it'd be a dream come true...
S4L:

Are you going to have an opportunity to do anything live with the new album?
RC: We hope so - we did try with the last one, but the people in question had no intention of following it through beyond the initial gig, which was disappointing - we sort of saw ourselves as being like The Mary Chain, where Jim and William recorded everything and others joined them to play the songs live, but that's not so easy. I'm trying to find a way where we can maybe strip the songs down and either go out with a guitar and play like early Billy Bragg or else strip everything back to just bass and drums and go out and sing and play over the top - a few people might get a bit sniffy about that but I don't really care.
S4L:

Next to your album what other albums are out at the moment that you think are worth investigating?
RC: I've heard a few things on BBC 6 Music which I like the sound of - Royal Blood, Father John Misty, Alvvays… Matt Berry's stuff is very good - most people know him as a comedy actor from House of Fools and Toast of London, but he's a proper songwriter and musician. He's had about four LPs out in recent years and I'm really impressed by him. I've been investigating a lot of older stuff too though - so many genres too - I've recently been digging out some old Emmylou Harris LPs and stuff by The Passage, The Sensational Alex Harvey Band, Curved Air…
S4L:

I always love the effort you put into making videos to go along with your tunes - have you got new ones on the horizon?
RC: Videos are tricky - I tend to regard most of ours as temporary things, just to have something visual to go along with the songs, but some have turned out really well - people can get a real insight into the workings of my mind especially from checking them out - you can see what sort of films I'm into, for example - I like a lot of French cinema and old German Expressionist films. I'm fascinated by Warhol too - not his films though - most of them were deadly dull! I'd like to be able to make interesting videos that we actually appear in but it all boils down to money again. We have some ideas which we think would look great but we need someone who's happy to do one for the artistry, rather than the financial reward - which would be non-existent…I'd love to make one for "Land of the Misfit Toys" but my own toy collection isn't that exciting - maybe if we could find a huge charity shop full of broken toys, we could buy them all and let rip...
All pictures provided by Lulubelle III