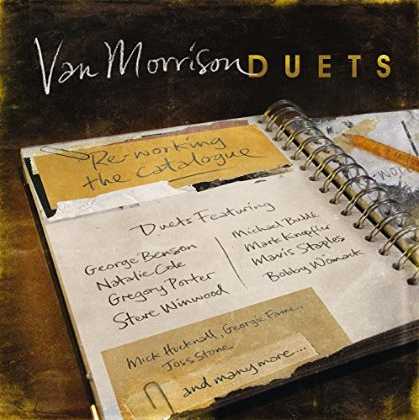 Van Morrison's 35th studio album, Duets: Re-Working the Catalogue, has the Irish legend paired up with some of the greatest names in music (and a couple not so great!), including Mark Knopfler, Michael Bublé, Taj Mahal, Mavis Staples, Steve Winwood, Chris Farlowe, Natalie Cole, Joss Stone and more. It's interesting set of choices as well because you'd think it would be an album loaded with Van the Man Standards but it's not like that at all.
Great to hear the sound of Bobby Womack's voice again and also Georgie Fame.
Not totally sure what I think of it yet, a few songs have gripped me but not all! Anyway, let's share it with you out there who might not have heard it yet and you can make your own minds up about it.
Tracklist
1. "Some Peace of Mind" with Bobby Womack
(original version released on Hymns to the Silence, 1991)

2. "Lord, If I Ever Needed Someone" with Mavis Staples
(original version released on His Band and the Street Choir, 1970)

3. "Higher Than the World" with George Benson
(original version released on Inarticulate Speech of the Heart, 1983)

4. "Wild Honey" with Joss Stone
(original version released on Common One, 1980)

5. "Whatever Happened to P.J. Proby" with P.J. Proby
(original version released on Down the Road, 2002)

6. "Carrying a Torch" with Clare Teal
(original version released on Hymns to the Silence, 1991)

7. "The Eternal Kansas City" with Gregory Porter
(original version released on A Period of Transition, 1977)

8. "Streets of Arklow" with Mick Hucknall
(original version released on Veedon Fleece, 1974)

9. "These are the Days" with Natalie Cole
(original version released on Avalon Sunset, 1989)

10. "Get on With the Show" with Georgie Fame
(original version released on What's Wrong With This Picture, 2003)

11. "Rough God Goes Riding" with Shana Morrison
(original version released on The Healing Game, 1997)

12. "Fire in the Belly" with Steve Winwood
(original version released on The Healing Game, 1997)

13. "Born to Sing" with Chris Farlowe
(original version* released on No Plan B, 2012)

14. "Irish Heartbeat" with Mark Knopfler
(original version released on Irish Heartbeat, 1988)

15. "Real Real Gone" with Michael Bublé
(original version released on Enlightenment, 1990)

16. "How Can a Poor Boy" with Taj Mahal
(original version* released on Keep It Simple, 2008)
* Live Version Not Studio Version