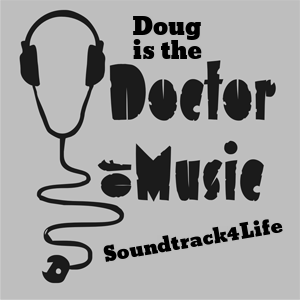 Welcome to a new series on Soundtrack4Life called 'Music is the Doctor'. Basically what you are going to get is a 20 Track Playlist featuring new and old tunes and some thoughts about each track. It's going to be a wide range of musical styles because it's good not to be blinkered and focus on one particular style of music. Sometimes it will be connected and other times not connected at all but chosen for the sheer joy it brings hearing it again.

I'm going to try and do it at least once a week but won't promise that it will be so just incase I can't do it for one reason or another.

Anyway, on with the show!


The Doctor - The Doobie Brothers.
The title for this new series comes from this track by The Doobie Brothers. I have to confess that I am not a huge fan of the band, a few tracks here and there that have impressed me, but this particular song I really love. Released in 1989 on their 'Cycles' album and it was their last known hit.

Dancing the Night Away (1977 Peel Session) - The Motors.
I can remember getting the 12" of this song, on Virgin Records and love it to pieces. I still think it sounds amazing and this particular version from their John Peel Session recorded in 1977 is totally standout.

Going Back Home - Wilko Johnson and Roger Daltery.
Two legends on the same record, as Gary Crowley says, "It doesn't get any better than that!"

The Thrill is Gone (Live at Montreux) - B.B. King.
A tribute to the King of the Blues who passed away last week at the age of 89. He was still doing shows weeks before his death. He remains one of those classic musicians, who despite not being a mega star like he should have been remained humble to his dying day.

Loan Me A Dime - Boz Scaggs (ft Duane Allman).
Whilst we are talking about great guitarists how about Duane Allman? This track is taken from the Major Label Debut by Boz Scaggs released in 1969 and was recorded at Muscle Shoals. It's an absolute cracker in my book.

Pretty Flamingo (Live at Richfield Coliseum, Cleveland) - Bruce Springsteen and the E Street Band.
One of the highlights of the early Springsteen shows were his choice cover versions like The Animals 'It's My Life' but this one by Manfred Mann (who had a hit record with one of Bruce's songs) is a real gem.

Don't Look Back - The Knack.
Another band who got to cover Springsteen was The Knack. Ask a hundred people about them and they'll all name 'My Sharona' but when I think of them it's this tune that comes to mind.

Swing State - Graham Parker and the Rumour.
From the brand new album 'Mystery Glue'. It's so great hearing GP back with his legendary backing band. Still getting the feel for the new album and will maybe do a wee spotlight on it soon here on Soundtrack4Life.

Snakes and Ladders - TV21.
I heard Gary Crowley play this recently on his Punk and New Wave Show and man did it sound good. From 1981 on the Deram Label. A wee gem that's long overdue a good airing.

Out of Hand (Extended Mix) - The Mighty Lemon Drops.
Whilst we are thinking about Indie Music one of my favourite bands back in the '80's was The Mighty Lemon Drops. 'Out of Hand' was their 4th single and just like the previous three (Like An Angel. My Biggest Thrill, and The Other Side of You) it was an absolute stunner.

Flowers - Pyschedelic Furs.
One of my favourite tracks from one of my favourite Debut Albums of All Time. Doesn't need any more words than that!

Jealousy - Wasted Youth.
I first saw this lot at the Music Machine in Camden Town (now Koko) and my memory is a bit cloudy on this but I have a feeling that they were playing with The Furs. Caught them live a few more times at places like the Marquee and the Lyceum. Quite underrated I think. Came out of The Bridge House in Canning Town (another cool wee venue).

Let the Day Begin (Live on KEXP) - Black Rebel Motorcycle Club.
Originally released by The Call back in 1989, and recently covered by Simple Minds on their 'Big Music' album but BRMC's cover is by far the best cover of it that I've heard. This particular version is pretty cool as well. KEXP have some fantastic live music on and maybe in future editions of Music is the Doctor I'll get to share some other artists.

The Fall - Blamange.
I have a friend Alyson who is a massive Blamange fan, I have to confess she's probably the only person I've ever known who is totally crazy about them (I know, I'll probably hear from loads of Blamange fans now complaining about that!). Anyway, I had a listen to this track a good few weeks ago as it was posted as part of an article on Blamange who were talking about Mark E. Smith and The Fall. I kinda like it. It's the openining track to their 2015 album 'Semi-Detached'.

Rockwrok - Ultravox!
And because Alyson is also a fan of Ultravox (fronted by John Foxx, not Midge Ure) I include this one here. It's a great single as well from their cracking 2nd album 'Ha! Ha! Ha!' on Island Records.

The Power and the Glory - Eddie and the Hot Rods.
A tenuous link with Ultravox is Eddie and the Hot Rods who were also on Island Records. This one comes from their 3rd album 'Thriller' (not to be confused with Michael Jackson's album of the same name!). I love this one, they put out so many great singles and it's a shame that they rarely get the attention they deserve. They are one of my favourite bands and have been ever since I first heard 'Teenage Depression' back in 1976.

Somethin' Else - Eddie Cochran.
Another famous Eddie is Mr Cochran. His passing out of this world at such a young age meant that we never got to see how he would really develop as a musician. I guess his legacy is that all the world over that songs like this are still enjoyed and danced to.

Sweet Gene Vincent - Ian Dury and the Blockheads.
From one rock and roll legend to another. Ian Dury's tribute to the great Gene Vincent still sounds fantastic. Released on Stiff Records in 1977 and it's never lost it's savour.

Drip Fed Fred (Live on Later with Jools Holland) - Madness (ft Ian Dury).
One of the last projects Ian Dury worked on before his death was with Madness. This was a single from their first studio album in 14 years entitled 'Wonderful'. It was great seeing him get the opportunity to play live on TV with them.

Muzak Machine - The Members.
Last slice of noize on 'Music is the Doctor' is from The Members. Taken from their 2nd album '1980 The Choice is Yours'. A very underrated album I think and it contains a few of their finest tunes. It's a fine way to end I think.
See you next time.