The Best Of Southside Johnny And The Asbury Jukes - Southside Johnny And The Asbury Jukes
Produced by Steven Van Zandt (
Miami Steve / Little Steven)
Released 1992
Notes On Singles Featured on The Best of Southside Johnny And The Asbury Jukes
(I'm afraid I don't have any chart positions)
I Don't Want To Go Home* / The Fever**
US / UK / Australian Single
UK Single released in July '76
*Written by Steven Van Zandt
** Written by Bruce Springsteen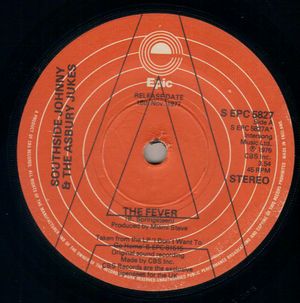 The Fever* / When You Dance**
*Written by Bruce Springsteen
** Written by Bruce Springsteen and Steven Van Zandt
Without Love / First Night*
Without Love / I Ain't Got The Fever No More*
*Written by Steven Van Zandt
Love On The Wrong Side Of Town* / Some Things Don't Just Change**
* Written by Bruce Springsteen and Steven Van Zandt
** Written by Steven Van Zandt
I Played The Fool* / Light Don't Shine*
* Written by Steven Van Zandt
Trapped Again* / This Time Baby's Gone For Good**
*Co-written by Bruce Springsteen, John Lyon and Steven Van Zandt
** Written by Steven Van Zandt
Talk To Me* / This Time Baby's Gone For Good**
* Written by Bruce Springsteen
** Written by Steven Van Zandt
If Southside Johnny and The Asbury Jukes had actually come from another town you just might wonder if they would have been absolutely huge! But they come from New Jersey and that of course is home to The Boss, Bruce Springsteen. Therefore they have somewhat lived in the shadow of Bruce Springsteen and The E Street Band which I think is a shame because they are one talented band.
Such though is the interconnectiveness of the music scene on the Jersey Shore there are many links and relations between Bruce Springsteen and the E Street Band and Southside Johnny and The Asbury Jukes with various members of the E Street Band (Past and Present) having contributed to making of the music of Southside both live and in the studio. Also there are members of The Asbury Jukes who have "graduated" and at various points have joined the E Street Band on their travels,
Let's have a little look at the list of E Street members who have had the Southside Johnny Connection: Top of the list is of course Steven Van Zandt, who not only produced a number of their earlier albums but also was songwriter and musical arranger for the band. Ernest "Boom" Carter, former stickman for the E Street Band lent some percussion skills to This Time It's For Real Album (1977) and also played some guitar on another.. Sax man Eddie Manion also had a starring role on that album as a member of the Miami Horns (who have both toured and recorded with Springsteen). Clarence Clemons lent his vocals to The Fever on the Debut album I Don't Want To Go Home in 1976 and is credited as Selmon T. Sachs. On the 1978 release Hearts of Stone Max Weinberg plays drums. Patti Scialfa and Soozie Tyrell had sung back up vocals for Southside Johnny and The Asbury Jukes prior to making it to E Street. Garry W. Tallent, Vini Lopez, David Sancious and even Bruce himself have played in bands featuring Southside Johnny Lyon, and a few of the got to record with him also. Bruce has of course written a number of songs that he himself did not release and chose to pass them on to Southside.
The biggest fault (if you can call it that) with the compilation is that because the band only released three studio albums and one live one (which I don't think was actually released in 1976 but is available now from the Southside Johnny website) for Epic that there is an imbalance when it comes to choice of songs: two from I Don't Want To Go Home; three from This Time It's For Real; four from the Jukes Live At The Bottom Line (1976); and eight of the nine tracks that feature on Hearts of Stone. Havin' A Party had first appeared on a 1979 compilation of the same name released on Epic but outside the States it was on the Embassy label in the UK and parts of Europe and Little By Little was the B-side to the Single of Havin' A Party.
If you are ever looking for a more substantial compilation I'm guessing you wouldn't go far wrong if you tracked down a copy of the 5CD set called Jukebox released in 2007 on Leroy Records.
Their 1991 studio album Better Days is probably my favourite album and interestingly none of the songs featured on that album appear on this Best Of compilation. Garry W. Tallent - bass, Max Weinberg - drums and Bruce Springsteen - backing vocals on All The Way Home and shared vocals on It's Been A Long Time which he also plays
keyboards on,

appear on the album. There is also a guest appearance from Jon Bon Jovi and Steven Van Zandt who plays guitar, provides backing and shared vocals also produced the album.
Let The Day Begin...Let The Day Start!