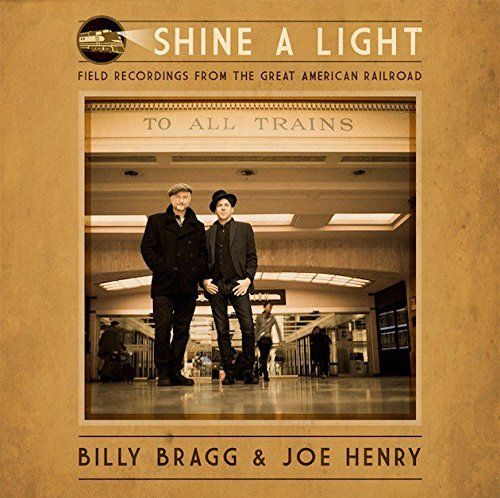 Shine a Light: Field Recordings from the Great American Railroad - Billy Bragg & Joe Henry
Cooking Vinyl
Produced by Joe Henry
Released 23rd September 2016
Side A
A1 Rock Island Line
A2 The L&N Don't Stop Here Anymore
A3 The Midnight Special
A4 Railroad Bill
A5 Lonesome Whistle
A6 KC Moan
A7 Waiting For A Train

Side B
B1 In The Pines
B2 Gentle On My Mind
B3 Hobo's Lullaby
B4 Railroading On The Great Divide
B5 John Henry
B6 Early Morning Rain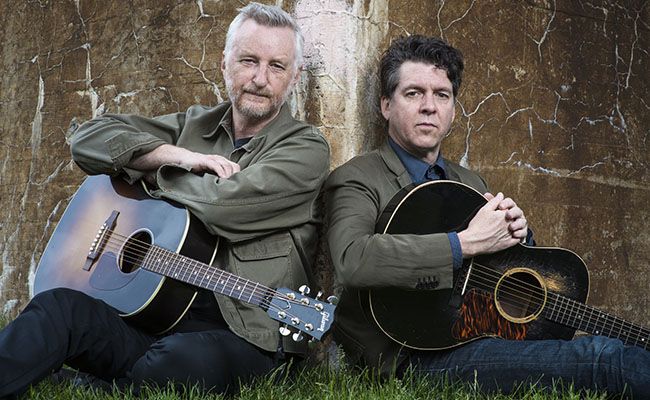 When you are planning a 4 Day Train Journey most people would make sure they at least had a good book and maybe a few DVD's to watch on the laptop to pass the time. For Billy Bragg and Joe Henry their source of entertainment through 2,278 miles was to record an album!
Yep, that's what you heard! Recording in Station Waiting Rooms or on the Platforms as the train stopped to pick up passengers on the way, Bragg and Henry captured the very essence of all those great country and folk songs about travel on the railroads that the likes of Johnny Cash and Hank Williams performed decades ago showing the humble Hobo criss-crossing the nation by rail in search of work, new life or just getting away from a bad situation.
Recorded on board the Texas Eagle 421 Service, upon platforms and in station halls, from Chicago to Los Angeles via San Antonio, 14-18 March 2016, except for "Waiting For A Train," recorded in Suite 414 of the Sheraton-Gunter Hotel, San Antonio, TX, March 17."
What you get is a set of 13 cover songs recorded pretty much live with all the hussle and bussle of a busy station going on around them as they played. There's little fancy studio trickery to rectify the sound of life rushing by as they sing songs like Gentle On My Mind (made famous by Glen Campbell) or The Carter Family's Railroading On The Great Divide.
I must admit I've never quite heard anything like it! Surely for the absolute genius of the idea itself should Shine a Light: Field Recordings from the Great American Railroad be considered as one of the Albums of the Year for 2016.
It may not end up on many of the music magazines best of the year reviews but it's ended up on mine.
Grab your ticket and get on board!