At Newport 1960 - Muddy Waters
Produced by Leonard Chess
Released 15th November 1960
Monaural Studio Bonus Tracks
10 I Got My Brand On You
11 Soon Forgotten
12 Tiger In Your Tank
13 Meanest Woman
*Filmed footage from Newport Jazz Festival 1960
Muddy Waters, guitar, vocals
Otis Spann, piano, vocals
Pat Hare, guitar
James Cotton, harmonica
Andrew Stephens, bass
Francis Clay, drums
***************************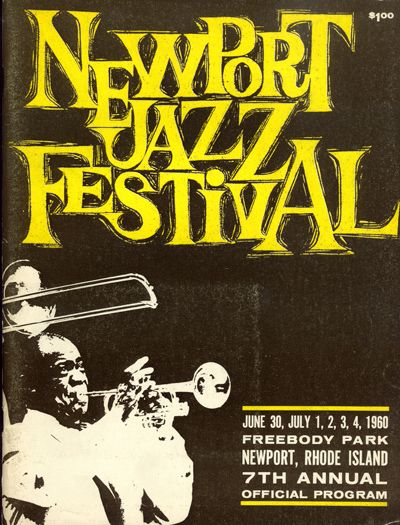 Program for the 1960 Newport Jazz Festival.
Other Artists featured were:
Nina Simone (who also had her set recorded and released as an album).
Ray Charles (you can see the full performance in the link below).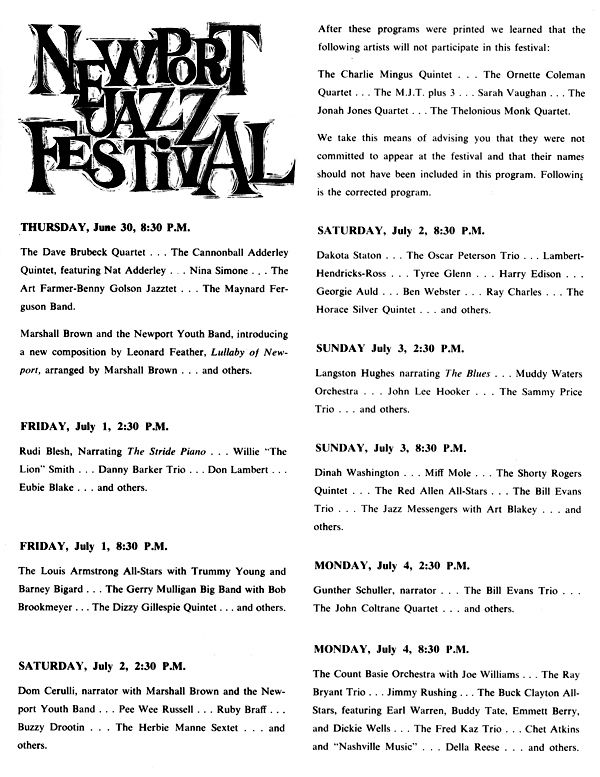 The performance of Muddy Waters at the Newport Jazz Festival on 3rd July 1960 almost didn't happen due to rioting the day before where 170 people were arrested. During the Ray Charles set a large number of drunken "Hipsters" caused an uproar and as security was poor at the event trouble flared up quite easily. The Police arrived with horses and teargas and the National Guard were eventually brought in as the trouble continued in the midnight hour. The City Council had voted in favour of preventing the rest of the festival from continuing but promoter George Wein convinced them to allow it to continue as it was being filmed by the USIA (United States Information Agency) to teach other countries about American Culture (you can see some of Muddy Waters performance in the above links found in the tracklisting). You can read about the Riot here in a great piece from The Wall Street Journal by Marc Meyers.
Goodbye Newport Blues has Otis Spann on vocals as Muddy Waters was exhausted from playing the set! The song was hastily written by Poet Langston Hughes who had been on the site for a meeting and hearing the news that the Festival was probably going to be the last one had written the song and passed it onto Muddy Waters and his band who then played it and had it recorded!
At Newport was actually only the second ever album from Muddy Waters. His first had been a compilation, The Best of Muddy Waters (released in either 1957 or 1958 - there seems to be a clash of views as to the exact release with Discogs saying 1957 and Wikipedia April 1958). That album had been drawn from his early singles The Aristocrat of Records label and with for Chess Records dating back to 1948! Albums at the time were not so popular and were only becoming so in the late 1950's. So it was not an odd thing for there to be a long length of time between albums because Singles were seen as the Bread and Butter of most labels and artists at the time.
He did release another album in 1960 (January), an album of covers called Muddy Waters Sings Big Bill Broonzy. Some regard this as his "Debut Album" but others don't because it is an album of cover versions.
Muddy Waters' next studio album would not appear for another four years - Folk Singer (1964).
Let The Day Begin...Let The Day Start!