Tom Petty and The Heartbreakers - Tom Petty and The Heartbreakers
Shelter
Produced by Denny Cordell
Released 9th November 1976
US Chart #55
UK Chart #24
A1 Rockin' Around (With You)
A2 Breakdown
A3 Hometown Blues
A4 The Wild One, Forever
A5 Anything That's Rock 'N' Roll
B1 Strangered In The Night
B2 Fooled Again (I Don't Like It)
B3 Mystery Man
B4 Luna
B5 American Girl
Personnel
Band
Tom Petty - vocals, electric guitar, acoustic guitar, keyboards
Mike Campbell - electric guitar, acoustic guitar
Benmont Tench - piano, hammond organ, keyboards
Ron Blair - bass guitar on tracks A1-2, A4-5, B2-5, cello
Stan Lynch - drums on tracks A1-2, A4-B5, keyboards
Additional musicians
Jeff Jourard - electric guitar on tracks A2, B2
Donald "Duck" Dunn - bass guitar on track A3
Emory Gordy - bass guitar on track B1
Randall Marsh - drums on track A3
Jim Gordon - drums on track B1
Noah Shark - maracas, tambourine, sleigh bells
Charlie Souza - saxophone on track A3
Phil Seymour - backing vocals
Dwight Twilley - backing vocals
Singles on Tom Petty and The Heartbreakers
(
Links here
are not necessarily the versions that appeared on the Singles but live versions)
Breakdown

/

The Wild One, Forever
January 1977
US Single
Did Not Chart
Was Reissued in the Us
Breakdown

/

Fooled Again (I Don't Like It)
October 1977
US Chart #40
Anything That's Rock 'N' Roll

/
Fooled Again (I Don't Like It)
UK Single
February 1977
UK Chart #36
Rockin' Around With You /

American Girl
German Single
March 1977
American Girl

/

Luna

**
May 1977 (US)*
July 1977 (UK)
UK Chart #40
* US Release had Fooled Again
(I Don't Like It)
on the B-Side
**Luna
is live and is taken from a one sided Promo called
Live 'Leg
recorded in 12th December 1976 at
Paul's Mall
in Boston when the band were opening for
Al Kooper.
Both the US and UK versions are very rare.
The UK Version has Five Tracks on it and features
The Wild One, Forever
as track three.
Breakdown

/ Luna
German Single
February 1978
(Anything That's Rock 'N' Roll - Spanish Picture Sleeve)
In Spain there was also Anything That's Rock 'N' Roll / Rockin' Around With You, and Breakdown / Strangered In The Night released in 1976 and American Girl / Fooled Again (I Don't Like It) in 1977.
*****************
"Tom Petty and the Heartbreakers again", I hear you say! Well it's not my fault that they seem to have released their albums around the same time of year each time!
Now, you would assume that All-American Boys Tom Petty and the Heartbreakers would have struck paydirt with this amazing debut album, but you'd assume wrong. The album struck a chord with British audiences and no doubt the touring in the UK and the fact that there were DJ's willing to play music by the band made a difference, with the album reaching #24. Add to that two Top 40 singles (lower reaches of the Top 40 but with Anything That's Rock 'N' Roll they did get onto Top of the Pops!).
But the album did not actually break into the US Charts until almost a year and a half after it's release and then only peaked at #55! And singles wise they had managed to get a re-issued single Breakdown into the US Singles Chart. Can you believe that American Girl, probably one of their most famous songs never even charted in their homeland!
What is even more bizzare is that their label chose to release as the debut single Breakdown. Now I do like the song but I never really saw it as single material. They would have been better served by releasing Anything That's Rock 'N' Roll and I bet that would have been a hit in the US...but they chose not to release it at all there!
The album is forty years old today and forty years on Tom Petty and The Heartbreakers are still making music, playing live and releasing records. There's been some changes of personnel in The Heartbreakers over the years but they remain one of the great backing bands in rock music with the likes of Mike Campbell on guitar and the brilliant Benmont Tench on keyboards, both of whom are great musicians in their own right.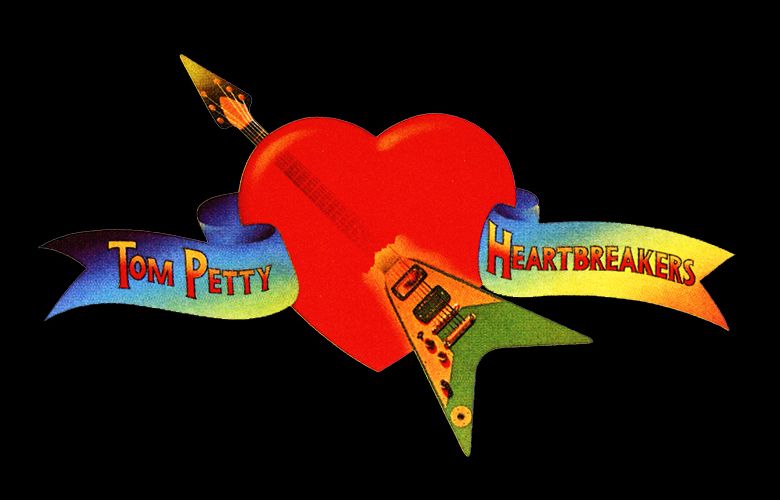 Let The Day Begin...Let The Day Start!