Super Black Market Clash - The Clash
Produced by
Mickey Foote,

Bill Price, Mikey Dread and The Clash
Released 26th October 1993
3 x 10" Version
Was released as 3 x 10" Vinyl Records
Track Listing
A1 1977 (B-Side of White Riot)
A2 Protex Blue*
A3 Deny*
A4 Cheat*
A5 48 Hours*
A6 Listen (Excerpt appeared on Capital Radio Single given away in 1977. This full version was exclusive to this collection)

B1 Jail Guitar Doors (B-Side of Clash City Rockers)
B2 The City Of The Dead (B-Side of Complete Control)
B3 The Prisoner (B-Side of (White Man) In Hammersmith Palais)
B4 Pressure Drop (B-Side of English Civil War)
B5 1-2 Crush On You (B-Side of Tommy Gun)

C1 Groovy Times**
C2 Gates Of The West**
C3 Capital Radio Two**
C4 Time Is Tight (first appeared on Black Market Clash 1980)

D1 Justice Tonight/Kick It Over (B-Side of London Calling)
D2 Robber Dub (B-Side of Bankrobber)

E1 Stop The World (B-Side of The Call Up)
E2 The Cool Out (B-Side of The Magnificent Seven)
E3 First Night Back In London (B-Side of Know Your Rights)
E4 Long Time Jerk (B-Side of Rock The Casbah)
E5 Cool Confusion (B-Side of Should I Stay or Should I Go)

F1 The Magnificent Dance
(B-Side of The Magnificent Seven)


F2 Radio Clash (B-Side of This Is Radio Clash)
F3 Mustapha Dance (B-Side of Rock The Casbah)

*Taken from the Debut Album. These tracks were not included in the US Release of the The Clash that came out two years after it was released in the UK. They were also not included on the CD or Cassette version of the album.
** Featured on the Cost of Living EP
CD Running Order a little bit different
1977
Listen
Jail Guitar Doors
City Of The Dead
The Prisoner
Pressure Drop
1-2 Crush On You
Groovy Times
Gates Of The West
Capital Radio Two
Time Is Tight
Justice Tonight/Kick It Over
Robber Dub
The Cool Out
Stop The World
The Magnificent Dance
Radio Clash
First Night Back In London
Long Time Jerk
Cool Confusion
Mustapha Dance
Black Market Clash - The Clash
Produced by Mickey Dread, Mickey Foote, The Clash and Bill Price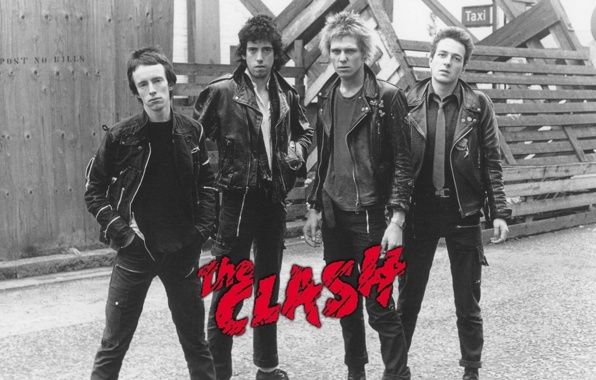 On this day in 1993 the Super Black Market Clash album was released, thirteen years after the original Black Market Clash was issued as a 10" album in the USA & Canada (it wasn't released in the UK but I do recall that you could get it on import).
The Super Black Market Clash album was a very extended version of the 1980 Record, containing 25 tracks if you bought the 3 X 10" Vinyl version and 21 tracks on the CD and Cassette. It's mainly B-Sides but it does shed light on what great flip sides they had (apart from the terrible 1-2 Crush on You!). I wish they had kept Capital Radio One on the album instead of replacing it with the Cost of Living EP version.
I was listening to the album last night and it was a nice reminder of just how good they were back in the day. I have to say though that I much prefer the first thirteen songs more than the last 8 tracks on the CD (not a huge fan of a lot of the "dance" stuff they were doing then).
Let The Day Begin...Let The Day Start!