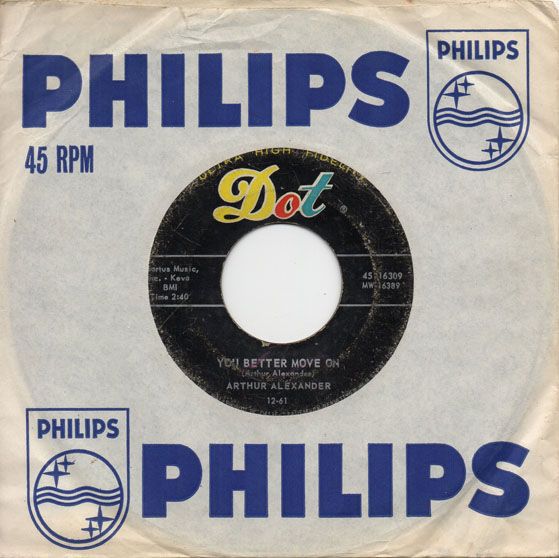 You Better Move On / A Shot of Rhythm and Blues
Released December 1961 (Dot Records)
1962 (London Records UK)
US R&B Chart #24
US Pop Chart #68
A-Side: You Better Move On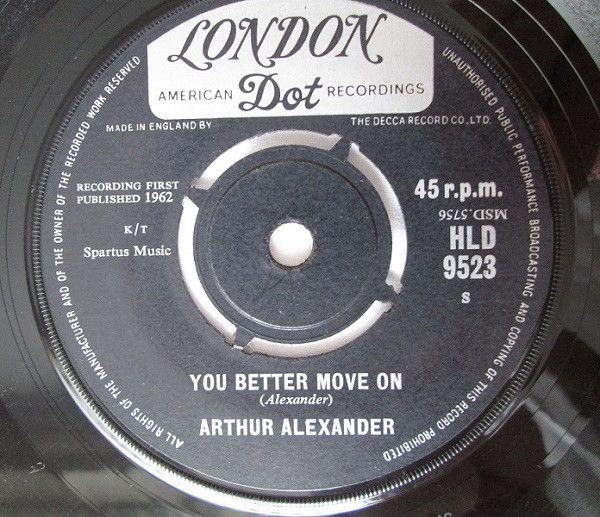 (UK Release 1962)
B-Side: A Shot of Rhythm and Blues
You Better Move On was the first hit single to be recorded at the FAME Studios (Florence Alabama Music Enterprises) in Muscle Shoals.
Arthur Alexander was a local Bellhop who had already released one single under the name June (short for Junior apparently) Alexander on the Judd Label in 1960 called Sally Sue Brown backed with The Girl That Radiates Charm. He initially turned up at FAME as part of a Quartet, which Rick Hall was having none of!
You Better Move On was penned by Alexander himself and has been covered by a number of artists down through the years starting with The Rolling Stones in 1964 on their self-titled EP for Decca Records. It was also included on their US Album Release December's Children (and Everybody's) in 1965.
Arthur Alexander was fortunate enough to not only have The Rolling Stones record this song but his 1962 single Anna (Go To Him) was picked up and covered by The Beatles for their Debut Album Please Please Me in 1963.