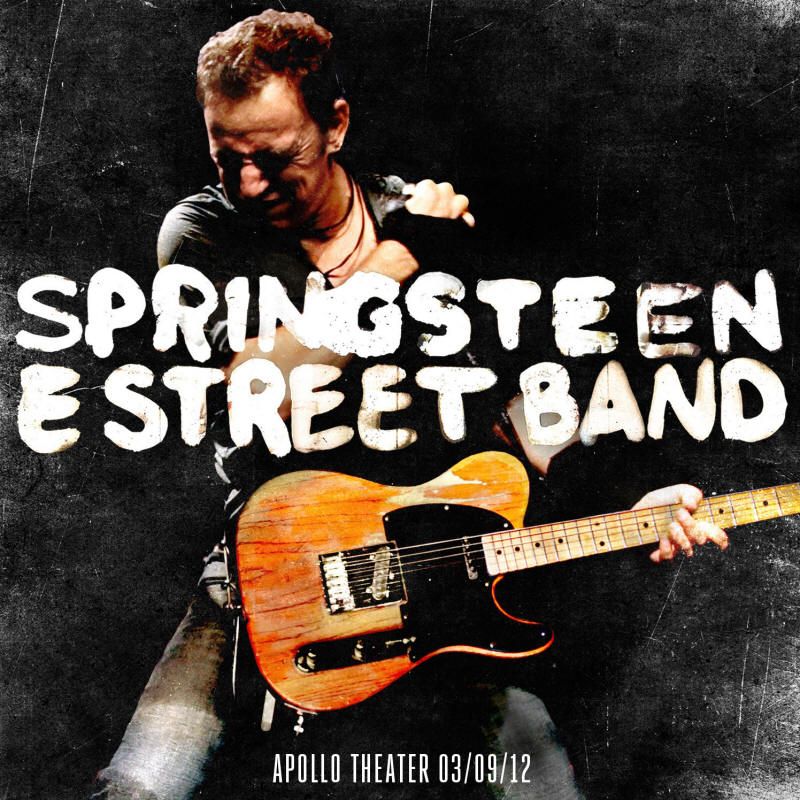 Live at The Apollo Theater - Bruce Springsteen & E Street Band
Bruce Springsteen Archives
Mixed by Bob Clearmountain
Mastered by Bob Ludwig
(
Click on Links
to see Video Footage
)
Personnel
The E Street Band
Bruce Springsteen – lead vocals, lead guitar, rhythm guitar, acoustic guitar, harmonica, piano
Roy Bittan – piano, synthesizer, accordion
Nils Lofgren – rhythm guitar, lead guitar, pedal steel guitar, acoustic guitar, accordion, background vocals
Patti Scialfa – background vocals, some duet vocals, acoustic guitar, occasional tambourine
Garry Tallent – bass guitar, background vocals, rare tuba
Steven Van Zandt – rhythm guitar, lead guitar, mandolin, acoustic guitar, background vocals, occasional featured lead vocal
Max Weinberg – drums, rare tambourine

and
Soozie Tyrell – violin, acoustic guitar, percussion, background vocals
Charles Giordano – organ, accordion, electronic glockenspiel, rare piano, occasional background vocals
The E Street Horns:
Jake Clemons – saxophone, percussion, background vocals
Eddie Manion – saxophone, percussion
Curt Ramm – trumpet, percussion
Barry Danielian – trumpet, percussion
Clark Gayton – trombone, tuba, percussion

The E Street Choir:
Curtis King – background vocals, tambourine
Cindy Mizelle – background vocals, tambourine
Michelle Moore – background vocals, rapping on Rocky Ground
Everett Bradley – percussion, background vocals
The Way You Do The Things You Do / 634-5789
I was thinking about The Apollo Theater in Harlem this morning because on this day in 1962 James Brown recorded his famous and possibly one of the greatest live albums that was released in 1963 at the historic venue. I then remembered that I had already posted about it earlier in the year and thought I wouldn't get away with posting it again! If you want to check out that post you can do so HERE.
So instead of James Brown and the Famous Flames I thought I'd post another of my favourite shows that was recorded at the venue.
The show was a "warm up" for the Wrecking Ball Tour in 2012 and was broadcast on SiriusXM Satellite Radio as part of their 10th Anniversary celebrations.
This performance saw the 61 year old Springsteen in among the crowd during Waiting For A Sunny Day and other songs and even climbing up the balconies and standing on a ledge during a medley of classic Soul tunes!
(Photo by Christopher Phillips)
Tributes were paid to the departed Clarence Clemons and Danny Federici with the reminder : "The only thing I can guarantee tonight... if you're here and we're here, they're here."
Tracks from the brand new album, Wrecking Ball, were unveiled with eight of the twelve tracks getting an airing. The E Street Band were joined by the E Street Horns and the E Street Choir meaning there were eighteen people on stage!
The show was the first of the "Bruce Springsteen Archives" to be released via Springsteen's Website in November 2014 along with 30 shows from the High Hopes Tour.
Let The Day Begin...Let The Day Start!