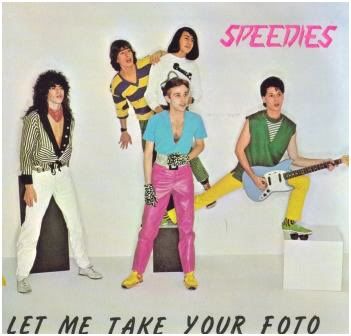 Cameras are everywhere. From Papparazzi snapping unsuspecting celebrities doing things they should not be doing to Selfie Sticks thrust in the air at tourist spots. From Camera phones capturing a sold out gig that turns up on You Tube an hour after the show has finished to snapping pictures of your long lost friends and family who you've just met up with for the first time in years.
Music has had many tunes speaking of pictures and all that goes with them and today's Music is the Doctor ontains 20 tracks come under the spotlight for your listening pleasure.
One, two, three, say Cheese.
Let Me Take Your Foto - The Speedies.
The Speedies were a late 1970's New York Based Power Pop band. Four of the members hailed from Brooklyn, the bass player John Carlucci was from Queens. They were a favorite band at the legendary NY Punk Club, Max's Kansas City, where they were so popular they broke the house attendance records. The Speedies were local media darlings, appearing in features in the SoHo Weekly News, Village Voice, NY Post, Life Magazine, The New Yorker, Hit Parader, New York Rocker and Crazy magazine.

They won the NY Rocker's readers poll as the best unsigned band in America in 1979. The often supported international touring acts, having appeared with The Jam, The Undertones, The Gang Of Four, Ultravox, The Members, The David Johanson Group, among others. In 2005 the Speedies song "Let Me Take Your Photo" was featured in a nationwide TV commercial for Hewlett Packard. Jay Leno also uses the song as part of a re-curring skit called "The Photo Booth".
Kodachrome - Paul Simon.
"Kodachrome
They give us those nice bright colors
They give us the greens of summers
Makes you think all the world's a sunny day
I got a Nikon camera
I love to take a photograph
So mama don't take my Kodachrome away"
Picture This - Blondie.
"All I want is a photo in my wallet
A small remembrance of something more solid
All I want is a picture of you"
Selfies - Nina Nesbitt.
"I'll post it up in black and white
With a depressing quote on my life
So that you see what I'm going through
Yeah,
This is desperation at it's best"
Pictures of People Taking Pictures - Jack Johnson.
"Pictures of people taking pictures.........
I pictured us at the end of time
Taking pictures of nothing"
Pictures to Prove It - The Mighty Mighty Bosstones.
"They're old now, they're faded
And the edges all are frayed
I'll always have these pictures
But I wish that you had stayed"

Polaroid Picture - Frank Turner.
"Let go of the little distractions
Hold close to the ones that you love
Cause we won't all be here this time next year
So while you can, take a picture of us"
Sally - The Members.
"Sally left school at sweet 16
Modelled on the cover of a magazine"
Pictures of You - The Cure.
"There was nothing in the world
That I ever wanted more
Than to feel you deep in my heart
There was nothing in the world
That I ever wanted more
Than to never feel the breaking apart
All my pictures of you"

Local Boy in the Photograph - Stereophonics.
"And all the friends lay down the flowers
Sit on the banks and drink for hours
Talk of the way they saw him last
Local boy in the photograph
Today"
Send a Picture of Mother - Johnny Cash.
"The hardest time will be on Sunday morning
Church bells will ring on Heaven Hill
Please ask Reverend Garrett to pray for me
And send a picture of mother if you will"
Freeze Frame - J. Geils Band.
"I could see it was a rough-cut Tuesday
Slow-motion weekdays stare me down
Her lipstick reflex got me wound
There were no defects to be found
Snapshot image froze without a sound"
First Picture of You - Lotus Eaters.
"The first picture of you
The first picture of summer
Seeing the flowers scream their joy"
Pictures of Lily - The Who.
"Pictures of Lily made my life so wonderful
Pictures of Lily helped me sleep at night"
The Picture - Loudon Wainwright III.
"We were sitting outside drawing
At a table meant for cards,
And it must have been in autumn,
Falling leaves in the front yard,
With a shoebox full of crayons,
Full of colors oh so bright,
In a picture in a plastic frame,
A snapshot black and white"
The Pictures on my Wall - Echo and the Bunnymen.
"The pictures on my wall
Are about to swing and fall
Love it all, love it all"

Photo Jenny - Belle and Sebastian.
"They got the drugs I could use but then I don't need any
All that I want is a photograph of Photo Jenny
How will I get one? I don't know
How will I get one? I don't know
How will I get her to strike a pose?"
Picture Book - The Kinks.
"A picture of you in your birthday suit
You sat in the sun on a hot afternoon
Picture book, your mama and your papa
And fat old uncle Charlie out cruising with their friends"
Must I Paint You A Picture - Billy Bragg.
Not really about a picture in regards to a photo but a great wee song nevertheless to end the playlist on.
"Must I paint you a picture
About the way that I'd feel?
You know my love for you is strong, girl
You know my love for you is real"