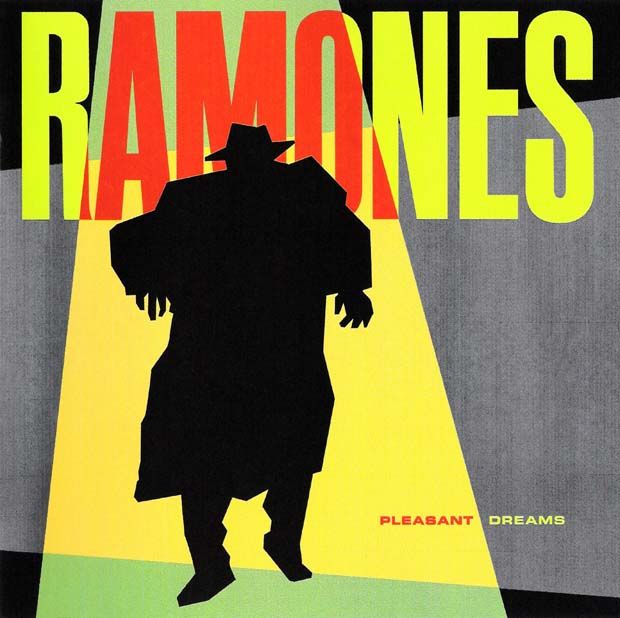 Pleasant Dreams - Ramones
Produced by Graham Gouldman
Swedish Chart #35
All was not pretty in the Ramones camp as recording got underway for their sixth studio album. Communication between Dee Dee, Joey and Johnny was not on a good level. Marky and Joey were drinking too much for Johnny's tastes, Dee Dee was doing to many drugs that upset the whole band, and Johnny had started to date an ex-girlfriend of Joey's whom he eventually married - this led to a severe lack of words between singer and guitarist that continued until they finally hung up their instruments in 1996!
All songs were credited to the individual writers rather than the band as they had always been done! Joey and Dee Dee were the main writers for the album with Joey penning 7 and Dee Dee a further 5 tracks.

The time period of recording was a high-point in musical style for both Joey and Johnny, though they directed their sound towards different styles of music: Joey's inspiration by pop music became evident in his writing, while Johnny's keenness of hard-rock guitar riffs are apparent in much of his performing on the album. Johnny thought that this did not result well for the band's sound, saying: "I knew going in that this was not going to be the type of album I wanted. It really could have used another two of three punk songs ...All I want to do is keep our fans happy and not sell out. I'm fighting within the band. They are trying to go lighter, looking for ways to be more commercial. I'm against the band for doing that." Joey countered Johnny's point of preventing the band from selling out by explaining: "By Road to Ruin [and] End of the Century, I was doing the majority of the songwriting. I started feeling that the Ramones were faceless; there were no individual identities in the band." He went on to say that this method worked well in the beginning of their career, but would later annoy Joey since "everything [he] wrote, the band would take credit for."

Deborah Harry (Blondie), Russell Mael (Sparks), Cindy Wilson and Kate Pierson (B-52's) are on the album doing backing vocals!

It was an odd choice having Graham Gouldman (10cc) produce the record (the band had wanted Steve Lillywhite to produce it) but Sire wanted him to do it in an effort to inrease the fan base of the band. Joey said, "The record company told us the album would bomb if we didn't use Graham Gouldman, so we worked with Graham - and the album bombed anyway." It actually only charted in two countries - US and Sweden! Whilst Pleasant Dreams is not their best work I'm glad that Gouldman didn't leave too many of his fingerprints on the album otherwise I have no idea what they would have ended up with!
Critical reception was varied but most came down on the side of the negative. I had to laugh a bit when I read a comment from AllMusic when they said that Gouldman had turned the band's style from the sound of "bubblegum, British invasion, and surf fetishes" toward "acid rock and heavy metal." It makes you wonder what kind of heavy metal they listen to!
A couple of tracks from the album that I think are truly outstanding are She's A Sensation and The KKK Took My Baby Away. The latter has always been mentioned hand in hand with Johnny stealing Joey's girlfriend but apparently it was written before he was even aware that had happened according to Joey's brother Mickey Leigh: "The fluky connection between Johnny and the KKK raised a specter that keeps friends and fans speculating to this day. At the time, though, it had to be an unusual situation for him being that, as often happens with song lyrics, his words now took on a whole new meaning."
We Want the Airwaves is actually another I'm quite fond of but I have to disagree with Chuck Eddy of the Creem and the Village Voice who reckons the song sounds like some kind of "Black Sabbath Punk Rock" - I almost died laughing reading that statement because it's absolutely nothing like Sabbath!
"We Want the Airwaves"


Released: July 1981

"She's a Sensation"


Released: October 1981